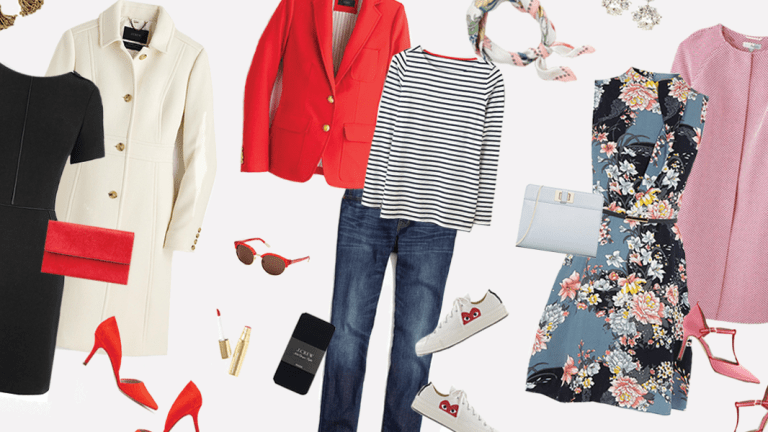 3 Valentine's Day Outfit Ideas For Any Type of Date
If nothing else, this day of love is a good excuse to dress up.
Valentine's Day may be a national day of romance, but honestly, we're just excited to have an excuse to dress up. What else do we have to look forward to during the dead of winter?
Whether you're going out with that special someone or all your extra-special someones (aka your girlfriends), February 14 is all about having fun, so remember to not take yourself (or your outfits) too seriously. To help ease your nerves, we have three types of Valentine's Day outfit ideas that will work whatever your plans.
Casual Day Date
It's always a little awkward when February 14 rolls around after you've only been on a couple dates with a guy. But you can't ignore the day entirely! Instead of going all out with the romance, plan a casual day date. Let's be real, Valentine's Day is pretty cheesy, so why not let loose and have a little fun with your ensemble? That way, he'll know you're embracing the awkwardness of a Valentine's Day date while also putting in some effort.
Stick to classic items, such as your favorite dark-wash jeans and a sharp blazer. To add a little Valentine's flair, incorporate the color red or pink wherever you can. A Breton stripe top is playful, classic, and casual—the perfect base for some red-tone accessories.
Galentine's Day
Who said Valentine's Day was only for couples? Get your best girls together to celebrate the real loves of your life. Take on the town for brunch or dinner, and go all out with your favorite pink hues and floral prints. Tell your girlfriends that the dress code is over-the-top feminine and to amp it up!
This means piling on the pink and red, emphasizing A-line silhouettes, and color-coordinating like nobody's business.
Formal Evening Date
For those of you in a long-term relationship, a romantic evening date is probably on your agenda. Of course, whether you're headed to dinner, the theater, or cocktails, you want to stun your date by going the extra mile.
Rather than going the girlie route, aim for a more sophisticated and regal look. First, go for a sleek silhouette with a figure-flattering pencil dress. You can still have fun with appropriate Valentine's red accents, such as a pair of fiery red heels and a clutch. Keep your accessories metallic, and top it all off with a bold red lip.