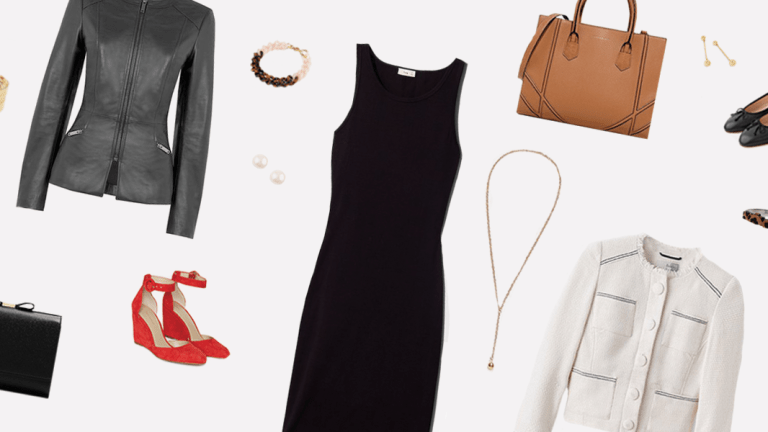 How to Take Your Work Outfit to Date Night
Because working women go out on dates, too!
As modern working women, it's common to have to rush off to a date right after clocking hours from 9 to 5. But when office attire isn't exactly worthy of dinner and drinks, who can blame you for dreading the weekday date?
The answer is actually quite simple, so just follow our easy tips, and you'll be conquering the boardroom and the dating scene in no time!
Office Attire //
The key for a seamless day-to-night outfit transition is to choose a neutral base that transforms when worn with different accessories. To avoid lugging a bag of clothes to work and awkward bathroom changes, simply wear the same thing to work and the date. Because dresses have a way of making us feel our prettiest, try wearing an office- and date-appropriate LBD. We suggest one that has thicker straps and hits at the knees or a couple inches above.
As for the rest of your look, you don't want to look like you're ready for drinks at 8 a.m., so keep your outfit business casual with a classic blazer and practical flats. A shorter statement necklace with a 1950s Mad Men vibe is perfect for the office, while a pair of pearl studs is both subtle and professional.
Date Night //
Five o'clock has finally arrived, and you're ready to transform your outfit. Focus on the outer layers and accessories of your look because you're wearing the same dress. Only a couple swaps are necessary for achieving your date-night look, and it all starts with the shoes. Fun, brightly colored heels are the fastest way to looking date-ready. A pair of red heels especially makes a statement.
Swap your blazer for a sleek leather jacket or something similar. Metallic jewelry comes across as more streamlined and modern, so instead of wearing your statement pieces, choose a metallic tone and match your earrings, necklace, and bracelet for a cohesive flow.