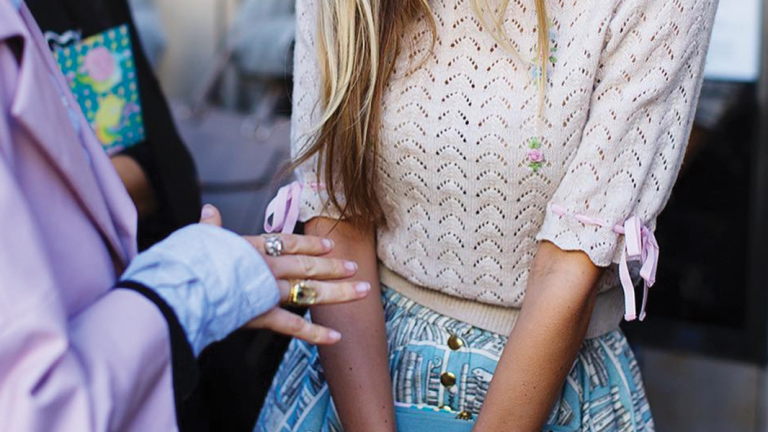 5 Reasons We Are Dying for Warm-Weather Dressing
The desperation is real.
It wasn't over over.
It still isn't over.
No, we're not talking about the soul-awakening love of Noah and Allie. We're talking about winter weather. Naturally, that rogue 70-degree February day had your mind racing toward visions of sundresses and sandals, but Old Man Winter hasn't quite run his course.
Yet we can't help but daydream of warmer days and the moment when we can finally pack away the coats and heavy sweaters for good. But during these awkward weeks straddling February and March, we'll have only anticipation to keep us warm, and it's not going to be easy. It's going to be really, really hard. If you're feeling antsy for lightweight fabrics, bright colors, and no more layers, we have some inspiration to keep you looking forward to spring. And, hey, if Noah can wait years for Allie, we can make it a few short weeks.
Bare Legs //
Do you remember what your legs look like? Neither do we. If you're both afraid and excited to free them after four months of complete coverage, you're not alone. Just remembering warm breezes and the way a swishing skirt feels against bare legs is enough to keep up the morale. Spend these painstaking final days of winter reacquainting yourself with an old friend, your razor. If you're like us, it's been a while.
Creative Outfits //
When temps are in the forties and below, our daily looks often consist of two things: dark colors and the warmest fabrics possible. You're probably in a creative dressing drought, and when it's miserably freezing out, who can blame you for feeling uninspired? Warm weather is the only natural remedy for the winter blues. Print mixing, color play—dressing is suddenly much more exciting when the weather isn't against you. Start thinking up your best combos now!
Unabashed Femininity //
When dressing is based on utility (aka warmth), outfits naturally become more masculine. But as soon as those warm breezes roll in, we're grabbing our girliest dresses and hitting the town. Ruffles, ribbons, eyelet lace, flowing skirts—even those who are strictly "no frills" can't help but be inspired to embrace feminine details and softer silhouettes. You could even channel your inner Allie with some vintage-inspired frocks.
One-and-Done Outfits //
Long-sleeve shirt, pants, chunky socks, sweater, jacket, coat, scarf. The average winter outfit is like an onion—endless layers that make us want to cry. Simply walking out the door takes five minutes, and let's not even get started on commuting in a boiling hot train while bundled in merino wool. We're chomping at the bit for the day when one simple dress is our entire outfit. No movement-constricting bulk. No scarf-induced tangles in our hair. Just a simple ensemble. Ahhh, yes.
Back to Basics //
Going back to basics is one of the best things about spring dressing. Iconic combinations, such as a plain tee with jeans, are something we look forward to wearing every year. The all-American, casual appeal is enough to have us on board, but it's the breathable, comfy cotton that seals the deal.
Godspeed, friends. Spring is coming!