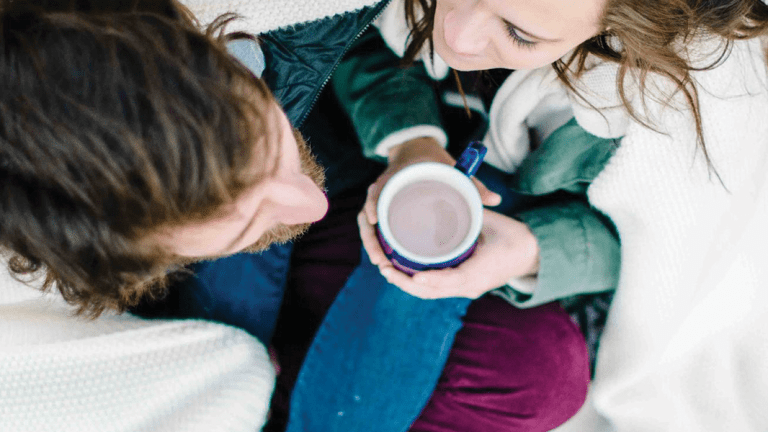 Skip the Cliche Valentine's Day Routine, and Try These Rituals to Grow in Love Instead
Real romance won't wilt with your roses.
I used to complain that flowers and chocolates on one day of the year doesn't make up for the kind of romance that should be happening all year long. To me, Valentine's Day felt like the "get out of jail free" card for every man or woman who has failed to woo their significant other every other day of the year. I mean, where is the justice in that?
I have come to see, however, that Valentine's Day isn't, and shouldn't be, a day of reckoning for the lazy lover. What Valentine's Day is, is an opportunity to renew your commitment to your partner and grow in love. And it's an opportunity we should all take advantage of.
Instead of arriving home to a bouquet of flowers this year, think carefully about the kind of Valentine's Day gift that will help you and your partner grow in love every day of the year. Each couple is different, but here are some ideas of the types of daily rituals you can initiate on Valentine's Day—and keep doing as long as it works for you.
01. A six-second kiss, a dance, a bear hug.
Marriage counselor and Verily contributor Peter McFadden shared his secrets to stop spouses from taking each other for granted, and creating a ritual of reunion was one of them. McFadden and his wife dance together when they come together at the end of a day, but it doesn't have to be dancing. Try throwing your arms around one another enthusiastically, a six-second kiss (which enlists the help of oxytocin to feel bonded), a bear hug, or some little sweet nothing that means something to both of you. Whatever it is, try out a ritual of reunion on Valentine's Day, and promise your man you will keep it up.
02.  An expertly crafted cocktail, hot cocoa, a perfectly brewed cup of coffee.
The demands of life too often get in the way of daily focused conversation with your S.O. In fact, many of us will find ourselves feeling a little awkward sitting across from our partners at a restaurant on Valentine's Day, which is to be expected if focused time to talk isn't a part of our everyday routine. If this sounds like you, consider giving your guy the gift of your undivided attention.
Verily contributor Allison Carter shares that a nightly ritual of sipping a cocktail with her husband saved her marriage. The cocktail, she explains, is the cue that signals the beginning of connection. This is their cherished time to talk. Your ritual of connection doesn't have to be a cocktail—an evening tea does the trick, too. It does help to center your ritual around some kind of drink because it has a clear beginning and end and therefore doesn't drag on too long. So this Valentine's Day, gift your boo some hot cocoa mix, a cocktail shaker, or a French press, and tell him what it means.
03. A sticky note, a video kiss, a jar full of appreciation.
One of the most painful things about a lack of romance is the feeling that your partner has taken you for granted. Day after day of feeling like the things you do go unnoticed—whether it's doing the dishes or always being there for him—can pull you further and further apart. To remedy this, you must frequently show appreciation for your partner, and there is no better day to start than Valentine's Day.
There are a million creative ways to initiate a ritual of appreciation in your relationship, but it's good to make it simple enough to be able to keep it up every day. Put a sticky note on the coffee maker telling him one thing he does that you're grateful for—or if you're better with words, take his hand before you say good night, thank him for one thing, and tell him why you are so grateful. You could also send him a video kiss, a concept coined by McFadden, where you record a short video message telling him how much you appreciate him and blowing a kiss. These are all things you can give him on Valentine's Day and keep giving him throughout the year.
Photo Credit: Cathrine Taylor