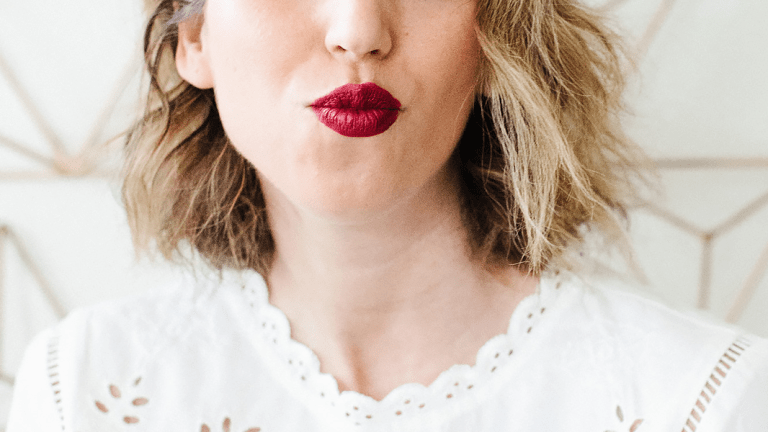 Our Favorite Bloggers Say a Red Lip Is Their Secret to Feeling Feminine and Empowered
On Valentine's Day and every day, take the #VerilyRedLipChallenge.
Red. The color of power, war, love, confidence, vitality. And a red lip? It's certainly all that and more. Wearing red lipstick can feel intimidating, but as part of the #VerilyRedLipChallenge, we're embracing the pop of a red pucker and asking you, our readers, to embrace the empowerment that a red lip can bring.
You still have time to show us your own red lip moment for a chance to win a luxury lipstick. Just go to our Instagram and follow the official rules. What day could be better for a confidence-boosting red lip than Valentine's Day?
To inspire you, here are a few of our favorite Instagram influencers sharing how a feminine swipe of rouge makes their day just a little bit better.
A Woman's Pride / Alexandra Evjen
We've all had our share of fears facing adulthood and the many challenges that entails. Don't underestimate the power of a little beauty confidence boost to help you channel that fear into strength.
That Je Ne Sais Quoi / Kat Harris
Like a great afternoon laughing with girlfriends or a sweet embrace from a loved one, some of the simplest things can be inexplicably transformative. Luckily for us, reaching for the red tube instead of the clear balm can be just that extra something.
Vive La France / Natalie Borton
As Americans, we've always looked to French women and their effortless style for inspiration. But café-chic isn't just for the Parisiennes. A classic outfit and a feminine red lip is the simplest way to feel très belle.
Motherhood Moments / Hailey Andresen
Busy moms don't often get to revel in luxurious beauty routines, but for this mom, a red lip is a quick antidote to the stresses of raising precious little ones.
Self-Love / Kelsey Chun
Red is the color of love, and the most important admiration is that which we have for ourselves. Give yourself a little red lip confidence boost, and watch the love spread.
Generations of Love / Brynn Elliott Watkins
Are there certain products you use or beauty routines you follow for no other reason than because your mom and grandma did? Take a cue from Brynn—grab your mom, sister, or sister-friends, and do the #VerilyRedLipChallenge to show your love for each other.
V-Day and Every Day / Shira Rosenbluth
Whether Cupid is circling or not, a bold lip says "confidence" any day. For a first date, a girls' night, or just another day of errands, red is always the color of strength and beauty.
Change Is Constant / Leslie Musser
Changes—whether pregnancies, career moves, relationship transitions, or otherwise—can be cause for us to question ourselves. With a red lip, it's hard to be anything but sure of yourself and the power you hold.
Empowerment / Maria Gonzalez
When you look great, you feel great, right? Well, there's no simpler way to feel a surge of motivation than to throw on that outfit you love and a lip color that says, "I can do this!"
Inherited From Women Who Came Before Us / Kenslie McGuire
Rocking a red lip is a look we can share with the fashion greats of the past, Kenslie told us and added, "I personally feel it ups the excitement of any girl gang gathering!"
Enter the #VerilyRedLipChallenge now!
Photo Credit: AVE Styles