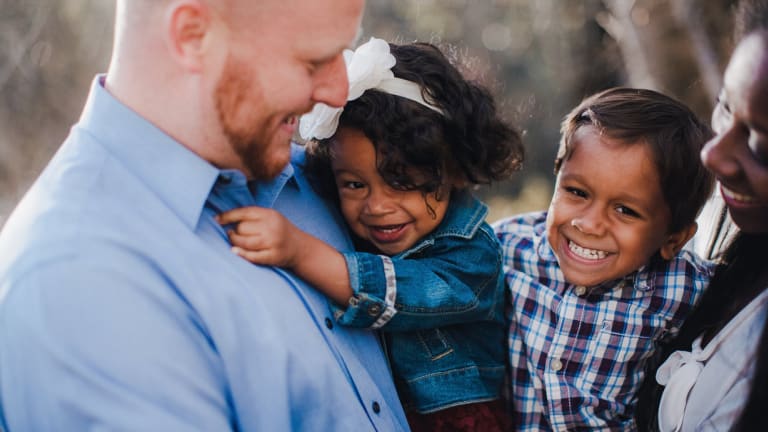 13 Companies You Should Consider Working for if You Want a Family Someday
Want kids and a career? You might want to try working at one of these companies.
Every time a big business announces that they're implementing a new parent-friendly company policy, a whole lot of working parents breathe a sigh of relief (and maybe even do a happy dance or two). And it's not just parents who should be happy about policies like paid parental leave—if you want to have kids in the future, it will affect you one day, too.
As of last month, American Express rolled out a new parental leave policy that gave all full and part time employees who have worked for the company for at least one year access to twenty weeks fully paid parental leave, in addition to another six to eight weeks for women who give birth and need medical leave. When only 12 precent of U.S. workers (and 5 percent of low-wage workers) are given paid parental leave from work, policies like this matter.
As I've written before, paid parental leave is awesome but there are also plenty of other things that make a workplace family-friendly. So which companies, other than American Express, top the list for the best places to work as a parent (or aspiring future parent) in the USA? Here are a few of the biggest names scoring points.
01. Twitter
Without a doubt, the tech industry is leading the way when it comes to ground-breaking family-friendly policies and supportive perks for parents. This social media giant offers twenty weeks of fully paid parental leave to new parents of both genders. Twitter also trains their managers in how to manage their teams and workloads when employees take advantage of leave policies—a critical step in creating a workplace culture that encourages parents of both genders to care for new children.
02. Facebook
When Mark Zuckerberg made the headlines in 2015 for taking two full months off from work at Facebook to be with his newborn daughter, we commented on how important it is for a CEO to set the tone at an organization; it seems that Facebook has a good reputation not only for providing employees with paid time off but also for creating a culture from the top down where people feel able to take advantage of that time off without jeopardizing their careers. As well as offering employees sixteen weeks of fully paid parental leave, the social media giant also gives employees $4,000 in "baby cash" and provides designated private breastfeeding rooms in their Californian headquarters.
03. Accenture
Consulting companies are also scoring high in the pro-family stakes; female employees at Accenture can take sixteen fully paid weeks of maternity leave and are allowed to work from home for up to a year after having a baby. They are also able to ship breast milk home free of charge when they travel for business. They got Working Mother magazine's seal of approval when they topped their annual list of the best 100 companies for mothers last year.
04. WellStar
This healthcare provider offers all their full-time employees job-protected (though unpaid) nine months off to look after an ill family member or new child if needed, as well as three weeks of fully paid parental leave and up to six weeks of partially paid leave. Even though this isn't as generous as other top family-friendly companies, their flex-work program that enables job sharing and telecommuting more than makes up for it. Oh, and they also have a concierge service for their employees that helps them take care of tasks like grocery shopping and other daily errands, all contributing factors to a working parent's stress load.
05. Ernst & Young
Not only does this accounting firm offer sixteen weeks of fully paid parental leave for the primary caregiver, but it also supports new parents with coaching, privacy rooms for nursing mothers, prenatal breast-feeding webinars, and extra perks such as free breast pumps and travel kits for milk storage. It also has a range of generous health insurance policies that reduce care costs for children with autism.
06. Google
The perks of working at Google are infamous, and they extend to parents, too. Google has four child-care centers near its California "campus" and offers eighteen weeks of fully paid maternity leave and twelve weeks of fully paid parental leave for other new parents. Employees also get a cash gift of $500 for what the company refers to as "baby bonding."
07. IKEA
This Swedish retail giant offers all employees who have worked for the company (both salaried and hourly) for over three years up to four months of paid parental leave (half at full pay, half at 50 percent). Employees who have worked for over a year can take up to three months of paid leave (half at full pay, half at 50 percent). "This is in addition to the six to eight weeks of Short Term Disability available to all co-workers regardless of tenure," the company said in a statement they issued in December.
While this company may not offer quite as much paid parental leave as some of the other companies on this list, it's notable for its comparative generosity which is a particular rarity in the U.S. retail sector.
08. Deloitte
The consulting services company Deloitte has been celebrated as a family-friendly place to work for a few years now, with their company-wide Parents Network and childcare reimbursements, and in September last year they also announced a more flexible "family leave program"—taking the concept of maternity leave a step or two further and applying it to a range of family-supporting situations. As they wrote in a statement, "Men and women alike will now be eligible for up to 16 weeks of fully paid family leave to support a range of life events impacting them and their families." Eligibility for the 16 weeks of fully paid family leave includes taking time off to care for a new child, a spouse or significant other, and elderly relatives.
09. Johnson & Johnson
Considering this company is all about the babies, it makes sense that it would have some innovative policies in place to make family life that little bit easier for working parents. It has six on-site daycare facilities available for its employees, and it offers nine fully paid weeks off for all new parents, as well as ten paid days of sick leave annually specifically dedicated to caring for ill family members.
10. McKinsey & Co.
Top-tier consulting firm McKinsey & Co. offers fifteen weeks of fully paid maternity leave (on top of twenty-nine weeks of unpaid maternity leave) and eight weeks of paid paternity leave. The firm also tries to make life easier for employees who are trying to balance their career with a family by offering flexible working options such as job rotation, sabbaticals, and secondments. Parents of special needs kids get perks here too, with twenty extra paid days of parental leave, along with access to a network of special needs kids parents at the company.
11. Patagonia
Does the idea of bringing your baby—as well as a family member or babysitter—on a work trip, all extra costs paid for by your employer, sound appealing? That's what breast-feeding mothers who need to travel for work can expect from this outdoor apparel brand. It also has a dedicated child-care center at its California headquarters so that parents can drop by and visit their kids during the day, as well as company school buses that pick up kids from local schools and drop them off at the child-care center near their parents until they finish work. The company also supports parents financially with the cost of adoption fees and offers sixteen weeks of fully paid maternity leave and twelve weeks of fully paid paternity leave.
12. Goldman Sachs
Organizing health insurance and leave benefits as an expectant new parent can be overwhelming and confusing, and this financial services firm knows it; that's why they offer their New York employees and their partners access to a specially dedicated expert to help them sort things out. They also have an online child-care locator system, that offers parents the chance to share or request recommendations and needs with each other. Goldman offers sixteen weeks of fully paid parental leave, they also provide new mothers with private lactation rooms, and backup child-care services for when child-care falls through unexpectedly.
13. Netflix
Netflix joined the ever-growing ranks of family-friendly tech companies last year when they announced that they would be offering salaried parents up to a year (yes, you read that right) of fully paid leave following a child's birth or adoption. According to The Guardian, "During that yearlong period, the parent will receive their full salary, and can stay at home full time, come into work full time, or go back and forth between those two, as needs dictate," making this company the most impressively flexible in the parental leave stakes. They also offer their hourly workers a variety of paid parental leave, which differs for different branches of the organization; for example, hourly employees working in the streaming department get sixteen weeks parental leave at full pay, customer service employees get fourteen weeks at full pay, and DVD employees get twelve weeks. This gives a whole new meaning to "Netflix and chill."
Have you heard about or experienced any other great family and parent-friendly companies that you'd add to our list? Let us know in the comments below!
Photo Credit: Taylor McCutchan