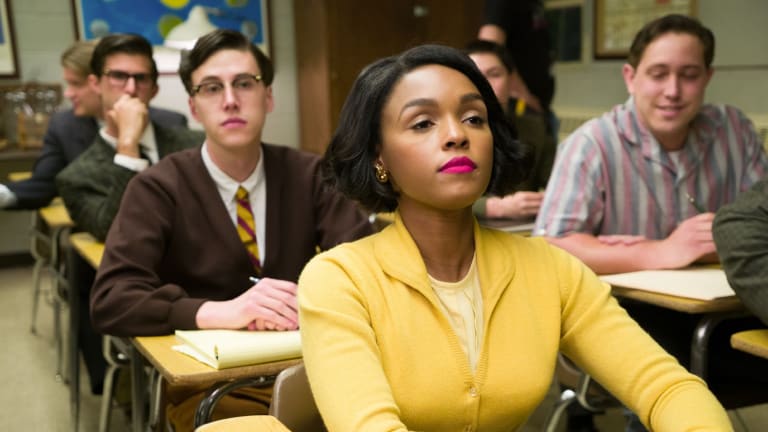 What You Need to Know About the Oscars' Best Picture Nominations (and How They Represent Women)
Where there is heroism, there is good representation of women. Coincidence?
While watching the nine films nominated for Best Picture at the Oscars this year, I couldn't help but note a couple trends. Most notable were themes of heroism (of which Hacksaw Ridge and Hidden Figures rank among the top); the tableaux of deep, painful pasts (Manchester by the Sea and Moonlight); and stories that tap into a value of human life despite the world's imperfections (Arrival and Lion). These and other common themes, such as the unmooring of time and the heartbreak and damage that lie in the wake of broken marriages, are just some of the trends that tie this year's nomination list together.
As I watched these Best Picture nominees, though, I was looking for something more as well—I looked to see how women fared in the stories. What I found was that the more a film had a story line of heroism, the more likely it was to have a positive representation of women. And the better the representation of women, the better representation there was for men as well. The well-being of all, in fact, seemed to require heroes on both sides; without it, story lines were more likely to be grimmer and less redeeming.
Here's my take on the full slate of Best Picture nominations—from the heroic to the painful and everything in between. (And in case you haven't seen these yet, some plot spoilers ahead!)
Hacksaw Ridge
Hacksaw Ridge may not lead the Oscars, but Mel Gibson's latest directorial piece featuring Andrew Garfield as real-life World War II veteran Desmond Doss is a gripping account of the value of sacrifice. The characters lack the depth of others in the Best Picture lineup, but that may well be because the drama lies on the outer battlefield rather than the interior. The story begins with Desmond meeting Dorothy, an independent, professional woman working as nurse—but she's also also willing to open her heart to love as she gets to know Doss. While much of the story centers around Doss' heroism as a medic on the battlefield, his relationship with Dorothy, and her portrayal, stood out to me as an amazing depiction of the heroism of love and sacrifice. The two both have their challenges, but both display resilience in the face of them, and both work things out together despite occasional differences in opinion. This to me, is a success all around and echoes the truth that when each person is doing their best, it achieves not only individual success but betters the outcome of everyone involved.
Hidden Figures, also based on a true story, features the heroes Katherine Johnson (Taraji P. Henson), Mary Jackson (Janelle Monae), and Dorothy Vaughn (Octavia Spencer). It's fair to say a great part of the film's appeal is its bringing attention to unsung heroes very worthy of recognition for their grit, excellence, and above-the-call-of-duty endurance in the midst of the 1960s space race. The formidable ladies balance family and work commitments while pushing back discrimination in their communities. Men are heroes in this film as well—not only is John Glenn (Glen Powell) a star of good character, bravery, and fairness to the leading ladies, but NASA exec Al Harrison (Kevin Costner) also offers support and encouragement that is especially valuable coming from a superior. All in all, another story where one person standing up for what's right has a powerful influence on those around them to do the same.
Arrival
Arrival, a story about how love is greater than death, showcases heroism helping most, if not all, characters to rise above themselves as well. The science fiction film starts with linguist Dr. Louise Banks (Amy Adams) tasked with solving a communication barrier between humans and alien life forms that have landed in twelve spots on earth. Hard working, inspired, and innovative, Banks is at first doubted by her scientific partner played by Jeremy Renner, but her persistence and dedication ultimately lead him to see her for her true value and leads to an almost otherworldly conclusion. Here too, the heroic story correlated with a positive representation of both men and women working together—in this case fighting challenges of global consequence.
Lion
A story about the call to self-discovery, Lion is based on a true story of an Indian boy named Saroo (Dev Patel) getting separated from his family at 5 years old, being adopted by Australians, and later using Google Earth to try to find his home again. Here is a story where persistence and resilience win the day for nearly all involved. Not only is Saroo determined in his soul search, the main women in his life—his biological mom (Deepti Naval) his adoptive mom (Nicole Kidman) and even his girlfriend (Rooney Mara)—are all largely supportive and encouraging in a story that is as amazing as it is picturesque. While Saroo's story is more a quest of discovery than a battle to win, I found the heroism required on his search translated to the positive representation of both men and women in a story yet again. 
Hell or High Water
The message of Hell or High Water, modern-day country Western film about bank robbers trying to make right by the forces that hold them back, could be summarized this way: There's a lot of understandable pain behind the desperation of middle America. Brothers Toby (Chris Pine) and Tanner (Ben Foster) team together to steal the money they need to recover their family's land from the banks that would cheat them of its real value, and along the way they are tailed by a wise detective Marcus Hamilton (Jeff Bridges) and his partner Alberto (Gil Birmingham). All female characters in this film stand on the sidelines of the male acts of machismo and attempts to provide for their families. 
Unfortunately, the moral compasses of many involved are, shall we say, not on target—and as the lead heroes fall short in upstanding conduct, the women are among the greatest to lose. Toby's ex-wife (Dale Dickey), for instance, carries the burdens of his children without his physical presence, even after the credits roll. To me, it was a tale of how, even with almost-noble intentions, a husband misses the mark if his focus is fighting battles with other men at the expense of forgetting his wife. While there are some heroic intentions in Hell or High Water, this film happens to showcase the breakdown of the heroism in proportion to how it shows the breakdown of the treatment of women. For me, this wasn't a coincidence.
Fences
One of the messages of Fences is that accepting others' flaws is a key to self-discovery. Originally written for the theater, Fences tell the story of Troy Maxton (Denzel Washington), a Pittsburgh blue-collar worker whose preoccupation with a lost dream of being a baseball player leads to the downfall of not only himself but his family around him. Troy's wife Rose (Viola Davis) faces his mistreatment, ranging from physical to emotional abuse, with resilience and more forgiveness than he deserves. In the end, while Troy's unheroic behavior influences the breakdown of the family at large, Rose's steadfastness provides a powerful and loving example for her son Cory (Jovan Adepo) to have room for growth at the end. 
Moonlight
Moonlight, which is largely being hailed as a representation of the complexity of same-sex attraction, tells a tale that offers a glimpse into the emotional depravity a child can experience when he grows up with hardly any treatment of love from those around him. Bullied by fellow students from an early age, neglected by his drug-abusing mom (Naomie Harris), and cared for by only a handful of people in his entire life, including a drug dealer named Juan (Mahershala Ali) and Juan's girlfriend Teresa (Janelle Monae), Chiron spends most of the film struggling to find his identity—sexual or otherwise—between attacks on all sides. In the end, it is unclear whether the short-lived moments of kindness Chiron received are enough to help him heal from his past hurts. Deeply deserving of love and compassion, Chiron lives a life in which his heroes are most often drowned out by his opponents. At the end of the film, the message is that everyone is deserving of authentic love, but it's unclear if Chiron will ever experience it in a lasting meaningful way.
Manchester by the Sea
More a glimpse into unresolved suffering than a heroic story, Manchester by the Sea is the Massachusetts-based, accent-oppressed, profanity-laced film you might expect from a picture headlined by Casey Affleck. Lee Chandler (Affleck), a depressed man with a haunting past, learns he's been named guardian of his nephew after his brother dies, and tragedy compounds tragedy as the flashbacks and flash-forwards unfold a story of unresolved hurt. While most of the male characters shirk their responsibilities and cover each other, the female characters are left bearing the brunt of most of the consequences of their male counterparts' choices. For me it was heartbreaking to see the anti-hero persistently avoid confronting his painful past, bypass real healing, and pass down more grief to those in his wake. Randi (Michelle Williams), Lee's ex-wife, plays a woman who shares Lee's grief and arguably a greater loss, but she's processed it and is attempting to move on. In emotional maturity, however, she stands alone and lonely. For me, the message of Manchester by the Sea is that sometimes people just can't heal (especially when avoiding it). Chandler misses his heroic opportunity presented to him, and all the characters suffer for it.
La La Land
Let's end on a positive note, shall we? Or upbeat with a dose of melancholy. It's hard for me to find a hero more writ large in La La Land besides Hollywood, and I'm not even joking. Yes, Emma Stone's character is indeed a heroic character in the film—Mia pushes back against the inauthenticity of Los Angeles, nurtures her own gifts, and ultimately succeeds. But Mia's story is tempered by an overarching theme of regret and falling short of what could have been, which is told as almost another charming thing about the nature of L.A. itself. More than a love story between Sebastian (Ryan Gosling) and Mia, it's a story meant to make viewers fall in love with the American home of cinema and studios, and at that it's largely effective. With feats of dancing and an electric soundtrack, La La Land woos viewers to visit the landmarks of L.A. (and woos cinema to return more to iconic musical formats, I hope) where in my view it falls short in story.
La La Land may be something of an exception in style from the rest of the Best Picture nominees, but even this musical matches the trend of if there's a strong theme of heroism (Hollywood, in this case), there also happens to be strong representation of women (Mia). 
In the other eight nominated films for Best Picture, I found this trend even more apparent—the more heroism a story showcased, the greater the representation of women and men, and the more fruitful their complementarity to make for a great story. Rather than coincidental, I think this trend tells of a larger point that is just as true in real life—that when individual people, whether male or female, display heroic virtue, it raises the bar for all parties.