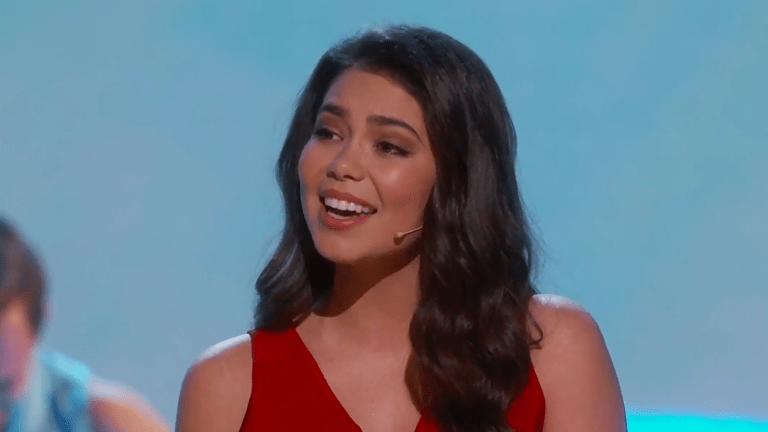 From Jaw-Dropping Snafus to Awe-Inspiring Speeches, Here Are the Oscars Moments Everyone's Talking About
What everyone's talking about this morning from last night's Oscars
Did you catch the Oscars last night? Whether you missed it, didn't make it through the full four hours, or simply want to relive it, here are our highlights from last night's show everyone's talking about this morning.
01. Justin Timberlake. Need I Say More?
Starting off the evening with a bang, Justin Timberlake danced and sang his way into the theater with "Can't Stop the Feeling"—a song nominated for an Oscar and featured in the film Trolls. Complete with the humorous deadpan when Jimmy Kimmel missed the mic toss to stage, Timberlake reminded us all he's our generation's renaissance entertainer.
02. Jimmy Kimmel Should Win an Oscar
By all accounts, Jimmy Kimmel succeeded in his job as host of the evening. The necessary political jabs were light and served alongside an overlying request for individuals to strive for unity; his roasts of Matt Damon all night were good, clean fun; his surprising a group of L.A. tourists with a bus stop at the Oscars reminded us of his skill with the good old-fashioned prank; and his wrap-up of the evening showed he can improvise expertly with any snafu.
03. And Boy, Was There a Huge Snafu
The recipient of the award for Best Picture, the last and most coveted award of the evening, was mistakenly announced as La La Land before being corrected as Moonlight. Not only is it hard to imagine a mistake so huge taking place (and how many people are yet to be fired for this), but it's also hard to imagine two films less similar. One was an expected winner, and one was what many would consider an underdog. While Moonlight was not my favorite to win, it did seem fitting to me that La La Land was recognized for best original score as opposed to best film.
04. Emma Stone Humbly Won Best Actress
Emma Stone accepted her award for Best Actress in La La Land and ended her remarks with these words: "I still have a lot of growing and learning and work to do. And this guy [pointing to her Oscar] is a really beautiful symbol to continue on that journey, and I am so grateful for that." Here's to humility and acknowledging that we always have room to grow.
05. Auli'i Cravalho's 'How Far I'll Go' Is How We Should Start Each Day
The Oscar-nominated song from Disney's Moana may have lost to La La Land's "City of Stars," but it did provide a full three minutes of perfection sung by Auili'i Cravalho. Not only was Cravalho's voice stunning, but her poise during a now much-GIFed swipe on the head from the flag of a backup dancer was a picture of grace we can all aspire to as well.
06. Gratitude on So Many Levels
Mahershala Ali, who took home the Best Supporting Actor award for his role playing a flawed mentor to the main character in Moonlight (and who also had a side role in Hidden Figures), started his remarks thanking his many past teachers and professors. "I had so many wonderful teachers. And one thing that they consistently told me is that it wasn't about you. It's not about you. It's about these characters. You're a servant—you're in service to these stories and these characters." Then a moment later he adds, "lastly I just want to thank my wife, who was in her third trimester during awards season. We just had a daughter four days ago. So I just want to thank her for being such a soldier through this process, and really carrying me through it all." Here's to Ali, his and his wife's newborn, and soldier mamas everywhere!
07. Viola Davis Delivers a Great Speech . . . Again
After winning Best Supporting Actress for her role in Fences, Viola Davis started her acceptance speech by poetically noting that the "one place that all the people with the greatest potential are gathered" is the graveyard, and it's her personal mission to exhume their stories—stories yet untold. She ended her remarks with a spotlight on the value of family in her life: "My parents: I'm so thankful that God chose you to bring me into this world. To my sisters . . . thank you for the imagination. And to my husband and my daughter. My heart. [You] teach me every day how to live, how to love. I'm so glad that you are the foundation of my life."
08. A Public Service Announcement Not to Troll
Kimmel reprised a feature from his late-night show—"Mean Tweets: Oscars Edition" featured actors reading cruel words written by online haters. It provided not only multiple laugh-out-loud moments but also a reminder of what we should never be like.
Among other noteworthy moments of the evening, La La Land took home prizes for best directing, cinematography, and original score; Hacksaw Ridge won awards for best film editing and sound mixing; Casey Affleck was recognized as best actor for his role in Manchester by the Sea; O.J.: Made in America won the award for best documentary; The White Helmets won best documentary short; and Zootopia won for best animated feature film. The Academy Awards won for the biggest on-air flub since Miss Universe 2016 (if one person was relieved last night, it was Steve Harvey). While I don't envy the letdown felt by the La La Land folks who for a moment thought they won the night's biggest prize, coming as this does after Adele's recent do-over at the Grammys and Patti Smith's nerves at the Nobel Prize Ceremony, it sure seems like humility and humanity on the main stage are having a moment.
Photo Credit: ABC