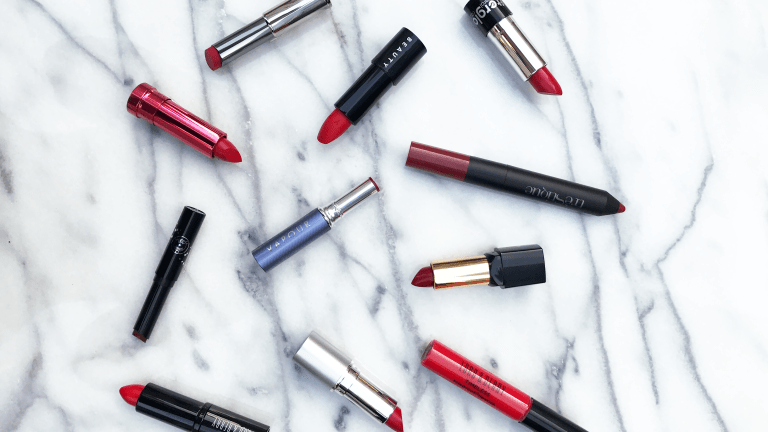 Win One of These Luxury Lipsticks in Our #VerilyRedLipChallenge
Get inspired to embrace your feminine side with a big giveaway!
What's more in the spirit of Valentine's Day than a bold red lip? This year, we are rocking our boldest shades of lipstick as a symbol of confidence and feminine strength for the #VerilyRedLipChallenge.
But we can't do it alone. That's why we are challenging YOU to embrace the vibrancy of a red lip in the coming week. We've partnered with nine of our favorite game-changing beauty brands to bring you the prettiest crimson and most romantic ruby hues you can imagine.
Even better? Fourteen of you will win one of these luxury lipsticks for yourselves! Read all about the brands and how to enter the #VerilyRedLipChallenge at the end of this post.
100% Pure
The 100% Pure brand states, "Beauty, as pure as it is powerful." This Silicon Valley–based brand is cruelty-free, and while its red shades are vibrant as ever, you can rest assured that its products are free from artificial colors, artificial fragrances, synthetic chemical preservatives, and all other toxins.
Want to know where the color comes from? Check your fruit basket! If you want environmentally friendly makeup you can feel really good about wearing, look no further.
Afterglow
Organic and gluten-free? No, this isn't the latest food craze, this is long-lasting red lipstick. Afterglow Cosmetics is committed to making its products free of synthetic dyes, paraben preservatives, and bismuth oxychloride (a common makeup ingredient that causes itching). Afterglow only uses the most natural ingredients of pharmaceutical-grade minerals and pigments. Get glowing with a special discount: From February 10–15, use the code KISS17 for free shipping and 15 percent off the Kiss and Courage shades.
Beauty Pie
Do you love companies that offer fair prices and transparency about their sourcing? Well, this innovative brand is changing the beauty industry one member at a time. Beauty Pie offers huge price reductions by cutting out the middleman. You can get products at factory cost (not Sephora's marked-up price points). For example, the retail cost of most luxury lipsticks is $25, but for Beauty Pie members, they're $2.49. Membership starts at $10 a month, and three lucky Verily giveaway winners will get a three-month membership!
Honeybee Gardens
Originally formulated in the founder's own kitchen to solve her family's skin care needs, Honeybee Gardens is certainly a homegrown brand. Made for those who have sensitive skin, this brand promises nonirritating makeup and body products. It's one of only 322 companies in the world to have achieved Champion status with the Environmental Working Group Campaign for Safe Cosmetics. Take a step toward healthier skin care with this discount: Use the code VERILY for 15 percent off your order.
Hynt Beauty
If you're the type of woman who loves ethical fashion and healthy eating, why not consider applying those same habits to your beauty routine? Formulated for the conscious consumer who is looking for a brand she can trust and rely on for honest ingredients, Hynt Beauty is a name you should definitely know. You don't have to go au naturel to be free from harm. The luxury makeup collection is made with the purest of ingredients that are both effective and ethically produced. Now that's a win-win.
Lord & Berry
Who said organic brands couldn't be modern and fashion-forward? Established during Milan and Paris fashion weeks in 1997, Lord & Berry is keeping up with the fast-paced beauty industry, offering contemporary makeup made with the purest materials and by the finest artisans. Without sacrificing its promise to provide organic makeup, Lord & Berry is on a mission to revolutionize the industry with quality raw materials and hypoallergenic ingredients. Who wouldn't want a red lip like that?
Mary Kay
As a staple beauty brand for as long as any of us can remember, Mary Kay knows how to maintain its standards while competing with up-and-coming brands. Always reinventing its look, Mary Kay's modern design has certainly kept our attention. But more so, the brand has inspired us with its commitment toward empowering women. Made with advanced skin care ingredients, plant extract, antioxidants, and vitamin E, Mary Kay's colorful lipsticks are a makeup bag must-have.
TrèStiQue
A simplified beauty routine is always our goal, and trèStiQue is here to help. Believing that makeup should be easy to use and apply, trèStiQue wants to empower women of all ages. With a revolutionary design, its two-in-one lip crayon has both a color-rich creamy pencil and a balm. The average full-face trèStiQue routine only takes about five minutes, and the eight duo products fit into any compact makeup pack. The best part? It's all lightweight. Bye, heavy makeup bag. This line is perfect for a busy life on the go!
Vapour Organic Beauty
Healthy skin is number one for this organic makeup brand, and that's a priority we can get behind. Made with high-performance formulas blended from pure organic ingredients, Vapour Organic Beauty is everything your clean beauty routine could possibly want. And don't think you have to give up style or trendiness for health. Vapour is as cool as they come, so you won't miss your old chemical-filled products at all. Skip all the synthetics, and instead reach for beauty products you know you can trust.
Are you ready to rock a bold, feminine red lip and win one of these awesome products? Enter our giveaway on Instagram now!