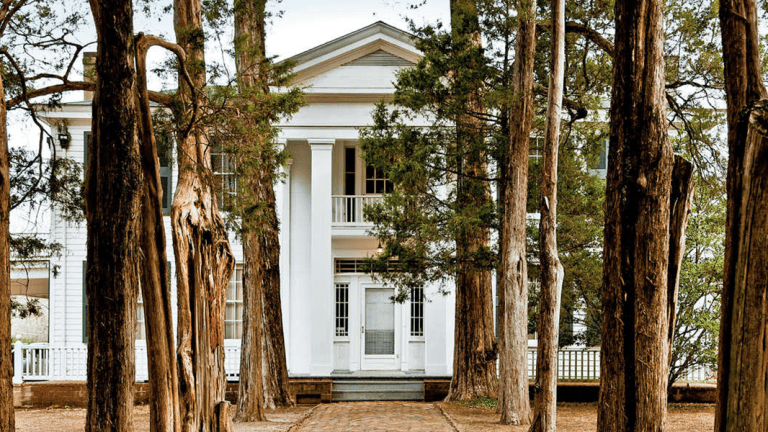 10 Vacations in the U.S. That Should Be on Every Literature Lover's Bucket List
From Louisa May Alcott's childhood home to camping under the stars on Laura Ingalls Wilder's homestead, we wrote this travel guide for the book lover in you.
As every literature lover knows, burying your nose in a good book is the perfect way to relax and unwind. But when you're in need of more than a mental vacation, literary landmarks in the U.S. will get your imagination going and help you feel like you've stepped into one of your favorite great American novels.
If John Steinbeck's or Flannery O'Connor's volumes have ever captured your heart, here are our top ten places for bookworms to visit in the U.S. Get a sense of the experiences that inspired these authors' stories while creating lasting memories of your own.
01. Monterey & Salinas, California — John Steinbeck
"I remember that the Gabilan Mountains to the east of the valley were light gay mountains full of sun and loveliness, and a kind of invitation, so that you wanted to climb into their warm foothills almost as you want to climb into the lap of a beloved mother." —John Steinbeck, East of Eden
The California landscape looms large throughout Steinbeck's work. And although the cityscape has changed considerably since his lifetime, the timeless mountains around the valley where he grew up and which inspired much of his writing—like East of Eden and Cannery Row—remain largely the same. Visit the restored Queen Anne Victorian house of his birthplace and childhood home for lunch (it's a restaurant these days), then take a stroll to the National Steinbeck Center just two blocks away.
02. Oxford, Mississippi — William Faulkner
"Some days in late August at home are like this, the air thin and eager like this, with something in it sad and nostalgic and familiar . . ." —William Faulkner, The Sound and the Fury
The fictional Yoknapatawpha County, the setting for the majority of Faulkner's novels, is based on Mississippi's Lafayette County. Visiting this area is as close as you can get to stepping into one of his novels, including The Sound and the Fury and As I Lay Dying. Explore his hometown of Oxford, where you can visit his family home, Rowan Oak. Leave a bottle of Southern whiskey—his infamous libation of choice—at his graveside in St. Peter's Cemetery.
03. Long Island, New York — F. Scott Fitzgerald
"In his blue gardens men and girls came and went like moths among the whisperings and the champagne and the stars." —F. Scott Fitzgerald, The Great Gatsby
F. Scott Fitzgerald lived all over the place (including Saint Paul, Minnesota, and Montgomery, Alabama). But the most iconic location to make a literary pilgrimage in honor of this hero of the Jazz Age is Long Island, New York, which famously inspired his finest novel, The Great Gatsby. While the house where he started writing this classic is privately owned and much of the Gold Coast has been built up since the swinging twenties, you can still catch glimpses of the world that inspired his masterpiece. There are still some old-money mansions left on the coast of the two peninsulas; Sands Point on the Port Washington peninsula and Kinds Point on the Great Neck peninsula. The best way to see them is by boat from Manhasset Bay; The Great Gatsby Boat Tour should do the trick!
04. Savannah, Georgia — Flannery O'Connor
"The trees were full of silver-white sunlight and the meanest of them sparkled." —Flannery O'Connor, A Good Man Is Hard to Find
Flannery O'Connor's beautiful childhood home has been carefully restored to the Depression era to give visitors a more authentic sense of what her early life would have been like. At her Georgian-style house-museum, fans of this great Southern writer can explore the garden while imagining a 5-year old O'Connor teaching a chicken to walk backward (which apparently happened in that very spot).
05. Monroeville, Alabama — Harper Lee
"People moved slowly then. They ambled across the square, shuffled in and out of the stores around it, took their time about everything. A day was twenty-four hours long but seemed longer. There was no hurry, for there was nowhere to go, nothing to buy and no money to buy it with, nothing to see outside the boundaries of Maycomb County." —Harper Lee, To Kill a Mockingbird
Maycomb, the setting for Harper Lee's classic novel To Kill a Mockingbird, may be fictional, but a visit to Monroeville, Alabama, is the next best thing a Lee fan can get. Take a tour of the restored courthouse that Lee reportedly visited as a child. Imagine Atticus Finch pacing the floor while making his powerful speech about racial equality. Lee grew up just a few blocks away from the old courthouse, and the museum has exhibits about her and her childhood friend (and fellow literary giant), Truman Capote.
06. Hartford, Connecticut — Mark Twain
"To us, our house . . . had a heart, and a soul, and eyes to see us with; and approvals and solicitudes and deep sympathies; it was of us, and we were in its confidence and lived in its grace and in the peace of its benediction." —Mark Twain
The Mark Twain House and Museum in Hartford, Connecticut, was designed and commissioned to be built by the author and his wife early in their marriage. Samuel Clemens (nom de plume, Mark Twain) spent some of his happiest and most productive years there before the family fell on hard financial times and moved to Europe. If you've ever wondered what it would be like to be the daughter of the man who wrote great American classics like The Adventures of Tom Sawyer and The Adventures of Huckleberry Finn, the museum (attached to the house) documents the early lives of his three daughters and all the privileges and difficulties that growing up with a renowned father entailed.
07. Hotel Monteleone, New Orleans — Ernest Hemingway, Tennessee Williams, William Faulkner, and Truman Capote
"America has only three cities: New York, San Francisco, and New Orleans. Everywhere else is Cleveland." —Tennessee Williams
If the revolving fairground carousel bar at the Hotel Monteleone doesn't capture your imagination, perhaps the fact that the hotel was a popular haunt for legendary writers like Ernest Hemingway, Tennessee Williams, William Faulkner, and Truman Capote will. Hotel Monteleone is mentioned in Ernest Hemingway's short story, Night Before Battle. It was made an official literary landmark by the American Library Association in 1999.
New Orleans itself is steeped in history. A stroll through the old French Quarter is to walk in the footsteps of American authors who drank, brawled and wrote here. Take a stroll past Tennessee Williams' former apartment on St. Peter Street, from which he wrote that he could hear that "rattle trap streetcar named Desire running along Royal and the one named Cemeteries running along Canal, and it seemed the perfect metaphor for the human condition."
08. Key West — Ernest Hemingway
"The clouds were building up now for the trade wind and he looked ahead and saw a flight of wild ducks etching themselves against the sky over the water, then blurring, then etching again and he knew no man was ever alone on the sea." —Ernest Hemingway, The Old Man and the Sea
Did you know that Hemingway spent more than ten years living and writing in a canary yellow-shuttered house on the island of Key West, arriving there from Paris in the 1930s by way of Havana, Cuba? It's not hard to imagine the master of clear, sharp prose spending his mornings writing and taking a fishing boat out onto the turquoise water in the afternoons. Officially known as the Ernest Hemingway Home & Museum, his house is now open to the public and preserved as it was when he lived there, stuffed full of European antiques and souvenirs from his many African safaris.
09. Ingalls Homestead in De Smet, South Dakota — Laura Ingalls Wilder
"All around them there was nothing but grassy prairie spreading to the edge of the sky." —Laura Ingalls Wilder, Little House on the Prairie
If you, like me, grew up on the Little House books, this one is sure to excite you; the Ingalls Homestead in South Dakota is a fully immersive experience where you can ride in a horse-drawn covered wagon, make a corn cob doll, visit the old schoolhouse, and discover what life was like for children like Laura in the 1880s. You can even opt to camp out under the stars on the open prairie in a bunkhouse cabin, covered wagon, or tent if you want to live out your childhood fantasy of pretending you're an Ingalls for a night. Top off your trip with a guided tour through the two homes where the Ingalls family lived in De Smet with the Laura Ingalls Wilder Memorial Society.
10. Orchard House in Concord, Massachusetts — Louisa May Alcott
"It was a comfortable old room, though the carpet was faded and the furniture very plain; for a good picture or two hung on the walls, books filled the recesses, chrysanthemums and Christmas roses bloomed in the windows, and a pleasant atmosphere of home peace pervaded it." —Louisa May Alcott, Little Women
No literary tour of America would be complete without a visit to Orchard House in Concord, Massachusetts, the home where Louisa May Alcott spent a lot of her childhood and where she wrote and set her beloved novel, Little Women. According to the owners of the museum, approximately 80 percent of the furnishings in the house were owned by the Alcott family, which means that a walk through Orchard House is like stepping back in time and into the pages of Little Women's cozy March family home.
Massachusetts boasts a great deal of literary connections that you can check out while you're in the area: Concord features the homes of Nathaniel Hawthorne and Ralph Waldo Emerson; Amherst (an hour and a half drive from Concord) is the home of Emily Dickinson; and you'll find Edith Wharton's country home, The Mount, tucked away in the town of Lenox in the Berkshires, a popular vacation destination in its own right.
If these literary gems haven't given you wanderlust or a desire to reread your favorite American classics, I'm not sure what will. How many of these destinations have you explored, or what other literary landmarks would you add to our vacation bucket list for book lovers?