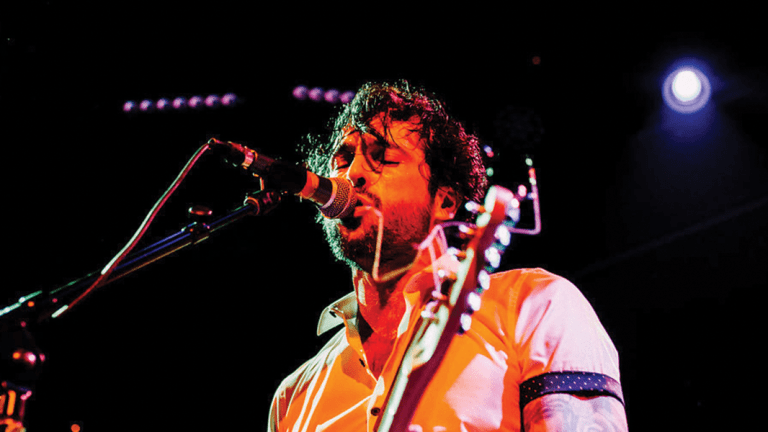 This New EP By Joseph King And the Mad Crush Is Everything
Fresh off a new album, Joseph King explains how community is essential to his art.
Does the thought of a band that's Mumford & Sons meets The Black Keys meets The Killers appeal to you? Then you might like the sound of Joseph King, former frontman of Deadbeat Darling and Canvas, who now fronts Joseph King and the Mad Crush. In January 2017, the band launched its new EP I Miss Everything. The record includes an upcoming video project as well five new tracks. Each music video connects to make a short film, which is scheduled for release in the next three to four weeks.
Joseph King previously recorded a solo album Wanderlusting (2014) in which "sixties surf rock meets modern indie sound." On the occasion of his new EP, we talked to King about his journey into music, what inspires him, and why he rejects being called a "singer-songwriter."
Verily: What was the inspiration for I Miss Everything?
Joseph King: I was sitting at a local bar two years ago with an ex-girlfriend of mine. I had been reminiscing about all the time I'd spent playing music in bands, living on the road with band mates, and all my travels. I guess I was getting really sentimental about it. At a certain point I stopped and I looked at her. She was looking at me with this very specific look on her face and she said "do you just totally miss it?" I looked at her and I said "yeah I miss everything all the time." She smiled at me and said "that's beautiful." Then I walked upstairs and wrote the song.
Verily: How does the song fit in with the rest of the record?
JK: "I Miss Everything (All the Time)" kind of captures the vibe of the whole record. They are all very nostalgic, and there's a bit of melancholy to each of them, but they're not necessarily sad.
Verily: Your 2013 solo album, Wanderlusting, is also melancholic and reminisces. In what way is the new record different?
JK: I guess I'm the same person I've always been. There's definitely a connective thread there but when I wrote Wanderlusting I was coming out of an extremely dark period in my life. The band I that I had worked really hard to get a great record deal for had disintegrated. And during that time I was in a relationship that kind of dismantled me emotionally. That all happened at the same time. I was trying to pull myself out of that, and a lot of those tunes were about me trying to be a little bit more flippant with life. This record, I Miss Everything, is more of memoir. It wasn't as necessary to make emotionally. It's more reflective.
Verily: Tell me about Joseph King and the Mad Crush. How did that start?
JK: I was in a band called Deadbeat Darlings for several years here in New York. We had a good run of it. We even had a little a record deal in the UK for a while. But that band came to its logical conclusion at the beginning of 2013. Then I started recording my first solo record. By the end of 2013, I had finished that record. I put a band together behind that album which initially was a trio and over the course of time that band kind of stuck. A year and a half later we started making this record. It felt like there was a lot of love in it.
Verily: When did you start thinking about music as a career?
JK: I grew up in a bit of a musical family. My older brother was a songwriter, so I grew up idolizing him. I started early on, especially playing guitar and trying to write songs at a very early age. I guess it was my favorite hobby growing up. I went to college and wasn't sure what I was going to do. I joined my first band continued to play and write songs. I pretty much decided at age 17 that that's what I was going to do for the rest of my life. So that's what I do.
Verily: Do you identify mainly as a songwriter, or do you see yourself more as a singer?
JK: That's a good question. My voice is my main instrument and song writing is my craft but I'm not really a singer-songwriter per se. I've always been in bands. For me, it's the community, the experience of being in a band and being in a sort of a rock 'n' roll situation that has always been very important to me. So I don't necessarily think of myself as a singer-songwriter. I think of myself as a writer and a frontman.
Verily: Which artists inspire and influence you?
JK:  I've had a lot of influences in terms of song-writing. Paul Simon was probably my earliest influence. I've had a lot of influences which are much closer in proximity: TV On The Radio, the Yeah Yeah Yeahs. I'm a fan of a lot of different types of music. I grew up on World War II and big band music. I was a fan of old school reggae and dance hall so I'm kind of all over the map.
Verily: What's your process for writing songs? How do they get from your head onto a record?
JK: I write songs in waves. I'll go months at a time without writing a song, and I'll have a couple of weeks when I churn out three or four at a time. I have these ideas hanging out with me for who knows how long and then when their day comes I'll pull them out very quickly. I add color in, around these quick sketches, on my own time.
Verily: Is there a particular message you want to get out with your music?
JK: There's no time I feel more worthwhile on this planet than when I finish a song which I think is beautiful and I want to play for people. I think the purpose is to create a community of madly inspired and loved human beings that can all have a moment to express that to each other. 
Photo Credit: Joseph King