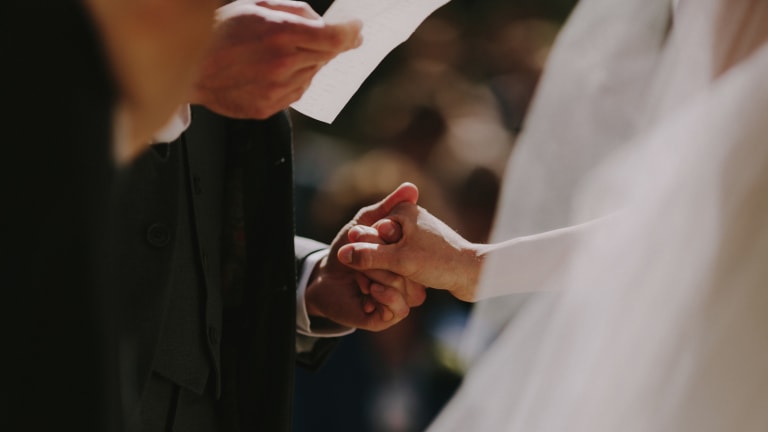 The Best Piece of Marriage Advice I've Ever Heard
From an unexpected source, here's how to have a happy marriage.
Sometimes you find wisdom in the most unlikely of places. That's what I thought, anyway, on a recent evening in New York City when I went to hear the country's bestselling cookbook author and all-around beloved culinary queen, Ina Garten, in conversation with Danny Meyer, the man responsible for many of Manhattan's best restaurants and the cultish burger joint Shake Shack.
During this lively evening at the 92nd Street Y cultural institute, I expected inspiration to run aplenty; after all, Garten and Meyer are two of the hottest names in lifestyle and food right now. But I did not expect to hear Garten bestow upon the audience one of the best pieces of relationship advice I've ever heard—ever.
From the time Garten's cooking show, Barefoot Contessa, began airing on Food Network nearly fifteen years ago, viewers learned almost as much about her too-good-to-be-true husband, Jeffrey, as we did about the approachable specialty foods she was casually whipping up in her airy Hamptons barn.
It came as no real surprise to fans, then, that Garten's latest cookbook was an ode to her husband of forty-eight years. Cooking for Jeffrey was all about the powerful connection between food and love. It sold nearly half a million copies in just three months and was the top cookbook of 2016. And for any fan of Garten's, it's so much more than just a recipe collection. It's a bird's-eye view into this mythical marriage we've seen play out on screen over Friday night roast chickens and pastry-filled walks along Parisian promenades.
With everyone wondering how exactly Ina and Jeffrey have managed such a seemingly perfect union for nearly half a century, Meyer just went ahead and asked her. "What's your secret?" he begged as the audience leaned forward in their seats.
"Well," she said, "a long time ago I was watching Larry King's show, and he had a guest on who was a famous self-help guru—Tony Robbins. I didn't know who this man was, but I realized that what he said about love was true of Jeffrey and me. It's exactly what we've been doing all these years."
"The key to a successful marriage," Garten continued, "is that each person feels they're the most important person in the other's life. It's that simple."
She went on to recall times when both she and Jeffrey had made sacrifices to support the other. She talked about a time when Jeffrey was headed overseas on business and she had a problem arise. "He landed and got straight on the next flight back so he could help me," she said. "We both know that we come before anything else."
The more she spoke about their secret to success, the more it all made sense. They both truly were committed to each other in the larger sense of marriage but also in all the micro moments of daily life. Garten said something else that felt really true to me. She was talking about how she has achieved so much success bringing the art of cooking to people, how she has created a brand that people not only admire but also engage with, and she said, "If you think it's easy to make something simple—well, it's not."
Ina and Jeffrey's marriage has taken on a life of its own thanks to her celebrity. And while it's sweet to see the Gartens together or hear either of them edify the other, we know that there's more there than meets the eye. Telling people why a marriage works might be, as Garten says, simple; actually living that and choosing that day in and day out isn't always so easy.
I'm heartened to know that the Gartens' idyllic marriage isn't just chalked up to fate and feelings. Fans and Garten alike joke about her onscreen life of bourgeois hospitality that often feels more aspirational than attainable, so I'm glad that Garten's advice is actually something anyone can apply. You don't have to be a child-free couple with luck on your side to be happy; you just have to work hard at letting each other see why it is you chose this life together. That (and maybe a good roast chicken) certainly sounds like a recipe for success.
What are your secrets to a happy marriage? Tell us in the comments!
Photo Credit: Nirav Patel Photography