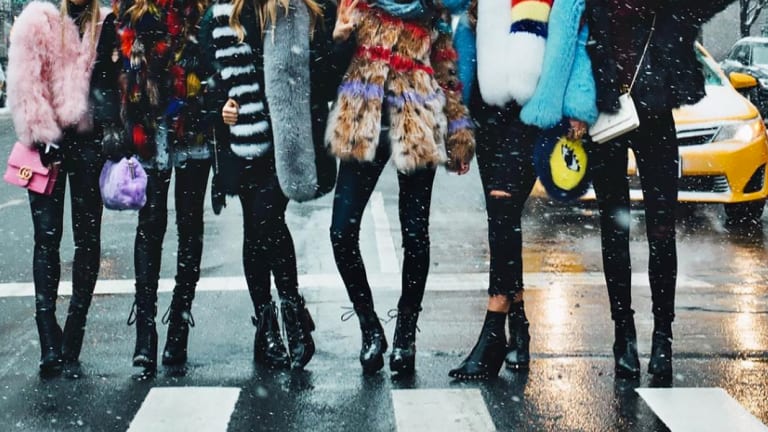 My Super-Simple (and Honest) Styling Tips for Surviving February
Because who wants to be fashionable in 30-degree weather?
I dread the month of February (and early March) more than any other month of the year. It's below 40 degrees, the atmosphere is gloomy, Christmas is no more, and, worst of all, outfit choices become increasingly limited. But it's not just me feeling the winter style slump—Verily's office neighbor also expressed his February fashion frustrations. "I don't even want to wear my handmade suits anymore. I just want to wear sweatshirt." I never thought I'd be able to relate to a middle-age Russian man so much.
At this point, we're all just trying to tough it out until spring. To help you get there, I've compiled my most applicable cold-weather style tips.
Function Over Fashion
Christmas party outfits are long gone. This is the season of survival, and 30-degree weather is no condition to be worrying about fashion. Remember, there is nothing like the regret of wearing a flouncy skirt, thin tights, and ballet flats during your morning and evening commutes. I cringe at the thought.
Give yourself permission to focus on warmth rather than being on your fashion A-game every day. Even the most fashion-forward women feel inhibited during the dead of winter. So let's just embrace those oversize chunky knits, thick fleece-lined leggings, and goose down puffer coats. Don't worry, you'll emerge from your insulated cocoon come spring.
Go Monochrome
Color coordinating is much easier when you're dealing with only two to three items in the summer. In the winter, layering is king, so making sure that every piece of your outfit works is a tall order and totally not necessary.
On days you're struggling to put together a cute outfit, forget intricate and creative layers and just go for monochrome layering so that everything matches. That way, you can get dressed quickly, achieve warmth, and look like you intentionally wore a one-tone outfit (which you totally did).
Emphasize Your Face
When you're layered from neck to toe in every item from your closet, it's easy to start feeling a bit sloppy. To feel more pulled-together, try putting more effort into your makeup look. This can be as simple as a berry lip or a demure cat eye. The extra oomph of makeup will help you feel like you've gotten ready for the day, even if your outfit is more utility-focused, aka winter-proof.
Knits on Knits
At this point, nobody is expecting you to be rocking silky blouses and lightweight frocks. Go all out with your chunky knits and layer them like there's no tomorrow. The oversize layered knit look will be both comfy and stylish, so don't be afraid to wear all your knits at once. Plus, layering allows for flexibility if you get to the office and start sweating. Just remove one piece, and you're good.
Embrace Longer Lengths
The worst part of winter mornings is getting out of bed. So why not take your bed with you? A long coat is like wearing a giant, thick blanket. Plus, it actually keeps the entire length of your legs warm (I'm lookin' at you, parkas). The swooping length will look dramatic and stylish—plus, it will cover up any less-than-awesome outfit underneath.
Not interested in investing in a coat at the end of winter? Plenty of thrift stores and vintage shops have longer coats for a fraction of department store prices. You can find a quality coat for the same price as your lunch (well, at least a midtown Manhattan lunch).
Be Positive
The best thing you can do to survive the rest of winter is to stay positive. I know that when the bitter winds are chapping your cheeks and making your eyes water, it's hard to feel like there will ever be an end, but spring will be here before you know it! You'll be packing away your winter digs in no time.