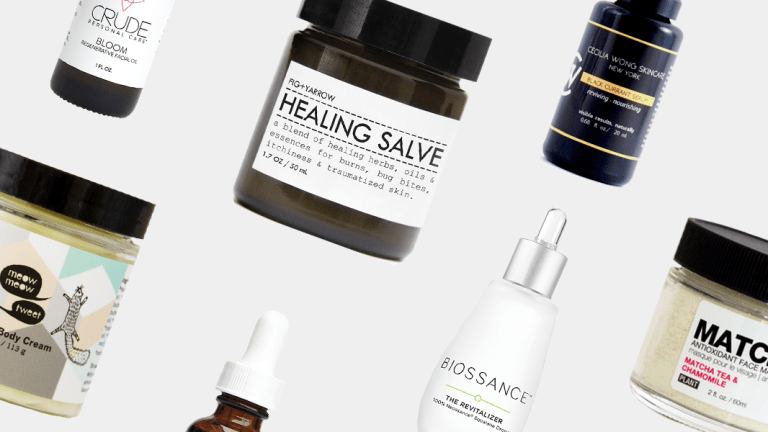 Heal Your Dry, Sensitive Skin with These Soothing Organic Products
When drugstore facial lotions burn, go natural.
Surprise blizzards, chapping winds, icy rain—these wintry forces are enough to make us want to dive into a jar of Vaseline. Dry skin is uncomfortable and painful, and it can visibly affect our lives with peeling, redness, and cracking. If you're nodding in agreement, then you also know that dry skin means sensitive skin, making treating your dry skin even harder. When drugstore lotions that are labeled "sensitive" or "gentle" still make your skin burn, it's time to start seeking more natural options.
We've rounded up some of the best organic serums, oils, butters, and masks that will truly heal and soothe your sensitive dry skin to give you lasting relief.
Healing Salve // by Fig + Yarrow
If you're suffering from extreme dry skin, to the point of windburn or cracking, you need intense moisture. Instead of sticking with the Vaseline, go one step further with Fig + Yarrow's nutrient-dense Healing Salve. Going beyond mere petroleum, this salve includes an array of moisturizing and healing ingredients. These oils penetrate deep into the skin to heal damage caused by dry skin, which is more than most topical moisturizers. 
Ingredients:
Shea Butter: aids skin's natural collagen production; contains antibacterial and anti-inflammatory properties
Tamanu Oil: plant-based topical healing agent; has anti-neuralgic, anti-inflammatory, antimicrobial, antibiotic, and antioxidant properties; accelerates healing; promotes healthy skin growth
Rose Hip: contains vitamins E, C, and B-carotene, which aid healthy skin growth
Jojoba Oil: powerful antioxidant; fights free radicals; unclogs hair follicles; iodine-rich; keeps oil levels balanced
Borage Oil: plant-based; anti-inflammatory
Sea Buckthorn Oil: berry-based; heals wounds
Face & Body Cream // by Meow Meow Tweet
When your regular body lotion still leaves your legs and arms flaky and itchy, consider a buttery cream like Meow Meow Tweet's Face & Body Cream. The versatile product can be used on both your body and face (and even works as an effective makeup remover!). Like butter, the product is solid in the jar but immediately melts when in contact with warm skin. The texture dissolves into skin, leaving it glowing and silky-smooth.
Ingredients:
Sunflower Seeds: contain vitamin E and copper; protect skin from sun damage
Shea Butter: aids skin's natural collagen production; contains antibacterial and anti-inflammatory properties
Mango Seed Butter: contains essential fatty acids and vitamins A and E; improves skin's moisture
Pumpkin Seed Oil: rich in vitamin E, zinc, omega-3 and omega-6 fatty acids, and antioxidants; helps wounds heal more rapidly; fights acne
Rose Hip: rich in vitamins E and A; contains fatty acids and linoleic acid (natural oil that prevents clogged pores)
Tamanu Oil: plant-based topical healing agent; has anti-neuralgic, anti-inflammatory, antimicrobial, antibiotic, and antioxidant properties; accelerates healing; promotes healthy skin growth
Arrowroot Powder: used as thickening agent, enabling active ingredients to penetrate top layers of skin because of its moisture-absorbing qualities
Black Currant Facial Oil // by Cecilia Wong
Believe it or not, it's totally possible to have both oily and dry skin. If your summer and fall skin care regime consisted of excess oil prevention, that same routine is probably drying out your skin right now during the height of winter. And since you dread clogged pores like no other, the idea of adding more oil to your face is probably ridiculous. Fighting oil with oil, however, is the way to balance your skin's natural oil production and add necessary moisture. Cecilia Wong's bestselling Black Currant Facial Oil is full of non-comedogenic oils that do not clog pores but rather deeply moisturize, tame excess oil production, and even skin tone. 
Ingredients:
Black Currant Seed Oil: anti-inflammatory and anti-aging; rich in essential fatty acids; helps reduce wrinkles and repair tissue damage
Blueberry Seed Oil: rich in essential fatty acids, antioxidants, and phytonutrients; helps boost skin elasticity, repair damaged tissue, and reduce fine lines and wrinkles
Cranberry Seed Oil: rich in vitamins A and E, phytosterols, phospholipids, and essential fatty acids; provides intense hydration and relief from scaly, itchy skin
Red Raspberry Seed Oil: Antioxidant and anti-inflammatory; rich in essential fatty acids and vitamins A and E; known to reduce oxidative stress
Argan Oil: intensive antioxidant; tightens skin, increases elasticity, and speeds up cell renewal
Rosa Damascena Oil: regenerates skin cells
Matcha Mask // by Plant
So your face feels like it's literally burning and you just want to put out the flames. To sooth the sizzle, skip the face masks full of chemicals and stick to calming clay masks. Plant's Matcha Organic Antioxidant Face Mask contains matcha (powdered green) tea, which reduces inflammation and fights free radicals. The mask also contains chamomile, which is know for it's soothing, anti-irritant properties. Apply this mask on after a long day in the elements and you'll be saying "ahhh" in no time. 
Ingredients:
Kaolin: white clay with natural absorbing properties
Camellia Sinensis Leaf Powder (Matcha Green Tea): contains catechins, a type of polyphenol and powerful antioxidant; anti-inflammatory
Matricaria Recutita (Chamomile) Flower Oil: soothes acne and inflammation; evens skin tone
Revitalizer Squalane Drops // by Biossance
If you want an oil so lightweight that it feels like water, consider squalane drops. Biossance's Revitalizer is gentle and 100 percent derived from plants. So what is squalane oil? It's a natural molecular compound found in humans, animals, and plants. Over time, the natural squalane oil in human skin diminishes, resulting in drier skin. Plant-based squalane oil mirrors the human squalane compound and can restore the proper balance of natural oils in your skin. It also serves as a humectant and increases water retention in the skin for long-lasting moisture. Squalane's most noteworthy characteristic is how rapidly and deeply it penetrates the skin without leaving a greasy residue.
Ingredients:
100 Percent Squalane: antibacterial; contains antioxidants; protects against UV damage; promotes cell growth
Bloom Regenerative Facial Oil // by Crude
Bloom facial oil is another non-pore-clogging oil that is ideal for those who struggle with both acne and dry skin. Instead of slathering on water-based creams that rest on the top layer of skin, the Bloom Regenerative Facial Oil penetrates deeper to solve dryness at the core while also combating acne and inflammation. It can even soften stretch marks and scars while leaving skin notably brighter with an even skin tone. When using, give yourself a mini facial by massaging the oil into your skin for two to three minutes to increase absorption and blood flow to your face while also rubbing away dull dead skin cells. 
Ingredients:
Kukui Nut Oil: contains essential fatty acids, vitamins, and antioxidants that help soothe dry skin and heal wounds
Jojoba Oil: powerful antioxidant; fights free radicals; unclogs hair follicles; iodine-rich; keeps oil levels balanced
Rose Hip Seed Oil: rich in vitamins E and A; contains fatty acids and linoleic acid (natural oil that prevents clogged pores)
Tamanu Oil: plant-based topical healing agent; has anti-neuralgic, anti-inflammatory, antimicrobial, antibiotic, and antioxidant properties; accelerates healing; promotes healthy skin growth
Geranium and Frankincense Essential Oils: reduce inflammation; alleviate anxiety