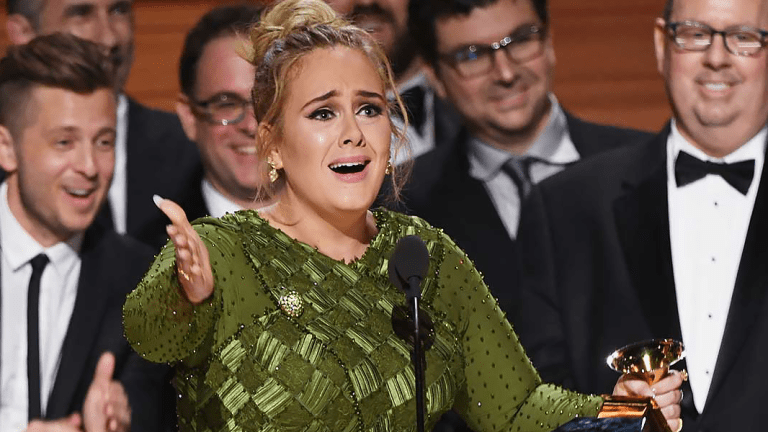 Adele Shows Us What It Is to Be Human—and Other Favorite Moments from the Grammys
Adele, Beyoncé, and Chance, oh my!
The Grammys have come and gone with their usual fanfare. This year, "music's big night" was emceed by late-night TV host James Corden, who provided a healthy dose of slapstick humor (and even a little Carpool Karaoke) all night. Meanwhile—in case you hadn't heard—Adele and Beyoncé were there (more on that later). Twenty One Pilots provided the evening's silliest moment, accepting an award in their underwear (apparently due to an inside joke that started when the two watched the Grammys together years prior in their briefs). Heartfelt tributes to Prince and George Michael brought the crowd to tears. And, as to be expected, many performers and presenters used the platform to get political.
But overall, these were our top highlights.
01. Hello . . . We Hear You
Can I say how heartened I was to see Adele starting the evening? Singing "Hello" better than we've ever heard it, Adele did just what she always does—sing into a microphone and move our hearts. The Grammys chose to open the night with a performance that was not overly showy but rather stripped down and focused only on the music. At that, Adele never fails.
Even during her second performance of the night, when she flubbed her first try at the tribute to George Michael singing "Fastlove"—literally stopping the music and asking for a redo—Adele made a positive statement. When the song ended, Adele was met by a standing ovation from the roomful of artists who empathized with the humiliation that comes with making a mistake on the world stage.
When Adele finished the night accepting her fifth and final award of the evening, this one being the night's top honor of Album of the Year, she said, "Five years ago, when I was last here, I also was pregnant and I didn't know, and I . . . found out shortly after, which was the biggest blessing of my life. And, in my pregnancy and through becoming a mother, I lost a lot of myself. I mean, I've struggled, and I still do struggle, being a mum. It's really hard. But tonight, winning this kind of feels full circle and like a bit of me has come back to myself." She also shared the award with Beyoncé, whom she seemed to think deserved the win more than she did. Adele cried, Beyoncé cried, and we all cried at the spontaneous humility of the moment.
02. A Chance Encounter
After Adele, Chance the Rapper was the second-most-winning artist of the evening, taking home three Grammys. Accepting his first award, in addition to numerous thanks to God, the rapper offered some words of wisdom for viewers: "I know that people think that independence means you do it by yourself, but independence means freedom." Some food for thought, there.
Later in the program, Chance performed a rousing mashup of "How Great" and "All We Got." The number included a full choir, gospel stars Kirk Franklin and Tamela Mann, and Chance bounding on the stage in what Rolling Stone best described as "ecstatic joy."
03. Better Together
Like last year, most of the evening's collaborations between artists were original and impressive. Kelsea Ballerini and Lukas Graham presented a creative mashup. Alicia Keys and Maren Morris were a powerhouse female duo. And Keith Urban and Carrie Underwood performed their duet "The Fighter." My personal favorite was the Bee Gees tribute performance featuring Demi Lovato, Tori Kelly, Little Big Town, and Andra Day.
04. Beyoncé's Babies
Whenever viewers weren't watching Blue Ivy wandering about in the front row—easy to spot in a bright pink tuxedo—they were, of course, watching out for her mother. Beyoncé's performance could have been titled "I am pregnant; hear me roar." Truth be told, her segment was a little slow and strange on the windup, although those who listened to Lemonade will recognize the words from poet Warsan Shire heard on the album. I personally loved that Bey culminated the performance by showcasing the song "Sandcastles"—a title that coincided on the thematic album with her decision to choose reconciliation after betrayal. "If we're going to heal," her spoken word resounds again at the end, "let it be glorious."
In an acceptance speech later, Beyoncé stated, "We all experience pain and loss, and often we become inaudible. My intention for the film and the album was to create a body of work to give a voice to our pain, our struggles, our darkness, and our history—to confront issues that make us uncomfortable." It's fair to say she did; Adele even paused her own acceptance speech to commend her "idol," saying, "This album for me, the Lemonade album, was just so monumental, so well-thought out and so beautiful and soul-baring."
05. Ear Candy
While Adele and Beyoncé were the show's stars, the evening did not slip by without some powerful male performances. The Weeknd crooned "I Feel It Coming" alongside Daft Punk; Ed Sheeran performed "Shape of You"; John Legend, with Cynthia Erivo, revisited a classic tune from the Beach Boys' "God Only Knows," and Sturgill Simpson and the Dap Kings Performed "All Around You." For someone largely unknown outside of country music circles, Simpson gave a performance that is worth the watch.
06. Music Is Greater Than Politics
It's fair to say that wherever one sits on the political spectrum, for many Americans it's a divisive time in the United States today. Which is why I found the remarks from Neil Portnow, CEO of the Recording Academy, so good: "We are constantly reminded about the things that divide us . . . but what we need so desperately are more reminders of what binds us together." After putting the spotlight on a trumpeted "America the Beautiful," Portnow said the iconic tune "captures the essence of our country and reminds us that we are and always will be one people from sea to shining sea. In times of triumph and tragedy, we turn to song and the abiding power of music to lift our spirits, soothe our souls, and remind us that everything will be OK."
As the 2017 Grammys proved, it's hard to disagree that music is a universal language. Art's ability to lift us above the tension of the world is something that will never cease to amaze.
Photo Credit: CBS