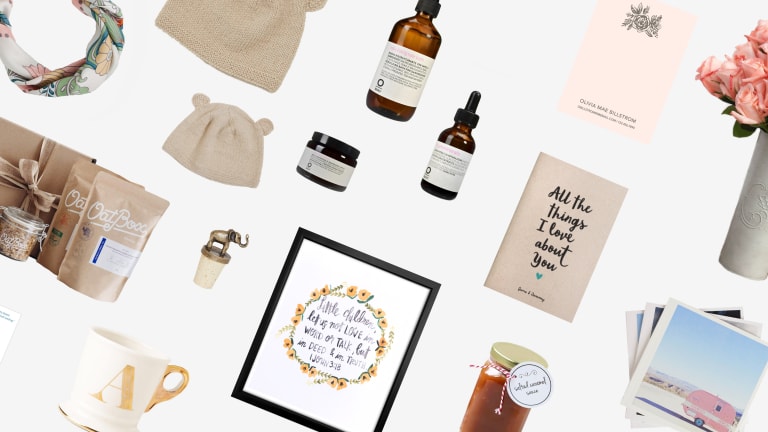 The 15 Best Galentine's Gift Ideas Based on the 5 Love Languages
When was the last time you showed the wonderful women in your life just how much they mean to you?
Speaking someone's love language doesn't just apply to romantic relationships. We can and should practice them in our friendships and family ties, too. And what better place to start than with the women who love, inspire, and lift us up? A thoughtful Galentine's Day gift idea is a natural opportunity to express just how much she means to you this holiday.
After decades of counseling and research, Dr. Gary Chapman, author of The 5 Love Languages, discovered that everyone "speaks" a primary love language. Each love language is both a way to express and experience love emotionally. He explains the five love languages to us here.
If you want to give better this Valentine's Day—or really any day—find out your mother, grandmother, sister, mentor, or best friend's primary love language(s). Then read our guide below for creative and affordable Galentine's gift ideas based on the five love languages that we promise will speak volumes.
Acts of Service
The words she most wants to hear: "Let me do that for you."
01. Gift her a daily reminder of what makes her love language so special. This print of an original watercolor by Victoria Grindstaff of Happy Hart Co. sums up the immense value of our acts of service. All proceeds go the International Rescue Committee, which helps refugees "whose lives and livelihoods are shattered by conflict and disaster to survive, recover, and gain control of their future."
02. Help her get around to that book she's been meaning to read. Whether she's working her way through the best works of fiction and nonfiction from 2016 or has barely made a dent in the list of books every twentysomething and thirtysomething should read—such as Dr. Meg Jay's The Defining Decade— she'll relish having a few of her goal volumes in Audible form to listen to on her commute or while she tidies up.
03. Match a present with an act of service. The acts of service girl on the go would appreciate Oatbox, whose monthly subscription-based service of healthy, tasty and luxurious morning meals is redefining breakfast. Along with it, compile a small, personalized catalogue of easy recipes she can turn to for inspiration in a pinch. Breakfast will always be (almost) served!
Words of Affirmation
She needs to not only hear "I heart you" but also why.
01. Say, "All the things I love about you." Such a cute way to let her know all the reasons you love her. This notebook by Happy Dappy Bits is printed on earthy 100 percent post-consumer recycled card stock. An extra memorable Galentine's Day memento, indeed.
02. Give her something to talk about. A person who receives words of affirmation as her primary love language probably also enjoys giving words of affirmation to her loved ones. Hook her up with gorgeous personalized stationery from Paper Source on which she can delightfully pen her heartfelt thoughts.
03. Make a semi-public declaration. Host a brunch for your girlfriends, and make them all the "Guests of Honor." Toast to each person around the table, telling them how important they are in your life. Verily editor Sophie shares, "My sister did this for all of us sisters and had us all in tears!" Send each woman home with a handmade wine bottle stopper from The Little Market. Your purchase supports Roots of Creation, a fair trade company of brass artisans in South Africa.
Quality Time
When it comes to quality time, she'll appreciate anyone who intentionally plans to spend the day with her.
01. DIY it. From homemade bath bombs and natural face masks to a classy bar cart, easy kitchen makeover, or gorgeous hostess gifts, if she likes it, there's probably a (more affordable) DIY for it. Schedule a date, collect all the supplies you'll need beforehand, and spend a few hours or an entire day bonding over your new project.
02. Choose a new ritual to do together on the regular—like having coffee or cocktails once a week to catch up on life, just the two of you. Commemorate the first date with matching monogram mugs or gilded old-fashioned glasses.
03. Go all out for girls' night in. Scope out the continuing trend in nontoxic manicures perfect for trying out during a fun girls' night in. Play your favorite rom coms in the background, or indulge in a new period piece series like PBS Masterpiece's Victoria (popcorn and chocolates optional but highly recommended). Make it official with a box of full-size, premium products from FabFitFun. It includes a mix of beauty, fashion, fitness, wellness and home items that help you feel good from the inside out.
Physical Touch
Just initiating a hug or a soft squeeze on the shoulder will make her feel extra-loved.
01. Get all dolled up for yourselves. We don't know anyone who doesn't like their hair to be touched by someone they love. So why not try one (or all ten!) of these easy romantic half-up hairstyles. Gift her with a pretty (and high-quality) hair accessory or a soft silk scarf to polish off her new and equally pretty look.
02. Always maintain a kind of summer even in the middle of winter. We couldn't agree with Thoreau more. Although it's still chilly out, sales on cold weather accessories are heating up. Browse the best hats, scarves, and gloves of the season, and help her survive the rest of winter in a state of warm and toasty. This cute bear beanie knit of fair trade Bolivian alpaca from The Little Market will make her smile—and for mama bears, you can get a matching pair for baby bear, too.
03. Turn her next hair appointment into a moment of bliss. Originating in Japan, head spas are slowly cropping up throughout the U.S. Think of it as a nourishing and relaxing massage . . . for their scalp! Blow Me Away Organic Salon offers an incredible head spa treatment with a blowout via Gilt City (offers change, but there's always something good). BMA's head spa only uses organic, fair trade products by Oway, an Italian brand committed to sustainable, luxurious hair care. After analyzing the hair and scalp, a head spa technician will create a customized path for her hair and scalp treatment—and she can take home a bottle of shampoo mixed just for her. Swoon!
Gift Giving
"Don't mistake this love language for materialism; the receiver of gifts thrives on the love, thoughtfulness, and effort behind the gift," Dr. Chapman says.
01. Do something unexpected. Someone whose love language is gifts appreciates a thoughtful surprise. Send a "Spontaneous" Bouq. The $50 fee includes shipping in two to four business days. These cut-to-order flowers from a sustainable and responsible company will please her eyes . . . and her heart.
02. Make this day one for the books. Chatbooks' Custom Books allows you to compile all of the amazing moments you have shared together into one photo book that stands apart from the standard chocolate and roses (starting at $12).
03. Immortalize your friendship. Whether for her smartphone or set in a frame, Chic Sketch mobile app can create a personalized hand-sketched illustration of you and your BFF for posterity. The sketch costs $9.99, but enter the code VALENTINES10 (active now through 2/14/2017) for 10 percent off.
To find out your love language, take the love language profile here. And remember: Some of the best Valentine's Day gifts are free.