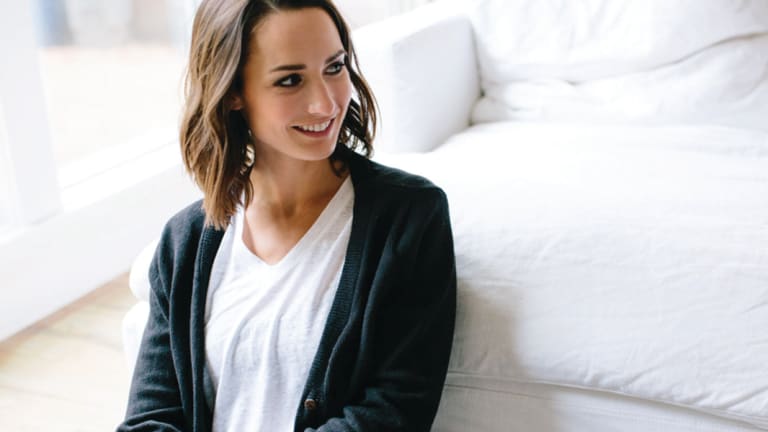 This Ethical Fashion Company Will Cure Your Winter Blues
As ethical clothing companies rise in prominence, Slumlove Sweater Company is innovating quickly.
Each piece of clothing in our closet has a story. While some of our clothes show the craftsmanship of loving hands, many pieces we buy tell stories of hazardous factories, exploited workers, and systematic assembly lines.
The ethical fashion industry, however, is on the rise as more and more people are becoming aware of the harmful realities of the fast fashion industry. Consumers are choosing to support brands that make humane working conditions the priority and transparency a must. 
Slumlove Sweater Company exemplifies just how much of a difference ethical fashion can have on the world. Founder Ava Darnell always had the desire to be in the fashion industry, but when she was getting started brands like Toms Shoes and Krochet Kids weren't prevalent, and there seemed to be a disconnect between the clothing industry and philanthropy. After spending several years working for a nonprofit in Kenya, Darnell found a way to combine her love of fashion and her desire to help change the lives of the people in Kibera, one of the world's largest slums.  
"There was no precedent for clothing lines and fashion brands that were being made ethically and giving back," Darnell said. "I didn't know how my love for working in Kibera and my love for fashion could merge into one thing. But as these other companies came out and I forged relationships in Kibera, the idea of Slumlove developed. I knew that I wanted to work in the fashion industry and help a community in such need."
The company began with one employee, a woman Darnell had met while working at the nonprofit school in Kibera. She was trained in the art of machine and hand knitting. As the company picked up traction and demand for their sweaters grew, Slumlove Sweater Co. was able to take on more employees, primarily women who come from low income and impoverished communities. Without an education, work is hard to come by, especially for those with skill sets in knitting. Slumlove provided a life changing opportunity for each one.
Today there are more than twenty artisans working for Slumlove. "They have the rare opportunity of being paid fair wages," Darnell stated. "Poverty is exploited in the fashion industry, companies know they can have clothes made super cheap but we wanted something that wasn't exploiting their situation." Another advantage of working at Slumlove is the safety and stability, a situation that is extremely hard to come by in Kibera.
Not only is Slumlove changing the lives of their employees, but it is also changing the lives of the children in Kenya. Large portions of the company's proceeds go towards the school Darnell had worked at before founding Slumlove. "I was able to see firsthand the power of education; how valuable it is, and how much the kids desire to learn. Education truly is the one way out of the slums. The only way you can get hired is by having a good education."
School in Kenya is not subsidized by taxes, so being able to pay a couple hundred dollars out of one's own pocket to go to High School is next to impossible for them. Slumlove Sweater Co. changes that reality for countless kids. "Being able to pay for these kids—to give them a chance—has changed their whole mentality. They have more hope because now they can see a future past the slums. I wanted to focus on that, the most impactful way to support a child. Making the most lasting difference, giving them an opportunity to escape the poverty cycle." 
There are so many different routes a company can take to give back to communities in need; whether that be building houses or operating under a "when you buy a product, we give a product" campaign. But one of the most lasting differences someone can offer is making education more attainable. And while "the concept of a fashion company giving to education may not have the strongest link," Darnell said, "it is the impact that matters to me the most."
At first glance, Slumlove Sweater Co. looks like a collection of upscale cashmere sweaters, but Darnell revealed they're made from materials that are much more unique. Most materials are sourced locally in Africa: The yarn is from Uganda, the wool is from Kenya, and the buttons from the cardigans are made out of coconut. "I wanted to keep everything as involved in the community as possible," she shared. "Sourcing that way helps their economy." The entire process is extremely streamlined, so her team can oversee each step with high standards, making sure everything is ethical and environmentally friendly.
"I wanted something that would fit easily into people's lives," Darnell said. "I think a lot of times, ethical fashion only caters to a specific group of clothing or jewelry. I wanted something that people would be able to wear in a lot of different ways. So not only is their money being put to good use because they are giving back and improving people's lives, but also because they are getting a lot of wear out of their purchases." 
So what's next for Slumlove? Not only is the company spreading its impact in communities in need around the world, but it's also expanding its clothing line. This spring it's launching a new line of T-shirts, working with an ethically run factory in India. "My heart is in Kenya, the place where Slumlove was started," Darnell shared. "But I also I want to see our impact all across the world." Seems like she's well on her way.
Photo Credit: Slumlove