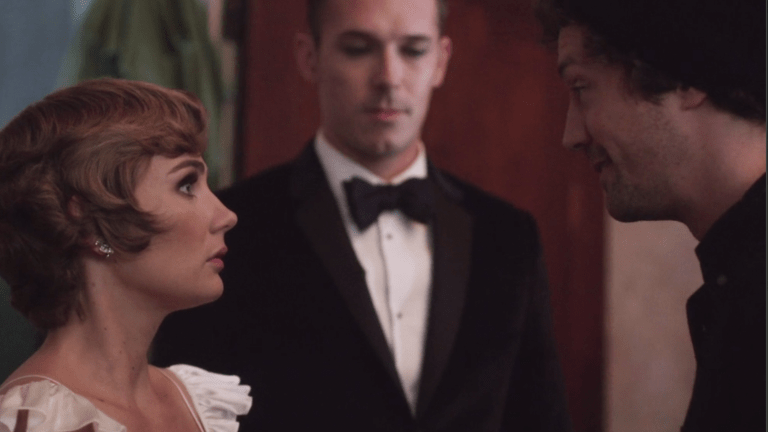 The TV Show 'Nashville' Just Addressed the Objectification of Women in a Big Way
A mainstream series took a refreshing approach on sexual pressure.
Country music and Connie Britton are two things I happen to love. I mean, Tami Taylor, amiright? If you're like me, you probably also tune into CMT's broadcasts of the hit show Nashville (or you stream it on Hulu) because it involves both those things. Last year, ABC dropped Nashville after its fourth season, but luckily for us all, it was saved, and it recently delivered one of the most powerful episodes about womanhood and sexuality I've ever seen on mainstream cable television.
For the uninitiated, two of the show's primary characters are Scarlett and Gunnar. Together they form an indie-meets-country duo called The Exes. They also have an on-again-off-again relationship that is currently very much on. Scarlett is a humble girl, complete with the gumption of a modern woman and the almost-overpowering twang of a true Southern native. She also has incredible skills as a musician and vocalist.
In episode five of the current season, The Exes were on set filming a music video. Scarlett posed some opposition to her overly revealing wardrobe and made a couple sheepish comments about feeling "not herself" in the role she was set to play for the mini movie. Still, she pressed on for the sake of the director's vision.
Throughout the whole episode, though, moments shone through that I think every woman can relate to about how (some) men and women tend to see sexuality differently.
There are no video clips of it, so here's a transcript (edited for length).
Director: I'm asking you to seduce this man with your eyes, your lips, your hands, your pelvis. What's holding you back?
Scarlett: It's not me.
Director: Elaborate.
Scarlett: I don't do the things you're asking me to do. I don't move the way you're asking me to move. At least not in public.
Director: And why is that?
Scarlett: It's degrading.
Director: You think that if you behave in a certain way, people will value you less. They'll call you names. You'll be diminished. But in fact there have been female artists from Isadora Duncan to Madonna who have claimed power and pleasure by embracing their sexuality on their own terms. So what I need you to do is to quiet the voice in your head that says shame and just own it.
Scarlett: What if I don't want to?
[Scarlett goes on to refuse to film any more of the scene. Then after the shoot wraps for the day, she talks to Gunnar, her bandmate and boyfriend.]
Gunnar: Maybe it's OK to push the envelope, cut loose.
Scarlett: Why? So I can be like one of the girls in your fantasies?
Gunnar: No. So you can feel more free.
Scarlett: If you're so concerned about my freedom, why would you push me to be someone I'm not? I'm OK with who I am.
How many times have women been told that publicly expressing sexuality, even in a way that makes them uncomfortable, will be freeing? And how many stories have we heard of women in the entertainment industry and beyond (Mila Kunis, Jennifer Lawrence, and the late Maria Schneider most recently) being in Scarlett's position, feeling like they have to quiet their intuition for the sake of a culture that loves sex?
Again later in the episode, Scarlett resists an uncomfortable scene in the video shoot (transcript below is edited for length).
Scarlett: I don't understand why I would do something like that.
Director: Because just before you're about to make love to him, you get an idea to tease him and put on a show, and we watch your face in pure pleasure as you torture him and he realizes he loves it.
Scarlett: Well, I'm sorry, but I'm not comfortable with that.
Director: If you had some point you wanted to make or idea you wanted to share, I wouldn't mind that you fight me, but no—you do it because you're afraid. Let me ask you a question: Why hasn't it happened for you?
Scarlett: Why hasn't what happened for me?
Director: Why aren't you famous?
[He then suggests she isn't famous because she isn't willing to take risks.]
You should just go back to writing your big feelings in a little notebook and letting people treat you like a doormat.
Scarlett: You realize you're the only person treating me like a doormat right now.
I'm happy to see television bringing to light the troubling sexual pressure that young women face—and not just on premium networks or late-night dramas but in a made-for-family show. In this episode of Nashville, we saw how men ranging from a boss to her own boyfriend had preconceived notions of how Scarlett, and all women, should feel about their own bodies.
I'm happy that Nashville gave airtime to a female character voicing her inhibitions and defending herself, even if it led to an imperfect result. In the end, Scarlett continued filming the music video, but the discomfort of the previous scenes colored the whole experience. For Nashville to show an audience of 2.37 million viewers this uncomfortable reality seems like a step in the right direction. That a woman can say no, that she can make her voice heard in a room full of men telling her how to embrace her own sexuality, that it's OK not to feel confident in a low-cut, barely there lace dress—that is something worth seeing.
Photo Credit: CMT