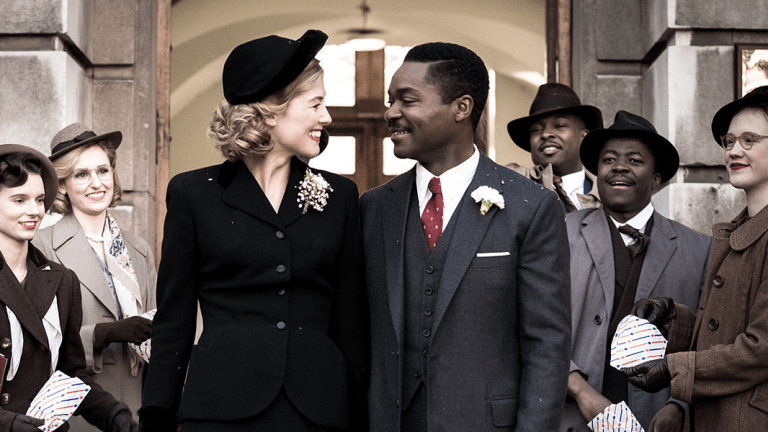 'A United Kingdom' Film Shows the Grit of a Good Marriage
In this new English movie, the faithful love between husband and wife wins.
It's easy to find films that make you excited about weddings, romances, and dating life. The typical trajectory of a romantic movie builds momentum toward great displays of affection, grand gestures, and often a cinematographically pleasing wedding. But marriage? That's when the credits start to roll. But A United Kingdom, which opened in U.S. theaters this past weekend, disrupts the usual narrative arc, telling a love story that begins with a wedding rather than ending with one.
The true love story of Sir Seretse Khama (David Oyelowo) and Ruth Williams Khama (Rosamund Pike) captivated filmmaker Amma Asante, known for such visually stunning, historical romance films as the 2013 film Belle. With positive reviews from the Toronto International Film Festival and London Film Festival, and an 85 percent fresh rating from Rotten Tomatoes, the film seems to be captivating audiences and critics as well. 
Seretse, heir to a powerful tribe in the kingdom of Bechuanaland, presently known as Botswana, meets the typist Ruth at a missionary dance in London, and the two quickly form a strong bond. When demands of political life at home require Seretse's return, he refuses to return without Ruth, and the two become engaged.
Their engagement is subject to the pervasive, if often muted racism of England in the sixties, culminating with the disapproval from the governments of England, South Africa, and Bechuanaland, as well as heart-wrenching reprimands from both families. Their modest, joyful ceremony in a registry office in London is a brief but beautiful moment of commitment in a whirlwind of opposition to their marriage. If apartheid reaching a fever pitch weren't enough drama as a backdrop, the South African government threatens Britain that if the couple stays together, they will take actions ranging from enforcing trade limits to invading Botswana.
Despite all the swirling political drama, what struck me about the film was the palpable victory of fidelity. In all of Hollywood, it's hard to think of another current film where husband and wife are as intensely faithful to their love and commitment in marriage as this. We don't see this every day, and I found it remarkably powerful and refreshing.
Over the course of the film, the Khamas' marriage withstands exile in foreign countries. Despite being separated by their disapproving immediate family and political forces, Ruth and Seretse present a singularly united front, depending on each other.
"Did I ever tell you I didn't marry you just for your good looks?" Seretse playfully asks Ruth at one point. The two are clearly smitten, but viewers are keenly aware that the high price for following their hearts belies a love far more substantial than infatuation. Later in the film Seretse speaks to a crowd of people in his homeland: "I am told that you no longer wish for me to honor my duty because of the color of the wife I have chosen . . . I am ready to serve you because I love my people, I love this land, but I love my wife," he cries.
Some reviewers say the film simplifies the dynamic of interracial marriage, such as this scathing review in Variety. While I can't speak to interracial relationship dynamics, I found this to be a love story with teeth—striking in its emphasis on the high stakes of doing what you know is right.
In an interview with The Telegraph, the filmmaker, Asante, remarked, "The tenacity he had to hang onto a white wife; to say, she's who I'm in love with—if you want me, you have to [accept] her. I think that also reflects how he was able to love his people. He was an honest man with great integrity, and I think that integrity is something the country has been able to benefit from ever since."
The irony of a film called A United Kingdom is that, over the course of the story, both the British Empire and Seretse's tribe lose authority over Bechuanaland as it transitions to become the thriving, independent, and democratic nation of Botswana we know today. Seretse became the nation's first elected president, and his and Ruth's son is the current president today. The stability Botswana enjoys today can be attributed to how Seretse maneuvered relations with the British government and retained Botswana's right to the rich diamond resources discovered in the country. Seretse's deep commitment to his marriage parallels his tenacity as he defended his homeland from an imperial monopoly on resources.
While most marriages won't become a matter of international security or determine the fate of a country's wealth of resources, it's common knowledge that many marriages today face threats that create tension between husband and wife, putting the well being of kids at stake as well as the happiness of all involved. For Ruth and Seretse, the stakes were magnified on the world stage. Ruth's initial support of Seretse's tribal obligations deepens into a true commitment and real love for the people of his homeland. She serves alongside the women of the community, supports the local healthcare system, and chooses to adopt local customs to fulfill her wider role as Seretse's wife. Embracing customs of a new family can be foreign for all married couples; but by putting the spotlight on Ruth's eventual joy, A United Kingdom powerfully displays an encouragement to do so.
As marriage therapist Zach Brittle has noted at Verily in the past, the institution of marriage offers participants a chance to join with another to stand against a common enemy. "Uniting against a threat together is an extremely powerful motivation," Brittle writes. "Threats are everywhere. There's the stress and strain of work. Unstated, and unmet, expectations. The memory of your high school sweetheart. His anxiety about finances. Her parents. Your phone. Your children. (Yes, even your children are a threat to your relationship.) Couples who recognize and unite against these threats have a much stronger chance for success than those who allow these things—consciously or not—to gain a foothold in the relationship."
Seretse and Ruth's enemies are many—none larger than the social battles of apartheid and racism. The couple's loving and fiercely loyal commitment to each other extends to each of their families, Seretse's tribe, and ultimately the entire nation of Botswana. We all know the ripple effect of the simple act of loving those around us. Taking that concept far deeper, A United Kingdom provides a moving tribute to what it looks like when two people stand fast in a marriage.
Photo Credit: Fox Searchlight