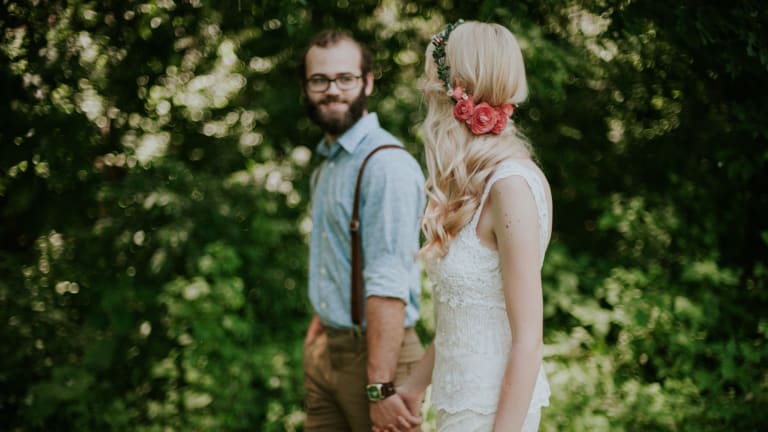 Creative Tips to Help You Stick to Your Wedding Budget and Have a Positive Impact
Save money and sanity by making your wedding day more impactful.
Prior to the 1930s, most weddings (with the exception of the elite) were intimate, low-key celebrations that required minimal planning: two wedding bands, a marriage certificate, and a lot of love mostly sealed the deal. In 1939 began the onset of DeBeers' diamond engagement ring campaigns. Seventy-some years later, we now treat weddings and wedding receptions like a royal affair, complete with unrealistic expectations and Pinterest boards for days.
Don't get me wrong: I love a beautiful wedding. But all that Pinterest envy can also lead you into major debt and be wasteful, not just of your financial resources. In 2014, I launched Black Sheep Bride (BSB) to help couples do more good with their weddings by helping them find vendors and products that value serving others, giving back, and the environment. The perfect wedding of your dreams can be accomplished with less waste—and money—by using socially conscious vendors. Over the years, we've learned many easy ways to plan #weddingsthatgiveback, and we're here to highlight five of our favorites that also benefit you in this fun and exciting season of love!
01. Use Vendors Who Give Back
When planning a wedding, we often rely on word-of-mouth referrals from family and friends. With a socially conscious wedding, pursue vendors and brands that are charitable and sustainable. Not only will you get a high quality product or service, you also receive a passionate person or mission that understands your heart for serving others.
TIPS:
Search for wedding vendors that give back to a myriad of causes at Black Sheep Bride Market.
During your consultation meeting, ask prospective vendors for ways they use their businesses to impact others. They could possibly donate their time, product or profit.
02. Purchase With Purpose
Go on any wedding website, and you'll find loads of cool wedding goodies to throw your money on. Luckily, there are loads of wedding companies that will help you get what you need at a fraction of the price—and a fraction of the environmental or negative social cost. 
TIPS:
Rent as much as possible! I'm blown away by how many companies are out there ready to rent goodies for your wedding: Borrowing Magnolia, Vow To Be Chic, Happily Ever Borrowed, Menguin, The Black Tux and many more!
Purchase ethical alternatives. Ethical fashion styles have come a long way and the options are endless. Wedding dresses, ties, shoes, jewelry, wedding party gifts . . . you name it, it is all available ethically (and stylishly on trend). Purchasing something that directly impacts someone else's life with a fair wage and safe working environment should be worth the wedding budget.
Go vintage or upcycle. Shop for vintage goods like dresses, decor, or rings. Local seamstresses can even redesign heirloom dresses into new creations, while not compromising the vintage charm and character of the original gown (like Verily co-founder, Janet Sahm Easter, did!). Or shop for wedding goodies at Wed-Recycle or Ruffled's Recycle Your Wedding section.
Attend a charity wedding event. In most major metro areas, there are dress sales events devoted to charity fundraising. Local boutiques and dress shops donate their previous season's gowns to be auctioned off or sold for a fraction of the original price. Verily's lifestyle editor, Krizia Liquido, found a new wedding dress for $200 (originally $800) from the Bridal Garden, whose proceeds benefit education for disadvantaged children.
03. Waste Less
Green Bride Guide reports, "Each one of the 2.5 million weddings this year in the United States will produce an average of 62 tons of carbon dioxide and 400-600 lbs of garbage." That is a lot of trash. We're privileged to live during a time when there is a service or non-profit for just about anything you could imagine. At BSB, we've learned that much of our wedding waste can be truly reduced, with such little effort.
TIPS:
Send eco or digital alternatives for photos and invitations.
Contact your local zero-waste food bank or homeless shelter before the wedding day to see if they take donations.
Compost food waste and recycle what you can. Take it to a local compost drop-off center or greenmarket/farmers market food scrap collection.
Find a local flower repurposing non-profit in your area, such as Petals for Purpose, Random Acts of Flowers or Floranthropy.
Use sustainable sugarcane plates and elegant bamboo flatware—bio and chic does exist!—or reusable glass rentals and linens.
Try forgoing table favors—and the attendant packaging—and donate funds instead.
04. Share Your Day Beyond Your Guests
Wedding planning can become quite stressful, especially in the midst of the latest trends, hashtags, budgets and celebrity wedding gown details all over social media. In planning a conscious wedding, you take a lot of those societal burdens off your shoulders by bringing attention to others and sharing causes you and your fiancé are passionate about. 
TIPS:
Use traditional wedding stations or events—like the cash bar, honeymoon fund, dollar dance, or gift table—to raise money and awareness for your cause.
Create day-of table signs or place cards devoted to your cause so guests can engage with and learn about the charities you and your new husband are supporting.
05. Transform Your Thinking to Impact More
BSB recently broke down how the average wedding budget (about $30,000) could impact others if the couple donated 10% of their budget and invested in vendors who pledged to give back 10% of their time, product or profit to charity. We were astounded to find that up to $9,000 could go to a worthy cause from just one wedding day and minimal effort! If you're going to spend $20,000 to $30,000 on a wedding, you might as well spend it helping others and investing in businesses that will do the same.
TIPS:
Create a charity registry, using Heartful.ly or So Kind Registry, and share it on your save-the-dates or invitations to build awareness before the big day.
Set a goal fundraising amount for you and your guest list to strive for. Invite friends, family and vendors to join in the process of giving back to those charities as well.
Donate leftover decor, dresses, and extra 'anythings' to local halfway houses, thrift stores, or charity wedding events.
All that said, take a moment to appreciate the privileges you've been gifted in this moment: of finding love, planning a wedding, using your wedding purchasing to empower others, the future as a married couple and all that lies ahead of you. Weddings are for celebrating the gifts we've been given, not the gifts we're receiving. Celebrate your wedding wisely, friends, and give your love story a far greater purpose than pretty pictures. Happy wedding planning to you all!
Photo Credit: Liv Photography