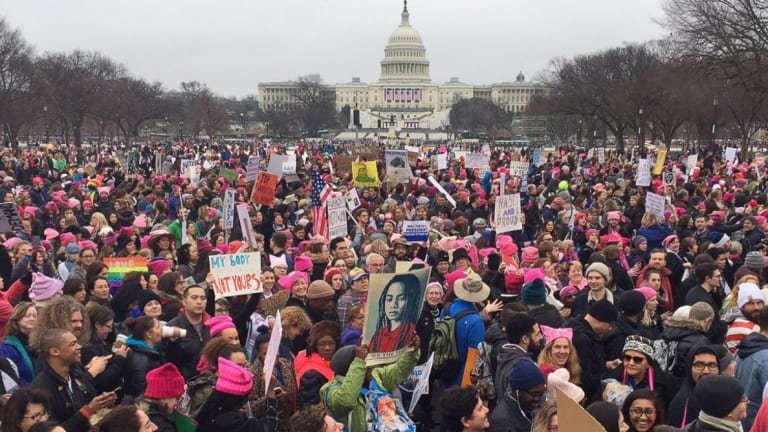 Here's What the Women's March Was Like for Pro-Life Feminists
Pro-life feminists rebuff backlash, find common ground at Women's March.
So the Women's March happened this weekend. Or I should say marches. They happened all over the country—and the world. 
Two months ago, in the immediate aftermath of President Trump's election, Teresa Shook, a retired attorney living in Hawaii, took to Facebook to suggest that women should march on Washington after the inauguration to protest the new president and the threats to women they feel he represents. The first day she had 40 people interested; the next day that number jumped to nearly 10,000. 
In the end the march—which took place on Saturday—drew a crowd of "at least 470,000 people...in Washington in the areas on and near the mall at about 2 p.m. Saturday," according to a crowd counting scientist for the New York Times. That number is far greater than the 200,000 who were projected to attend in the days leading up to Saturday. It's also approximately three times greater than the number of attendees at Friday's inauguration, according to the Times' scientist.
As the marches and demonstrations took place around the world, there was resounding sense of impact. Never before had so many people joined in a unified peaceful protest. In the march's epicenter, D.C. police told NBC News that they had no record of a single arrest as of 6 p.m. Saturday. Men, women, children, the elderly, and even those medically incapacitated and in wheelchairs, could be seen taking to the streets for hours on end. 
The peaceful protests showed that people in America, and beyond, have a message to send to President Donald Trump. He may not be the first misogynist president, but he's the first who regularly mocked women on the public stage and who was caught on tape suggesting he gets away with sexual assault. There's reason for women to feel outraged. There's reason to believe maybe we should have felt outrage sooner. But there's also reason to believe that it's good that we are feeling it now—that, by and large, today we're no longer comfortable brushing under the rug issues for women, such as sexism and assault, as in past years. What brought this movement together may have been shared negative views on the new president's treatment of women, but the overwhelming sentiments that came out of the weekend, even from the pro-life marchers who were ensconced in controversy last week, were positive. 
It was "so empowering and hope restoring," a Latina mental-health professional Dalia told me of the march in Los Angeles. "There's a feeling of universality in the idea that we are all humans and that we are in it together." 
"It was beautiful and peaceful," an artist named Taylor said of the 40,000 strong crowd in Austin, TX. "It was really good to be around people who were looking for common ground and in high spirits with a sense of community."
Marching in Cleveland, a recent college graduate, Rebecca, told me she too had a positive experience; she and her fellow marchers were showing "vigilance" and sending a message to those in Washington that they plan to keep them "accountable."
Last week, the Women's March made headlines for its debate over whether to include pro-life feminists among their partners. After a pro-life group called New Wave Feminists was accepted among the partners, The Atlantic published a piece praising the organizers for being inclusive of women's differing opinions. But shortly after receiving criticism on social media, the organizers removed the group from its list. Since then, outlets ranging from the New York Times to Saturday Night Live have put the spotlight on the concept of pro-life feminism. Actor and comedian Michael Ian Black tweeted from the march, "I saw a group of marchers wearing t-shirts that read, 'This is what a pro-life feminist looks like.' They seemed happy."
Despite the prior week's backlash, many pro-life feminists still resolved to attend. "It was absolutely amazing," Destiny Herndon-De La Rosa of the New Wave Feminists told me. Destiny's "Don't-Mess-With-Texas" attitude led her to march confidently alongside a mob of people, many of whom she knew disagreed with her. "We had hoped for the best, but prepared for the worst. We assumed there would be dirty looks and perhaps even some confrontations, but instead we were supported by so many women." 
Despite disagreeing with the masses on some issues, Destiny prefers to highlight the positives. "Even though they disagreed with us, they were still glad we were there representing our beliefs, and so many of them were open to dialogue."
Among those whom Destiny encountered was one of the partners of the Pussyhat Project—the group largely responsible for the visual sea of pink on Saturday. After chatting with a woman named Stefanie Kamerman, Destiny says she found they had similar past experiences—unplanned pregnancies that changed their lives and sharpened their views as pro-life feminists. After learning of New Wave Feminist's removal from the March organizers, Kamerman told us, "I reached out to Destiny personally. I said 'that sucks what happened and you can come march with me and my aunt.'" Kamerman specifies that she reached out on behalf of herself, not the Pussyhat Project. "The Pussyhat Project is very neutral on policy," she told us; but "the project is very inclusive; they know I'm pro-life and they're very inclusive of me and my beliefs; we're working together for a common ground."
Not all pro-life feminists who attended the march received the same welcome. One marcher, Kathleen, said she couldn't find the pro-life contingent in the crowds. "I didn't feel comfortable at all. [The march] was loosely about women's rights, but the overwhelming issue, based on the signs I saw, was abortion." Ultimately, she left because she "didn't feel like that was a safe group for [her] as a pro-life feminist." 
Abby Johnson, a former Planned Parenthood director who in 2009 left the company after witnessing an abortion on ultrasound, said she too feared for her safety at one point. Johnson is currently pregnant with twins, and she posted on her Facebook page: "Things didn't get crazy until we joined up with another pro-life group. I think, as a large group, we were seen as a threat. That's when a group of three people came barreling into me and knocked me onto the road. It was definitely deliberate." After that, however, numerous marchers created a barrier of space around her to protect her along the way. "Thanks to the Women's March who formed a security line to protect us after I was pushed onto the road," Johnson later updated on social media. "We had lots of great conversations with women here. There were many people who came up to tell us they agree with us and even people who said they didn't agree, but they were really happy we were there."
Whenever opinions are being massively demonstrated, there's bound to be some disagreement. But, it seems the Women's March achieved it's goal of making a clear yet peaceful statement against exploitation and discrimination.
While most of the marchers returned to their homes this weekend, many of the pro-life feminists stayed in Washington. They're preparing for next week's March for Life on January 27, a march that's been taking place in Washington for 43 years since Roe v. Wade.
For pro-life feminists, like Destiny, says she's pleased to fit in at both. The message she hoped to send to President Trump in the Women's March? "That the women of America will be watching him." 
Editor's Note: The headline was changed on this article after publication.
Photo Credit: ABC