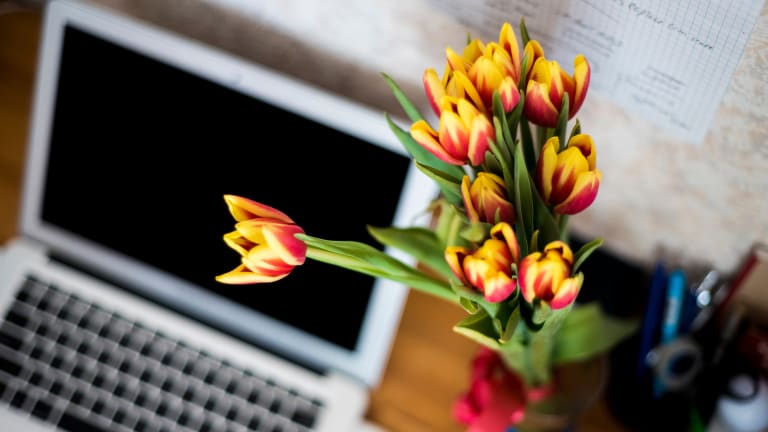 Technology Is Changing the Way Women (and Millennials) Work
The future of the 9-to-5 office job looks bleak.
"Put that down!" my daughter stomped her tiny foot on the kitchen floor. I looked up from my phone and said my standard "just a second" catchphrase. "Not just a second! Please! Mommy!"
My 3-year-old was understandably frustrated. I had pressed pause on the Frozen soundtrack in order to answer a phone call, and then proceeded to reply to a quick work-related email to follow up on the previous call. Typically, I strive to separate my work-time from my mom-time: I slot phone calls, meetings, and writing for the hours when I have confirmed babysitting, preschool, and when my younger children are napping. 
From time to time, though, the lines between work-life and mom-life blur, and while I know these occurrences are sometimes frustrating for my children, I'm not alone in striving to spend my days juggling work and family. Actually, the often complicated (but mostly awesome) work-from-home mom gig is one that many women say is the dream; it's something to strive toward.
In recent years, many women, like me, who have young children are choosing to embrace alternative work schedules in order to save money on childcare and spend more time with their kids. In fact, research shows that nearly half of mothers believe working part-time is the ideal situation when also raising young children, and the majority of working mothers say that working part-time would be perfect for them. Because of our ability to log in to office computers remotely, participate on Slack channels, co-create on Google docs and manage any number of digital connections online, we are increasingly able to be as engaged in our work at home as we would be in a traditional office setting.
In recent years, companies have started offering telecommuting opportunities as a "perk" to employees. According to Jacob Morgan at Forbes, telecommuting gives "the employees the option to work how they want to work and not how your organization tells them they should work." He goes on to say that working from home is no longer an exception, it's becoming more and more the norm. "From baby boomers to Millennials, working from home is the most in-demand type of work flexibility job seekers are interested in, and companies need to recognize that or they're going to lose talent," says Sara Sutton Fell, founder and CEO of FlexJobs. "In fact, 68 percent of recent college graduates said of all company policies, the ability to work remotely has the most positive impact on their interest in an employer. It is a trend that is here to stay."
However, even though it's a trend that is gaining momentum and some working mothers are able to transition their in-office job to their home, many women have had to find other ways to find part-time or project-based work.
When I first decided to work from home, I was worried about my ability to find work. I had a few job interviews come my way, but I passed them by because I was worried about having an awkward conversation about working from home. I didn't want to appear entitled or give the impression that I wanted special treatment or that I wasn't a hard worker. Additionally, studies have shown that part-time work scenarios in traditional 9-to-5 environments don't always work out very well for the employee, and she often winds up working full-time hours for part-time pay or feels like she's less respected or not included in the team structures. Thankfully, as a writer, the majority of my job opportunities are freelance, and I'm able to work from home on a project-by-project basis. However, these opportunities aren't as readily available in other industries. Still though, in the trend of evolution, some people are on a quest to change that.
This growing demand for work location flexibility was actually the inspiration that working moms Katharine Zaleski and Milena Berry needed to launch their female-focused job placement company Power to Fly. In a 2015 interview with Fortune, Berry mentioned that she now has three kids, and when her oldest was born, she was the CTO of Avaaz.org. "I joined three months in and when I left we had 33 million members. I managed a remote team of about twenty people there. I would often be nursing while managing a server crisis. I could be productive and have a great career. It was wonderful. I wanted to know if this could scale to more companies." However, after the birth of her first baby, Zaleski was worried about returning to work because telecommuting wasn't an option. "I was struggling with the idea of going back to my office for ten hours a day and leaving my baby," she said in the same interview. 
Like many women, Zaleski and Berry not only wanted the opportunity to decrease the number of hours they spent in the office, but they also wanted to continue to grow their careers. They knew they could come up with a formula that provided the balance between the two, and once they did, they wanted to share it with all women, so they started Power to Fly. 
Power to Fly places highly qualified women in jobs primarily working remotely for Fortune 500 companies. "It's the idea that you can be just as productive, just as valuable as a team member, but you can do it remotely," Zaleski says. In another interview with Fortune last November, Zaleski said that Power to Fly was now more committed than ever to placing women in the workforce: "On my part, my company will redouble its efforts with major brands to fill jobs with more women... Allowing women to work remotely is one way for companies to diversify faster with people who represent all of America."
Power to Fly isn't the only platform offering the opportunity to connect to remote-working opportunities: FlexJobs, Working Nomads, and Virtual Vocations are all organizations that link employees with flexible, remote jobs. Of course, there are also some amazing hiring unicorns that have unique corporate cultures which allow workers to enjoy non-traditional hours, flexible schedules, and have enviable paid leave opportunities for parents. Amazon.com, for example, is embracing a work culture shift in a few of its HR departments. They've acknowledged, "the traditional full-time schedule might not be a one-size-fits-all model." As a result, last fall they launched their new thirty-hour workweek program. Employees still retain full benefits and receive 75 percent of their original salary. They work from 10 a.m. to 2 p.m. every day in the office and then have remote working hours to complete the rest of their thirty hours of work.
For decades women have been fighting for opportunities in the workplace; we've longed for the ability to choose how we work, when we work, and how to care for our families. These days it seems that there are more options than ever, and as our culture shifts, perhaps more organizations will follow in the footsteps of Amazon, and companies, like BuzzFeed, that work with Power to Fly will become more the norm.
Sure, we working moms may still need more than a few years to figure out how to balance a work call with a Frozen singalong. But, I have to say, I'm so thankful for all the opportunities I'm given to try.
Photo Credit: Alexander Filonchik