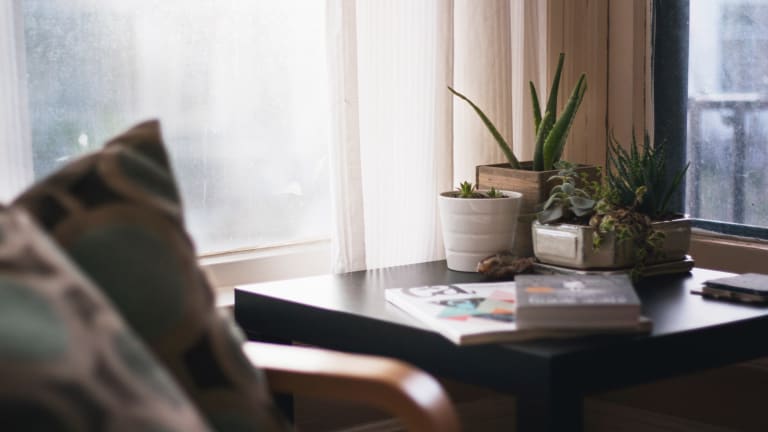 7 Ways Busy Women Care For Their Mental Health (That You Can Totally Copy)
What will you do to safeguard your sanity this year?
Stress is an inevitable part of life, but it shouldn't consume us. Constant worrying brings on burnout and breakdowns. Taking a day, or even just a few hours, to decompress can go a long way for your mental health. In the American Psychological Association's 2015 Stress in America Survey, 42 percent of adults said they aren't doing enough to manage their stress—or don't know if they are. And 1 in 5 people said they never participate in an activity to help relieve or manage their stress. If you're one of them, make time to calm your mind and restore your peace—starting today! Here's how 7 high-powered and busy women care for their mental health.
01. Work on a creative side project like artist Arestia Rosenberg.
Arestia Rosenberg is currently traveling the world as a freelance creative director, content strategist, video producer, and writer. She shares, "The biggest thing is to make sure I take time for myself. Every morning, I read for 15 minutes, meditate for 15 minutes, and lately, take an additional 30 minutes to work on a creative side project. Taking time out in the morning on my terms makes me feel more mentally ready to tackle my day."
02. Go to the movies alone like consultant Shae Baxter.
"One of the things I most love to do is watch a movie at the cinema alone, especially in the middle of the day when everyone is at work," shares Shae Baxter, who consults entrepreneurs and bloggers on generating search traffic. "I love my alone time and this is one of my favourite ways to relax and switch off." She also sticks to a regular morning routine that includes meditating for ten minutes, reading a chapter of a book, or exercising. "It could also be catching up on emails, but that first hour belongs to me and not clients or anyone else."
03. Indulge in quiet activities like CEO Jan Gordon.
CEO of Curatti Jan Gordon take care of her mental healthy by making time for precious moments with family and friends, keeping a healthy diet, indulging in massages, and meditating. But her most productive secret? "I try to take a bubble bath with lavender oil by candlelight once a day. Over the years, I've gotten some of my best ideas, solutions, or options to things that seemed like huge challenges while doing this." These quiet activities have helped her both professionally and personally "to get centered and to focus on the things that matter at the moment."

04. Meditate in the morning like marketing VP Cassie Cole.
Cassie Cole, Vice President of Marketing and Operations at JMJ Youth, pauses for prayer every morning. "There is a striking difference in the way I respond to challenges when I start the day with Morning Prayer, with a quick 'Thank you for this day!', or without any prayer at all. Starting my day with prayer, and taking time mid-day to reflect and refocus helps me to live more intentionally. I get more work done during work hours, and my mind wanders less."
05. Disconnect from everything digital like finance expert Tonya Rapley.
Founder of My Fab Finance Tonya Rapley admits the difficulty of putting your mental health first, "The key word is 'making' time, not finding time, but making mental health and self-care a priority." She finds disconnecting particularly fruitful. "I unplug and focus on the beauty in everything. I delete distracting apps from my phone or leave my phone at home altogether." This results in "less headaches, improved physical health. More clarity when it comes to my business and less anxiety. As well as improved interpersonal relationships."
06. Get lost in a good read like CEO Rieva Lesonsky.
Rieva Lesonsky, CEO of GrowBiz Media and SmallBizDaily, opts for page-flipping. "I love to dive into a pile of magazines (not business) or read a book." Do something that takes your mind off work and other responsibilities. Reading fiction has a wealth of benefits for your mental health, so indulge!
07. Pick up an old hobby like advertising exec Akvile Harlow.
Founder and Digital Marketing Specialist at AKvertise, Akvile Harlow gets outside to walk her dog, listens to podcasts, cozies up on the couch, and started painting again after several years. "I wish I had taken time to relax, refresh, and rejuvenate sooner!" She cites feeling sharper, more efficient and creative, and less stressed and benefits.  I can't recall the last bout of anxiety, I've been sleeping more sound, and I feel as though I have more to contribute in conversations with others, be it work related or not, since I'm exposing myself to more activities outside of work."
In a culture that glorifies busyness, we often feel pressure to do more. As Cassie Cole reflects, "I often feel like I'm not doing enough, and start to over-schedule myself to be more social, to be more physically active, or to take on more community leadership roles." But sometimes doing less does more for your mental health. So prioritize time to de-stress—and enjoy it!
Photo Credit: Kari Shea