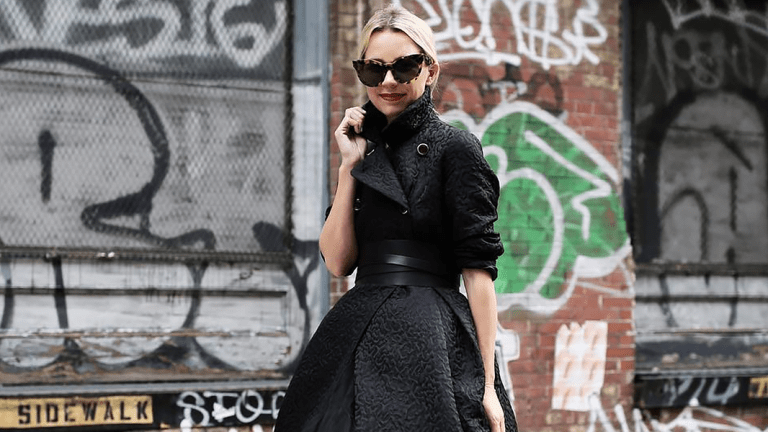 The Perfect Figure-Flattering All-Black Outfits for the Dead of Winter
Who ever said wearing black on black was boring?
If there is a time of year to wear black on black, it's during the dead of winter. While we have a particular affinity for bright colors, we'll admit that the effortless appeal of a black outfit is too much to resist come February. To make sure you don't look like too drab, we have a few tips for making your dark ensemble a little more creative and interesting.
Add One Pop of Color //
The easiest way to avoid the giant black blob look is to simply add a splash of color with your accessories. This can be as subtle or dramatic as you like, perhaps a dash of pink lipstick, a bright blue clutch, a pair of neon earrings, or a red scarf thrown across your shoulders.
Have Fun with Volume //
Another way to add some variation to your noir ensemble is to play with volume. Think of it as a game of extremes. If you have an oversized sweater, wear a pair of skinnies; if you have a tighter top, wear a voluminous skirt. It also helps to keep your shape; if your entire silhouette is one shapeless color, you'll get lost in the outfit.
Mix Textures //
Street stylers have been using this trick for ages. Instead of wearing one type of fabric from head to toe, they mix it up by incorporating textures like leather, velvet, fur, and knit to create a look that has dimension.
Add Prints //
Black comes in prints too! If you feel like your black on black outfit is looking a little too edgy or intense for you, simply add a pattern. A black striped or floral top or bottom will create a playfulness that offers all the "coolness" of the black-on-black look without the "gothic" vibes.
Blend Utility with Luxury
If you're interested in wearing black on black, you already prefer to have some utility in your daily outfits. What's more utilitarian than your giant puffer coat that's been saving you from hypothermia all winter? If your coat has you feeling less than stylish, simply mix in some upscale pieces like leather or velvet pants and a pair of sleek heeled booties.