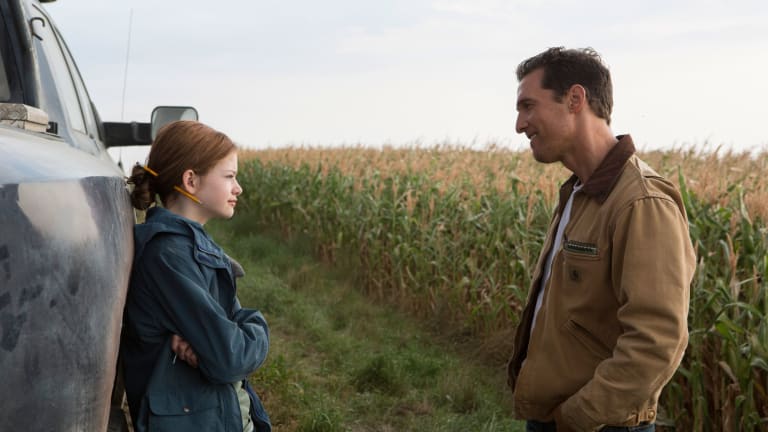 10 Past Oscar-Winning Films You Can Stream Right Now
Remember that award winner you swore you would watch? Now's your chance.
The 2017 Academy Award nominations were announced on this week on January 24, and speculation amongst movie buffs about who will bring home Hollywood's biggest honor is at a peak. Will La La Land win everything—again? Will Moonlight have its moment in the sun? Despite all the enthusiasm, it is a rare person who manages to see all the nominees before the big night.
Luckily, we have the Internet to help us catch up on nominees and winners from years past, ensuring that we have good movies to get us through the long, hard winter after the red carpets get rolled up. If you don't have time to rush out and see the 2017 nominees right away, here are my top picks for past honorees that you can watch from the comfort and ease of your own couch.
TO WATCH ON NETFLIX
What Happened, Miss Simone? // nominated for Best Documentary in 2016
This riveting documentary is a must-see for both fans of and newcomers to Nina Simone's searing vocals, piano skills, and songwriting abilities. In addition to covering her impressive career, the film chronicles her childhood, her initial desire to be known as a classical musician, her involvement in the civil rights movement, and her struggle with mental illness. Watch this when you're in the mood to debate a great cultural icon.
Jane Eyre // nominated for Best Achievement in Costume Design in 2012

This film adaptation of Charlotte Bronte's literary masterpiece didn't make a huge splash in the box office, but it is a quiet and beautiful movie that highlights the talent of leads Mia Wasikowska and Michael Fassbender. Watch this on a snowy, solo evening. 
To Kill a Mockingbird // won Best Actor in a Leading Role, Best Writing: Screenplay Based on Material from Another Medium, and Best Art Direction in 1963 
Whether you have seen it a million times, or just feel guilty about never seeing it, it is never a bad time to watch Gregory Peck create the role of Atticus Finch. Watch this when you need a jolt of hope.
TO WATCH ON AMAZON PRIME 
Ex Machina // won Best Achievement in Visual Effects in 2016
This film stars three of the buzziest names in Hollywood at the moment—Alicia Vikander, Oscar Issac, and Domhnall Gleeson, and explores the risks of artificial intelligence with super slick visuals. (It deserved the win.) Watch this on date night.
Interstellar // won for Best Achievement in Visual Effects in 2015
Don't worry if the details of rocket science fly right over your head. This sci-fi blockbuster is so out there, you just have to sit back and enjoy the ride. Clocking in at nearly 3 hours, it's a time investment, but a super enjoyable movie experience. Watch this when you need to escape reality.
TO WATCH ON HULU
Selma // won for Best Achievement in Music Written for Motion Pictures: Original Song; nominated for Best Motion Picture of the Year in 2015
The fact that neither David Oyelowo or Ava DuVernay got nominated for their work in this film (for best actor and best director, respectively) raised a lot of eyebrows, so if you didn't get the chance to support this movie in theaters, give the stirring account of the civil rights movement a chance at home. Watch this when you need a reminder to keep fighting.
Creed // nominated for Best Performance by an Actor in a Supporting Role in 2015 
I will watch Michael B. Jordan in anything and everything, so don't let the fact that you might not be a Rocky fan stop you from enjoying this reboot of the famous franchise. Watch when you need some motivation to brave the cold and get to the gym. 
Pride & Prejudice // nominated for Best Actress, Best Achievement in Art Direction, Best Achievement in Costume Design, and Best Achievement in Music Written for Motion Pictures—Original Score in 2005 
When this movie adaptation of Jane Austen came out over a decade ago (whoa….), I thought nothing could top the beloved A&E adaptation starring Jennifer Ehle and Colin Firth. I almost boycotted. I'm so glad I didn't. This version has a very different vibe than my original favorite, and features one of my favorite movie kisses of all time. Watch this with some girlfriends and multiple glasses of wine.
Shakespeare in Love // won everything! Best picture, Best Actress in a Leading Role, Best Actress in a Supporting Role, Best Writing—Screenplay Written Directly for the Screen, Best Art Direction, Best Costume Design, Best Music in 1999
I can only assume that everyone has seen this cinematic gem, and if you haven't, turn away from this article, and watch it now. Pure delight. Watch it whenever and wherever you can.
Stand By Me // nominated for Best Adapted Screenplay in 1987 
This iconic coming of age film is beloved by many, featuring baby versions of Jerry O'Connell, Corey Feldman, Kiefer Sutherland, John Cusack, and the late River Phoenix. Watch this when you need a nostalgia fix.
Photo Credit: Warner Bros.