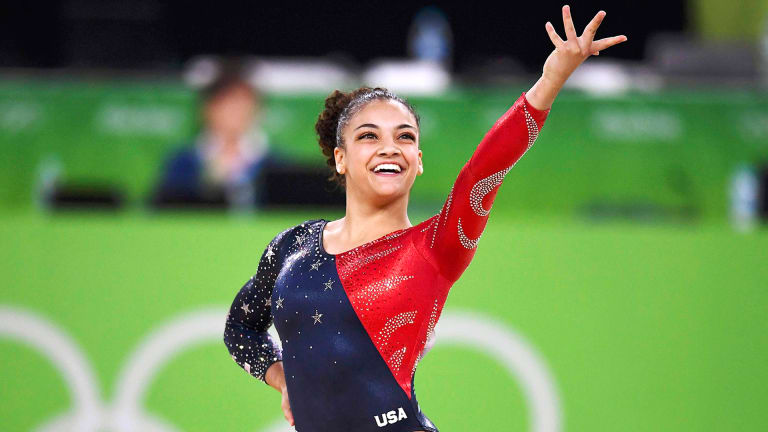 These Three Words Got Me Through My Darkest and Most Challenging Moments
You can imagine that for an Olympic athlete, the road was not always easy.
On August 15, 2016, I whispered something to myself that ended up being heard all around the world. "I got this," I said as I touched the balance beam before performing my final routine in the team competition during the Summer Olympics in Rio de Janeiro, Brazil. I didn't expect those three little words to blow up on social media the way that they did—they were simply a reminder to myself that I had practiced so incredibly hard for that moment, that I could do it. I said those words to keep myself calm and focused. I said them to give myself confidence. Even months later they continued to have power for me as I competed for the Mirrorball Trophy alongside my Dancing with the Stars partner, Val Chmerkovskiy. And I still say them today whenever there's a big challenge ahead.
My family, my coach, and all my life experiences have taught me to pursue my goals, to never let doubt hold me back, to take the first step . . . and then the next. And that advice has paid off a thousand times over. There will be setbacks and disappointments—there always are—but there will also be lots of rewards.
In addition to training hard, I have two little tricks that help ease my nerves. A long time ago someone introduced me to peppermint oil. Whenever I'm feeling stressed, I'll take a minute or two away and just smell the oil. I feel like it clears my head. I also have a calming ritual; I put my hand over my stomach, close my eyes, inhale, pause, and then exhale. As I feel my belly expand and contract with those breaths, the anxiety and adrenaline usually melt away. 
While peppermint oil and breathing techniques help ease my nerves, unfortunately they don't cure the occasional disappointment I feel after a bad meet. I remember this one awful competition in 2012 in St. Louis at the USA Gymnastics National Championships. I came in twenty-first place that day. I was disappointed in myself.
Later that afternoon my mom and I talked. She reminded me that disappointment is what helps you grow. It presents an opportunity to improve. She told me that if I'd done the best that I could in that moment, under those particular circumstances, then I was only responsible for my own reaction because that's the only thing I was really in control of. I cannot be responsible for the reactions of fans, teammates, judges, coaches, or anyone else. You can tell that my mom is a wise and spiritual woman. There's a lot of prayer and faith happening in my family. More than anything—even more than peppermint oil—that's what keeps me calm and centered. I find it makes it much easier to deal with the kinds of mental and physical stresses I face.
Now I recover from disappointments more quickly, and when I find I'm nervous, I tell myself not to worry because I'm right where I'm supposed to be.
Laurie Hernandez is an American gymnast, an Olympic gold medalist, and a Dancing with the Stars champion. At the 2016 Olympic Games in Rio, Hernandez won silver in the individual balance beam competition and secured gold in the team all-around competition. This article includes excerpts from her book I Got This: To Gold and Beyond (Harper), available in bookstores this week.
Photo Credit: NBC