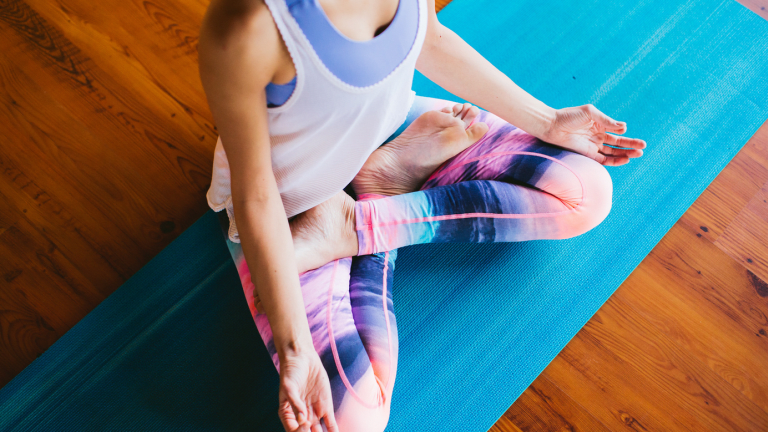 Give Up the Gym and Get Fit with These At-Home Workouts Instead
Save your money, and get fit.
Fitness is no stranger to the traditional list of new year goals. According to 2016 gym membership statistics, more than 131 million Americans sign up for a gym or health club membership each year. But when the same sources cite that a whopping 67 percent don't even use it, one can't help but wonder: What's the deal?
For some, it probably comes down to convenience and motivation. Luckily, not using your gym membership as often as you'd like (or at all) doesn't mean you should give up your fitness goals. Adopting a stellar exercise regime can be done with things you already have at home. Chairs as stability props and pillows as weights? Yes, it's possible. The best part is that it won't cost you a dime.
With at-home workouts, you can break a sweat without leaving the comfort of your living room. Trust us, a fancy gym membership isn't necessary for a healthy lifestyle. Take ten to forty minutes, and try one of these exercises instead.
Chair Exercise
In today's tech-centric society, our butts are usually in chairs … All. Day. Long. So why not use it to your advantage? This simple piece of furniture can be an effective workout prop. If you don't believe me, check out this twenty-minute Seated Exercise for Abs, Legs, and Arms by Jessica Smith TV. The chair provides support, making it ideal for beginners or those with injuries or limitations. Heck, you can even do it from the comfort of your own dining table or work desk. How's that for heathy multitasking?
Ready to take it up a notch? Try Jessica Smith TV's 40-Minute Seated Chair Cardio and Strength Workout. This one will get your heart pumping while treating your body to an intense full workout. If you decide to take on this challenge, make sure your chair is sturdy and strong. Safety first!
Bedtime Yoga
Practicing yoga can be a game changer for stress and anxiety. But when life pulls you in a million directions, it can be tricky to squeeze in a class. Well, it turns out that your bed can double as the perfect yoga studio. With some help from Yoga by Candace's 12-Minute Yoga in Bed, you can get your stretch on just before bedtime. This sequence is short, sweet, and easy on the body. It's also an awesome (and free) way to wave goodbye to the day's tension.
Alternatively, you could take it to the yoga mat with Yoga with Adriene's Bedtime Yoga Sequence. This soothing sequence is appropriate for all levels. After just thirty minutes, you'll be stretched and ready for a good night's sleep. This is especially ideal if you can't stand packed gyms and studios past 5 o'clock. I know I can't be the only one.
Wherever Wall Workout
Look at the closest wall in the room. Yes, that one. Meet your new workout prop—seriously! With some help from Natalie Jill Fitness Full Bodyweight and Core Wall Workout, you can use a wall to build muscle and get toned while getting a bit of cardio in the mix. You can adjust the number of reps and combinations depending on your strength level and goals.
Obviously, you'll need a wall clear of frames, décor, and nearby furniture. Any plain and basic wall is fair game. For more variation, hit up Ashley Borden's 10-Minute Wall Workout Without Equipment.
Couch and Pillow Drills
The couch is a space to veg out and binge watch your favorite show. But did you know it can fuel your fitness regime, too? POPSUGAR's 10-Minute TV Time Couch Workout is the perfect example. A throw pillow is used as a effective gym equipment to lift and move. Meanwhile, the couch provides support for jumps, lunges, planks and everything in between. This would be a super-fun workout to do with a friend or two while catching up on your streaming queue.
When All You Have Is a Floor
No chairs, beds, a free wall, couch or pillows in sight? No problem! Try Verily's at-home workouts to make your next Netflix binge more productive. Each of these five moves doesn't require anything but a floor and your willingness to use it. A pilates or yoga mat ensures maximum comfort while performing these exercises, but carpet or a rug will do just fine too. There aren't any excuses left for why you can't workout, so hop to it!
If you're all about the gym environment, then go for it. But don't feel obligated to join one. Instead, take note of what motivates you to move the most and run with it—even if that means not leaving your comfy bed. This kind of fitness mindfulness is what you need to treat your body (and your budget!) better this year.
Video produced in partnership with Circa, a new mobile‐friendly video-on-demand news and entertainment portal for the next generation. Circa reports the news and shares entertainment with video and articles crafted entirely with your smartphone in mind. Visit the Circa website for more.
Photo Credit: Brittni Willie