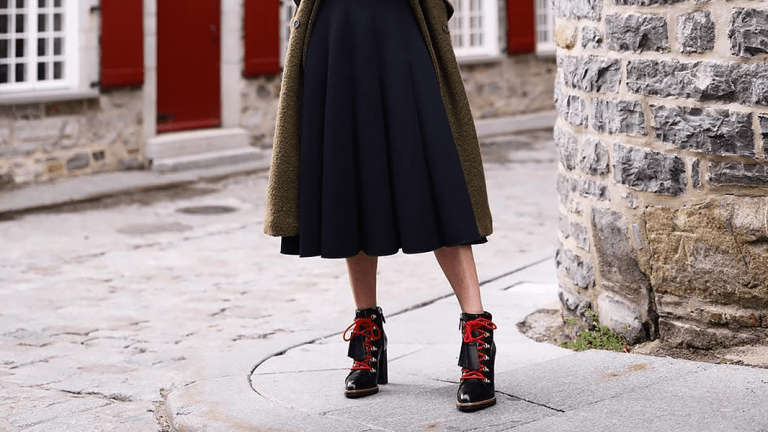 How to Wear Your Winter Boots with Skirts and Dresses
A wintertime boot doesn't have to be the enemy of a feminine outfit.
It's only the end of January, and we're already tired of wearing pants. While boots may seem ready-made for tucking around your jeans, they look pretty killer with those skirts you put into hiding when the temperature dipped. To help inspire you to shake the dust off your skirts, we have a few skirt-and-boot combos to inspire you.
Heeled Booties + Midi Skirt
The key when rocking your long midi skirt with a pair of boots is to make sure the boot has a heel on it. Flat boots with midi skirts have a tendency to cut the line of your leg, but a heel will elongate it. Because boots are already masculine, a heel will make your look more feminine and complement the feminine flair of the skirt. Many brands now make all-weather boots with a little height to them, so you won't have any problem finding something with substance and style.
Snow Boots + Sweater Dress
If you have a pair of heavy-duty winter boots, have some fun with your styling. Create an experimental silhouette by keeping the volume on your boots and the rest of your look sleek. A flattering sweater dress is perfect for winter, and it adds the ladylike vibe you've been missing. Now, don't forget a pair of tights to keep your legs warm!
Rain Boots + Shirtdress
When it's not quite cold enough to snow, that means cold rain. For these dreary days, don't let your giant rubber rain boots rain on your style parade. Make them the focal point of your outfit by pairing them with chunky knit socks or tights. To play up the feminine-meets-masculine contrast, wear your comfiest button-up shirtdress.
Knee-High Boots + Pencil Skirt
When braving the outdoors in winter, we want every inch of skin to be covered. Knee-high boots are perfect for keeping out cold breezes, but instead of wearing them with jeans, try pairing them with a pencil skirt. Create a winter-proof outfit with a chunky knit on top.