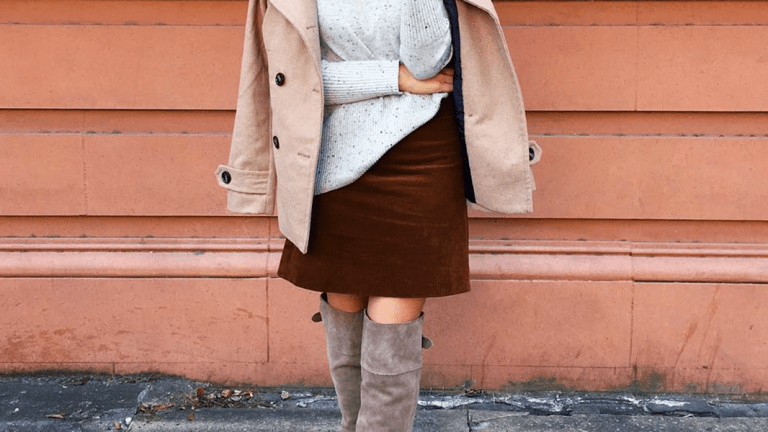 Wondering What to Wear on a Date in the Winter? This Will Help
These cute winter outfits are perfect for a date night.
With another two months or more of dreary winter weather ahead, there's nothing like the prospect of a first date to brighten your calendar and shake up your routine. But a first date brings on the dreaded question of "what do I wear?!" Add freezing temps, bitter winds, and oh-so lovely slushy-ness, and you may find yourself despairing for an outfit. Fear not, we've got a handful of pretty looks for inspiration that will not only help you put your best self forward...but also keep yourself warm. 
Even though the festive season and glittering parties have passed, when it comes to winter style we still love to revel in rich texture, luxe fabrics, and feminine touches—especially for date nights!
Shine Factor //
Mixing dressy with casual is a timeless trick when you're not quite sure what to wear or what the occasion calls for. Tanesha of Girl With Curves nails mixing fabrics with this uber feminine satin pleat skirt in a soft metallic sheen. In contrast, a warm and cozy knit sweater tucked in front highlights the waist and creates a more elongated look. The all-over rose gold scheme with nude pumps and purse is just perfectly pretty.
Funky Layers //
For the bold-hearted bohemian, you can rock the dress-over-pants look for yet another dressy casual combo. Jules of Style By Jules takes it up a notch with unexpected fabrics like leather trousers (dark or black denim will work just as well!) underneath a delicate silk dress and faux fur coat. Keep everything else minimal; simple black sling-back pumps and pocket book are all you'll need.
Soft Silhouettes //
Perfect for chilly nights, velvet is a warm, luxe fabric to add to any outfit. While elements of velvet will give a richness to any ensemble, we adore Kimberly's of Eat Sleep Wear head-to-toe look. A soft cranberry crushed velvet dress and black overcoat in a billowy, flowing silhouette is pure romance. An outfit like this may be best for those with column shapes, but you may also add a simple belt to cinch the waist and create proportion.
Statement Boots //
Over-the-knee boots are quite a statement on their own and seem to be fit for evening affairs, but Anna of In Honor of Design expertly pulls them off for an outfit fitting for a brunch. Heavier fabrics like a knit turtleneck, suede skirt, boots, and wool peacoat all work together in this neutral color palette. Again, slightly tucking in a thick sweater at the waist helps minimize a bulky effect and creates shape. 
Feminine Details //
We love Maria of City Laundry's simple and refined silk scarf for it's feminine retro vibe. Paired with a classic dress, tights, and peacoat, a silk neck scarf is an easy addition to a seemingly plain outfit - perfect for that afternoon coffee date.