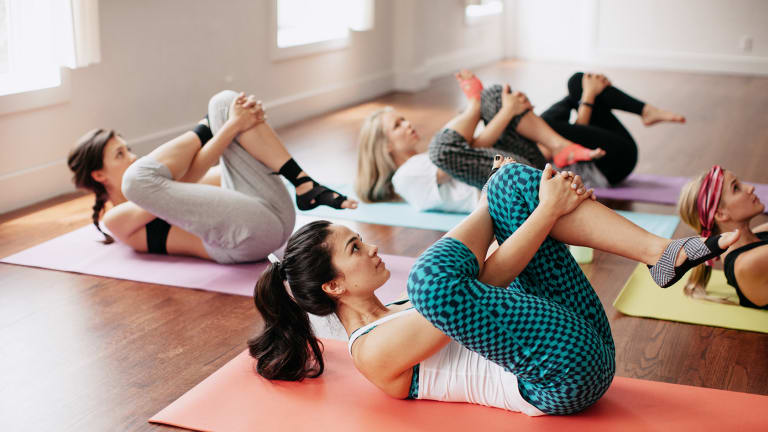 10 Ways to Get a Cheaper Gym Membership This Year
So you're a gym person on a budget? Here's your cheat sheet.
It may not feel like it when you walk onto a floor full of people pounding the treadmills and sweating bullets at the squat racks, but gyms are indeed businesses. And just like any successful business, they're great at selling solutions. But if you accept the first price, you're not getting the best deal.
If you're committed to hitting up the gym to reach your health and fitness goals, make the most of your membership by going often . . . and paying less. Here are ten tips to get a cheaper gym membership this year.
01. Timing is everything.
John Jay Austria, Fitness Director at 24 Hour Fitness in Los Angeles, says, "The best sales on gym memberships generally happen around New Year and just before summer. So take advantage of these deals when they happen." He recommends signing up toward the middle or end of the month. You can ask for the last days or weeks of the month for free and have your membership dues start in the following month.
02. Try before you buy.
If your local gym offers a free trial, take advantage of it. When I lived in NYC, there were four gyms within a three-block radius of my apartment. I had a month's worth of free one-week trials at each gym before I decided which one best suited my workout preferences and budget.
03. Check for discounts through your employer.
Some employers make package deals with gyms and health clubs so that employees can get a discounted rate as part of their benefits package. My husband's company has a deal with LA Fitness, where employees only have to pay about $25 a month.
04. Check for reimbursements from your health insurer.
Some health insurance companies offer a discount or stipend to cover all or part of your gym membership. My plan with Blue Cross Blue Shield allows me to join a participating fitness center for only $75 a year!
05. Bring up your budget . . . and the competition.
This is common knowledge, but I can tell you from personal experience that it totally works. In New York, I liked two gyms within two blocks of each other. One cost $79 a month and the other $99 a month. I really liked the more expensive gym, but the lower rate was already pushing it for my teacher's salary budget. I told the sales associate my predicament, and after a week or so of back and forth over text and email, he agreed to lower the rate to $79 a month. On top of that, I got a 10 percent teacher discount, bringing it down to $71 a month (trust me, this is an amazing rate for a nice gym in Manhattan). If this doesn't work with your sales associate, ask to speak with a manager; they'll have more power when it comes to giving you perks and a better deal.
06. Get a membership at Costco.
Costco offers a two-year membership to 24 Hour Fitness for $399. You can use it at any Fit-Lite, Express, Active, or Sport even while traveling, commuting, or outside your local club area. This costs about half of what you'd pay if you walked into a gym to sign up. The catch is that this deal is for new members only.
07. Consider ClassPass.
Alas, gone are the days of ClassPass' unlimited membership. If you love switching up your workout or working out at the best fitness studios, you can still treat yourself to three sessions a month for as low as $30 or five sessions a month for as low as $40 depending on where you buy your ClassPass. Supplement the rest of your fitness regimen with a running or walking routine and some clever at-home workouts.
08. Say farewell to fees.
There's no harm in asking the sales associate to take off the initial contract or initiation fee. Just make sure you ask about other "hidden" fees such as locker use, towel service, or membership cancellation, and try to negotiate these down, too. Gyms are notorious for tacking on fees!
09. Join with a friend.
In my experience, sales associates are very receptive to negotiating prices down if you're able to get family or friends to join with you. Ask around to find out if anyone is looking to join the gym. I was able to lock in a $79 rate for my husband and sister-in-law for what otherwise would have been $99 because we agreed to sign up together. Plus, it was nice to have workout buddies to keep each other accountable.
10. Search for a better price online.
Sites such as Groupon and Gilt City sometimes offer coupons for gym memberships or health clubs. You can even find discounts on classes.
Whether you're looking for a new you in the new year or simply treating your old self to a better deal, you deserve to give these tips a try. May fitness be with you.
Photo Credit: Jordan Voth