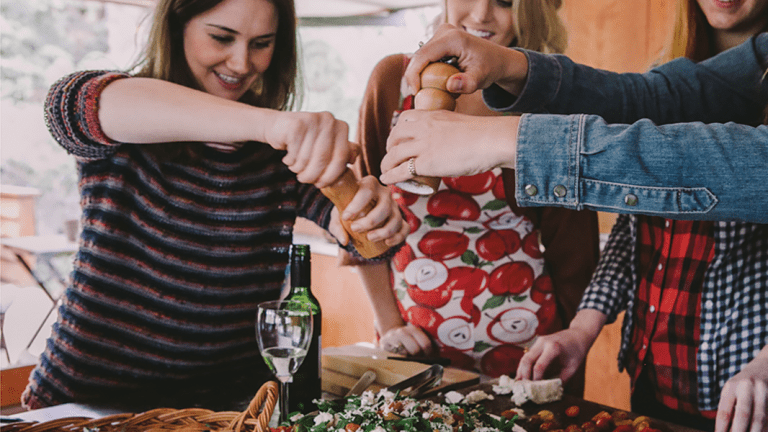 How One Word Helped Me Stop Criticizing Myself
An average night with friends changed my outlook on myself.
I sat with two of my oldest friends at the kitchen table, sharing stories and bottle of wine. That week, if not the past couple of months, had left us ruffled. The three of us all felt wildly unsettled, navigating the maelstrom of our mid-twenties and trying to stay afloat. But as laughter rang out through the apartment, catching up that night seemed like the best remedy to all our qualms.
Just as the conversation lulled, the extrovert at the table broke the silence: "Let's play a game," she said with glittering eyes and giddy tone. "How about we all describe each other in one word."
Fair enough, we agreed. In truth, we all needed some encouragement.
So, our little exercise in compassion began—only I didn't expect self-compassion to be a takeaway that night. As I searched my vocabulary, I thought condensing the many wonderful facets of their personalities into one word would be the catch. I was surprised, then, when I found it more difficult to accept the words that I received than it was to bestow them on others.
The words that my friends gave me were far different from the words that I would have described myself with. As it happens, the words that I would have chosen for myself were distorted by self-criticism. The words that my friends gave me, on the other hand, were rooted in compassion. It was as if, for months, I had only seen my reflection through broken glass. Through two simple words, I realized that others see a different image than I do.
In an interview with The Atlantic, Kristin Neff, a self-compassion researcher and psychology professor at the University of Texas, related self-compassion as an exchange between friends: "It means treating yourself with the same kind of kindness, care, compassion, as you would treat those you care about—your good friends, your loved ones," she said.
How many others act as their own worst critics, struggling to see past muddied self-image? Perhaps it is rooted in social comparison, seeing the value in others' inherent gifts and dismissing our own. Guilty of this myself, I know that social comparison can cut to the core of a person's self-worth. Although some comparison can lead to healthy motivation, too much comparison more often leads me to measure myself against unreasonable standards.
Perhaps we sell ourselves short for other reasons as well, such as performance. A recovering perfectionist, I long believed self-worth could only be gleaned from my talents, my grades in school, and my work. And I know I am not alone in doubting my capabilities. Conversations with others have reiterated this: We are quick to believe that we are the only one spinning in confusion, the only one who has felt broken, the only one struggling with secret burdens, or the only one bogged by insecurities.
This is not to deny the flaws and mistakes that make us human. As Neff said, accepting our own struggles is one of the markers of self-compassion. And just as knowing the struggles of others hones our empathy, perhaps acknowledging our own shortcomings as a necessary part of our nature can teach us to be more compassionate with ourselves.
The words that my friends gave me that night reminded me to be generous with myself and gracious in accepting compliments. Moreover, their words reminded me to be generous in letting others know their value and inner-beauty, as well.
My admiration for all of my loved ones runs deep, but I have only recently realized how often it goes unspoken. Since the kitchen-table heart-to-heart some time ago, we have shared our little exercise in compassion (and self-compassion) with others, whose faces light up when receiving their words. Exchanging words of affirmation has taught me that we all need well-placed encouragement from time to time.
What I've found is that exchanging compassionate words can even be an antidote to comparison. Although I have often measured my merits against others, this exercise has helped me truly appreciate how different our qualities are from one another—and for good reasons. Our varied strengths complement each other.
As time has passed, I see how those words of affirmation have remained with me. As stars above the sea once were used to guide captains of ships on their way through the night, kind words can be like flecks of light that keep our paths straight when we find ourselves navigating dark waters. That is, when I want to wallow in self-criticism or question whether my work is making a difference in the world, I can step away from the myths of comparison, perfection, and performance, and take a moment to recall those words of affirmation spoken by those who know me best. A little affirmation can go long way.
"There are two ways of spreading light," Edith Wharton once wrote. "To be the candle or the mirror that reflects it." Likewise, the lesson that I gained that night was twofold: speak kind words to others; and learn to accept those kind words that others offer. And when in dark waters if no one's around to say those kind words, speak them to yourself. May we all embrace our gifts and honor who we are, while also illuminating the different and beautiful qualities of others. 
Photo Credit: Luisa Brimble