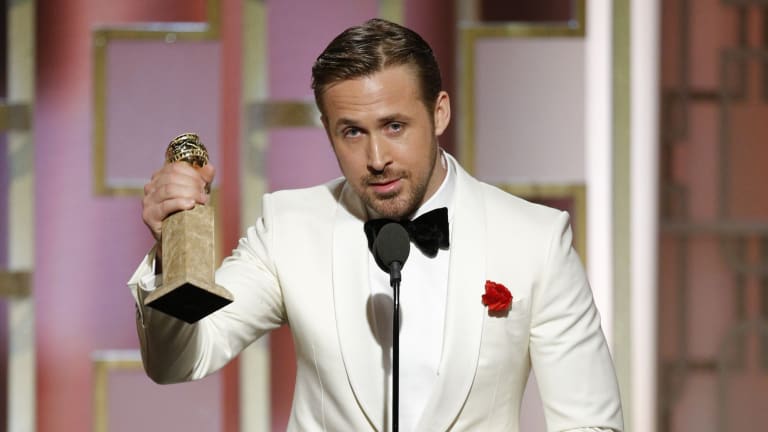 Ryan Gosling's Tribute to Eva Mendes and Other Special Moments from Last Night's Golden Globes
These are the inspirational moments of hope and gratitude you must watch (or re-watch) from the awards.
The Golden Globes, people! They've come and gone. So, what happened? We know that Hollywood loves La La Land (for a film encapsulating Hollywood, no surprise there!), Ryan Gosling loves Eva Mendes, and Meryl Streep loves a lot of people but not Donald Trump. What's actually worth catching up on? Here are our favorite moments from the evening.
Tracee Ellis Ross Encourages Those 'Not Always Considered Worthy'
When Tracee Ellis Ross won for her role in TV show Blackish, her smile beamed from the stage. "It's my first time here, guys," the 44-year-old said before dedicating her award. "This is for all the women, women of color, and colorful people whose stories, ideas, thoughts, are not always considered worthy and valid and important, but I want you to I know that I see you; we see you. It is an honor to be on this show Blackish to continue expanding the way we are seen and known and to show the magic and the beauty and the sameness of a story and stories that are outside of where the industry usually looks." Expanding exposure above and beyond limited scripts, toward all the real and worthy women's stories out there—this is a beautiful message we can get behind.
Ryan Gosling Honors His Longtime Partner, Eva Mendes
After picking up his Golden Globe for his role in La La Land, Ryan Gosling cut to the chase in a heartwarming tribute to Eva Mendes. "You don't get to be up here without standing on the shoulders of a mountain of people," Gosling started. "And there's just no time to thank everyone. I just would like to try and thank one person properly and say that while I was singing and dancing and playing piano and having one of the best experiences I've ever had on a film, my lady was raising our daughter, pregnant with our second, and trying to help her brother fight his battle with cancer. If she hadn't taken all that on so that I could have this experience, it would surely be someone else up here other than me today. So, sweetheart, thank you. To my daughters, Amada and Esmeralda, I love you. And if I may, I'd like to dedicate this to the memory of her brother, Juan Carlos Mendez."
The actor's words came out with that humble and sincere look on his face and immediately made hearts melt across the nation. The thing is, these weren't just romantic words, they were words of gratitude and recognition of the sacrifices the mother of his children made for him to succeed. By recognizing them on the main stage, not only was Gosling thanking Mendes, he was reminding the world of the important and often thankless role of motherhood. 
Emma Stone Speaks of Hope and Pressing On
Later, Emma Stone won a Golden Globe for her role in La La Land, and she, too, began by thanking a woman in her life whose sacrifices made it all work. "I have to start by thanking my amazing mom. Thank you, Mom. For everything."
Stone went on to offer some inspiring words: "This is a film for dreamers, and I think that hope and creativity are two of the most important things in the world and that's what this movie is about, so to any creative person who's had a door slammed in their face, either metaphorically or physically…or anybody anywhere, really, that feels like giving up sometimes, and finds it in themselves to get up and keep moving forward, I share this with you." For me, these words may be even more inspiring than the film!
HFPA President Lorenzo Soria Reminds Us of the Beauty of Art
Why isn't there a video of this delightful minute online? OK, maybe because it's the moment when everyone wonders who is this short Italian man with glasses as thick as his accent—oh yeah, it's the head of the Hollywood Foreign Press here to fill a minute. Except listen to what he said! "Tonight we celebrate creativity," Lorenzo Soria meekly started. "The arts give us a better understanding of our common humanity. They make us laugh they make us cry and also teach us to never stop dancing. They show us the injustices of life but also its beauty. Our nominees show us that life has meaning and purpose, to make every moment count, and to challenge us to make this a better world." To me, this reminder of what the arts should be about was a more-than-welcome moment of refresh. Thanks, sweet man! Here's to lives of meaning and purpose.
Atlanta's Donald Glover Speaks on Inspiring Kids
We all probably heard Atlanta was good. Well, now it looks like we have to watch it. The show won two awards last night. Donald Glover, who both created the series and acted in it, expressed gratitude for his inspiration—the music and, simply, the people in Atlanta, before taking a moment to say how he grew to believe in himself thanks to the inspiration of his dad and the stories he saw as a child. 
"I grew up in a house where magic wasn't allowed, so everybody in here is magical to me. Every time I saw a movie, or Disney movies, or heard your voices or saw you I thought oh, magic is from people, we're the ones who kind of in a weird way tell a story or a lie to children so they do stuff that they never thought was possible. My dad used to tell me every day 'you can do anything you want,' and I remember as a kid in first grade, 'you're lying to me.' But now I do stuff and he's like 'I didn't think that was possible,' so. I really want to say thank you to my son and the mother of my son for making me believe in people again and things being possible so thank you." A lovely note on how children are both ones we must nurture, but it's undeniable how they also nurture us.
Viola Viola Viola
Possibly my favorite moment of the night was the introduction of Meryl Streep by Viola Davis. This is how you introduce someone. You write excellent remarks, you memorize them, and you deliver them with feeling. Just watching Davis describe "Dame Streep" was inspiring to me, in how to recognize the value of others and how to do so excellently ourselves. It was almost as powerful as when Davis won earlier in the evening for her role in Fences. Toward the end of her remarks, she told Streep: "You make me proud to be an artist. You make me feel that what I have in me—my body, my face, my age—is enough. You encapsulate that great Émile Zola quote that if you ask me as an artist what I came into this world to do, I as an artist would say, I came to live out loud."
Meryl Streep Calls for Respect
The most buzzed-about moment of the night was Meryl Streep's acceptance of the Cecil B. DeMille Lifetime Achievement Award. Her speech took a political tone, first commenting on immigration and then turning the spotlight on the problem of public disrespect and lack of empathy—a controversial move, considering the target of her remarks was president-elect Donald Trump. Streep says there was one moment of "acting" this year that she couldn't get out of her mind, which was when Trump mocked a reporter who is disabled. "It kind of broke my heart," she said. "This instinct to humiliate, when it's modeled by someone in the public platform, by someone powerful, it filters down into everybody's life, because it kind of gives permission for other people to do the same thing. Disrespect invites disrespect." It's hard to disagree with Streep's point that disrespecting other human beings, especially those in positions of less power than us, is never okay. While her remarks jolted many viewers for being so political—the half of the nation that voted for Trump didn't feel Streep empathized with their political concerns—I think it's important to remember political views and human decency are two different things. I appreciated that the accomplished actor found it important to offer a more humane model of behavior on a public platform. Streep left the stage saying, "As my friend, the dear departed Princess Leia, said to me once, 'Take your broken heart, make it into art.'"
La La Land Producer Invokes Art to Unite Us
If you haven't gathered yet, La La Land had a big evening of wins. Accepting the award for best musical of comedy, producer Marc Platt concluded the remarks saying, "Thank you to our cast and crew for reminding us of the magic and power of cinema and to make us feel, not through cynicism or irony, but with unbridled joy and passion, to dream more urgently, to live more fervently, and to love more deeply. And now more than ever, to find music and cinema that enters our minds, souls, and hearts, and unites us." It was nice, especially after Streep's remarks reminded us of division in our country, to remember that we as individuals can all take it upon ourselves to be connected to each other.
And Laughs
And let's end on a laugh, shall we? Because that's part of entertainment's role as well. Kristen Wiig and Steve Carell provided the best intro of the evening in their presentation of animated features. Mixing tragedy with humor, this is is something you just have to watch.
Photo Credit: NBC