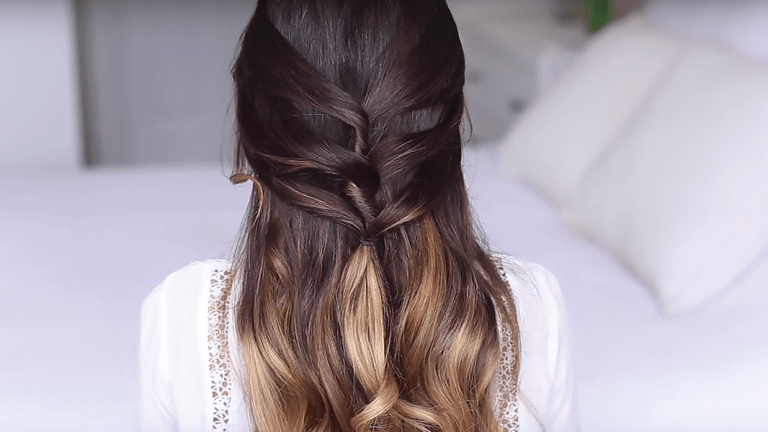 Easy Tutorials for Romantic Half-Up Hairstyles
Refresh your routine with these ethereal looks.
When cold weather looms and chunky turtleneck knits are in high-demand, it's easy to justify wearing a messy bun or beanie seven days a week. But winter, unlike humid summers, is the time to take advantage of the cool temps and wear your hair down. 
Channel a little whimsy into your winter routine with these romantic half-up hairdos. Whether it's a day at the office or a night at the ski lodge, these classy styles are an antidote to any winter style blues you might be feeling.
The Twisted Pieces Half-Updo //
If you're not a fan of the traditional tightly pulled-back half updo, consider Kate Bryan's carefree twisted half updo. This look might seem complicated, but it only requires a few bobby pins and a curling iron.
The Crisscross + Rose Bun + Triple Knot //
We're all about options, and, clearly, Nee gives us just that. With three beautiful half-up looks, we're struggling to pick just one. Good thing there are seven days in a week.
The High Pony //
OK, so who has been trying to master Ariana Grande's signature high half pony for a while now? If it's you, check out Ellarie's tutorial to get the one big secret for nailing this look.
The Pull-Through Crown //
Our first reaction to this look is, "Whhaaat?" Our second reaction is to immediately learn how to do it. Alex shows us how this mermaid-worthy pull-through crown is done, and thankfully, it's way easier than it looks.
The Twisty Faux Fishtail //
We honestly would have never thought of creating such a unique half-updo. I guess that's why we have Luxyhair's tutorial, right? This twisted faux fishtail look is something out of an elvish fantasyland, and we are all about it. 
The Easy Peasy //
If you just want to take baby steps right now, this is the perfect look for you. Bobby Glam gives us a super easy to achieve twisted half up do that anyone can master!
The Princess Half-Updo //
Hair accessories? We're down. Claire Ashley gives us one of the most romantic looks with this headband accessory worthy of a medieval princess. 
The Dutch Headband Braid //
We can always count on Missy Sue to give us some intense #hairgoals. This intricate Dutch braid might take a few tries, but it'll be worth it!