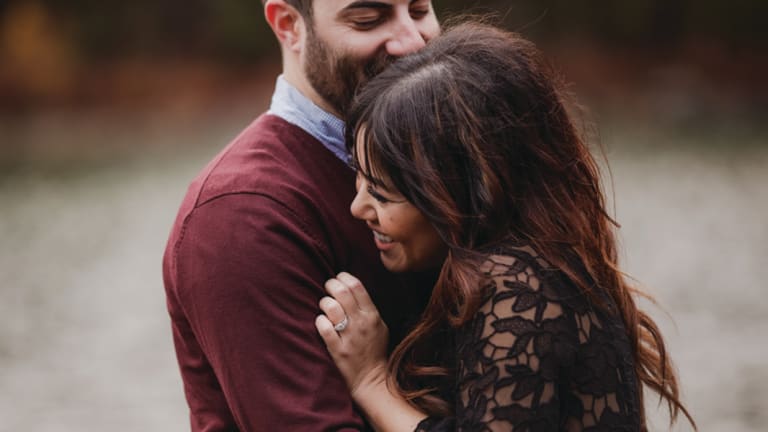 20 Engagement Gift Ideas for Your Guy Based on the 5 Love Languages
He gave you a ring; now it's your turn to find a gift that will make your fiancé feel loved.
December is the most popular month for popping the question. A recent study by BRIDES magazine found that almost 20 percent of engagements each year happen over the holidays.
If you are (or will be) in this camp, congrats! Once you've got the ring, consider giving your fiancé a gift that fulfills his love language in return.
Dr. Gary Chapman, marriage counselor and author of The 5 Love Languages, says that when you discover your spouse's love language, you're able to tap into his personal preferences for expressing and receiving love. Strengthen your relationship—especially heading toward marriage—by acquainting each other with what makes you both feel most loved.
Take the 5 Love Languages official assessment together. Then check out our engagement gift guide below for unforgettable inspiration he'll treasure through good times and bad.
Words of Affirmation
It's important for words of affirmation lovers to not only hear, "I love you," but also why you do. Thoughtful words, spoken or written, make them feel cherished and—most importantly—known. 
01. Record a video of yourself reminiscing about your favorite times spent together and send it to your fiancé. Bonus points for filming yourself in your favorite places and including memories from your family and friends.
02. Make a Spotify playlist of songs that are special to you both and share with him to play wherever he is.
03. Leave surprise Post-It notes of all the little things you most love about him (e.g., on his car, the fridge, mirror, etc.) whenever you can.
04. Write a weekly letter leading up to the wedding date expressing your gratitude and excitement for the preparation and marriage ahead.
Quality Time
This person appreciates someone who plans to spend the day with him or her. Knowing you've set aside time just for him will say plenty!
05. Special tickets to a lecture, tour, theater production, live music, sports game, or other event he'd like to experience gives lots of opportunities for sharing quality time.
06. Plan a surprise reunion with friends he hasn't seen in a while whom you know he'd love to share and celebrate your engagement with.
07. Take a day trip somewhere neither of you have been before. Bring a paper map and ban cell phone use so that all your attention goes to one another.
08. Have a picnic with your fiancé's favorite foods of all time (e.g., pizza, wine and cheese, mac 'n' cheese, whatever!). Indoors or out, depending on your guy, it'll be a memory he won't forget.
Receiving Gifts
This person isn't interested in you breaking the bank; he's interested in your intentionality. Be on the lookout for gifts that align with his particular likes and dislikes. And a special delivery method will make him feel extra loved!
09. Get personal. Gift your fiancé a bottle of his favorite drink and a beautiful monogrammed flask and personal message on the back to go with it. Or shop for a formal watch that he can wear in lieu of an engagement ring. Have it engraved with a meaningful message to remind him that your love is timeless.
10. Buy him a new piece of luggage, passport cover, travel wallet, or personalized luggage tag in anticipation of your honeymoon and all your future travels together.
11. Pick one day each week to be "his day." On this day, give him a small gift that made you think of him. For this love language, it's the thought that matters most.
12. Create an archival quality photo book of all the memories you've shared since day one.
Acts of Service
The words he most wants to hear: "Let me take care of that for you." Ask yourself what you can do to make his life a little easier now that you'll be a permanent part of it.
13. Vow to take over a chore he dreads for a period of time (or forever!). 
14. Complete a task your fiancé has been meaning to do (backing up his photos, sorting and donating old items from his closet, etc.). "Borrow" his keys to freshen up your fiancé's house or apartment or have his car detailed and the tank filled.
15. Meal prep a weeks' worth of his favorite breakfast, lunch, and dinner to store in his fridge/freezer for when he's busy. Leave a sweet note on each to read as he munches.
16. Proactively start planning for the wedding by researching and including a clever list of ideas that you know he will get a kick out of. Research the details (e.g., cost, type, etc.) and share them with him to include on your big day.
Physical Touch
Cuddles, a kiss and hugs may be universal ways of showing love, but preferences will be different for everyone. A physical touch guy needs to be loved in nonsexual ways.
17. Get a his & hers gift certificate to your nearest spa for a couples massage or DIY a booklet of vouchers that he can redeem for a weekly fifteen-minute neck, back, or foot massage from you.
18. Set up a surprise professional/semi-professional engagement photo shoot together set in some of your favorite places.
19. Enroll in dancing classes. Set times to practice together, and come up with a routine for your wedding day if you wish!
20. Plan a physical excursion including his favorite hobby (e.g., golf, batting cages, bowling, hiking, cycling, fishing, cooking, etc.) even if you've never done it before.
Photo Credit: Taylor McCutchan