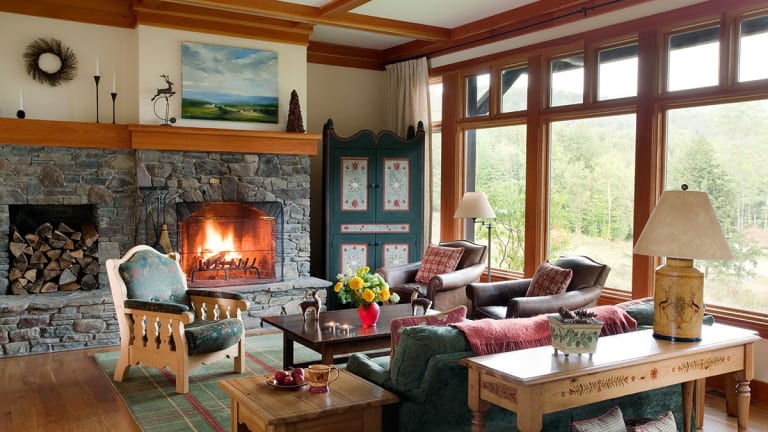 6 Cozy Weekend Getaway Ideas for $300 or Less
Check out these stateside romantic escapes to winter wonderland on a budget.
The winter blues might be in full swing, but instead of dreaming about snowbird-ing to tropical islands, how about going full hygge and just embracing the cold? Many U.S. towns know how to get cozy in rain or snow—and do so quite charmingly. From stunning ski adventures to intimate fireside cocktail bars, here are six places you might want to check out before you start Googling swimsuits.
01. Lake George, New York
When a friend told me about "ice bars," I thought she was joking. "Imagine an ice sculpture," she said. "But instead—the sculpture is an entire bar. And you can drink there." Now imagine an entire town that has embraced this ongoing trend. After a day of tubing or hiking around the southeast base of the gorgeous Adirondack Mountains, you'll have your pick of which ice bar you'll want to drink with.
If you'd rather melt the ice, there are all kinds of cozy places to have your nightcap, too, including Library Bar & Fireplace Patio and Griffin's Tavern in the Merrill Magee Inn.
For sleeping, Alynn's Butterfly Inn Bed & Breakfast comes highly recommended, with five-star ratings and all-you-can-eat cookies. Rooms start at $70/night, and some of them include jacuzzis!
02. Kennebunkport, Maine
With a modest population of about 3,500 people, this fishing village is making ripples. While mostly known as a luxurious summer spot for the wealthy (the Bush family summer compound is here), it's a marvelous winter destination for those on a budget. Whether you find yourself snowshoeing through trails in the woods, trekking through the powder-dusted coastline, or casually strolling through the historic town, you'll stumble upon dazzling sights, both natural and man-made. Kennebunkport is also herald for its prominent art galleries and choice seafood restaurants, such as Pier 77 or Alisson's.
Once a tea merchant's mansion, The Kennebunkport Inn is a huge historic house established by Dock Square, a few steps away from the town's best restaurants and shops. This gem starts at only at $79/night, fireplace included.
03. Ogden, Utah
Ski-resorting needn't cost you an arm and a leg. If you're interested in exploring a sport known for its expense, try Powder Mountain, skiers' little secret, averaging five hundred inches in real snow per year. With eight thousand acres and 167 runs, it's actually the largest resort by skiable acreage. But if gliding downhill at top speed terrifies you (as it does me), your options only begin here. Consider low-key cross-country skiing in the wide-open Odgen Valley with Ogden Nordic. Afterward, warm yourself up with a drink at New World Distillery, an environmentally-friendly craft distillery that just opened this fall, full of organic spirits and local pride.
As night falls, stay at the picturesque Alaskan Inn, with weekday specials starting at $89 a night or weekends starting at $119 a night. Just don't be alarmed when the romantic sleigh ride (+$60) takes you into elk territory.
04. North Conway, New Hampshire
With more than 700,000 acres of protected White Mountains National Forest, North Conway naturally features awesome skiing, snowboarding, and snowshoeing. But they also know how to work our furry friends for some serious fun, too! For starters, there are some sweet dog sledding opportunities. While on the pricier side, if you're a canine lover, this is a chance to embrace your inner Balto. There's also spectacular winter horseback riding trails—taking you past emerald evergreen forests and panoramic mountain views of Mt. Cranmore, Kearsarge, and miles of Moat Mountain Range.
Later that night, warm up with wilderness-themed grub at Muddy Moose Restaurant equipped with a roaring fireplace and bar. Or indulge at high-end Stonehurst Manor's The Wild Rose. Both will have views of the mountainous wilderness paradise you're in.
Stay at the more secluded yet gorgeous Bernerhof Inn Bed and Breakfast, a short drive away, starting at $99 per night—or book a room a little closer to town at the beautiful Buttonwood Inn, starting at $139 per night.
05. Stowe, Vermont
Ever wonder what happened to the Von Trapp family after they narrowly escaped Liesl's Nazi-sympathizing boyfriend? They went to Stowe, Vermont and founded the Trapp Family Lodge, the first cross-country ski center in the country. Now, it is home to all sorts of exploration, including the culinary kind. Nestled in a broad valley between Mount Mansfield and various peaks of the Green Mountain Range, Stowe is the perfect getaway for the outdoorsy soul. The Twilight Snowshoe Tour allows you to explore the area before dark, giving you breathtaking views of the wide-open snowy spaces at sunset.
We recommend staying at Green Mountain Inn, at $139 per night. Located on Main Street in the heart of the town, it has convenient access to all kinds of local shops and eateries.
06. Los Angeles, California
Yes, it's mostly known as a warm-weather destination, but hear us out. California does get winters, too. If you want to stay in good ski condition or try out snowboarding for a day or two, there are several ski areas near Los Angeles that will do the trick. Mountain High, less than an hour and a half from L.A., is popular with the locals and has gotten several feet of fresh powder this season (with more in the forecast). Mountain High is actually three different resorts within a mile of each other, so there's always something new to explore. A lift ticket ranges from $35-$74 for four- to eight-hour time blocks. Hole up in an adorable Airbnb cabin for $99 a night (up to five people), or rent an entire ski chalet built in the 1930s for $135 a night (up to six people).
If you're seeking a fun friends' weekend or a romantic getaway with your significant other (Valentine's Day weekend is nigh), now is the perfect time to check out special deals in these areas. See Gilt City's latest offerings—like a $49 mimosa brunch for two at The District by Hannah An in West Hollywood—for insider access to exclusive local services, experiences, and luxury travel at tempting price points.
Photo Credit: Trapp Family Lodge