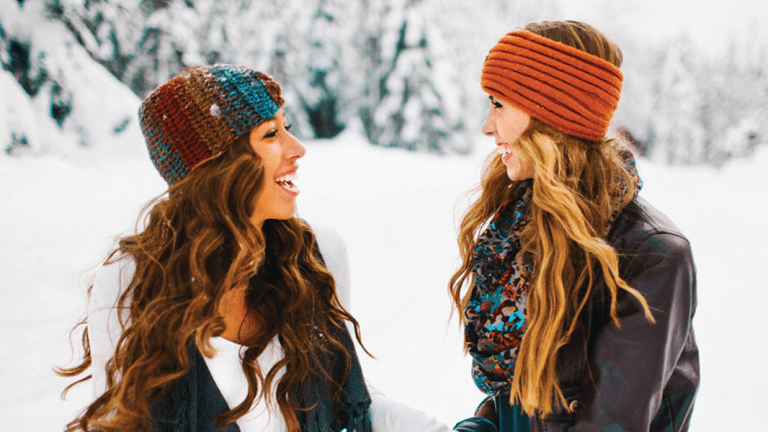 5 Things to Talk About with Your Girlfriends Instead of What You Ate Over the Holidays
Who wants to talk about how miserable you felt after you ate way too much?
Ham, mashed potatoes, green bean casserole, pie. So much pie. My mouth is watering just remembering all the delicious holiday fixings.
Holidays are for spending time with family, seeing old friends, meeting new friends, celebrating old traditions, making new traditions, and, of course, loads of good food. All of these give you and your girlfriends a lot to talk about over the holiday season. But why does it seem that every conversation turns toward the inevitable: how much you stuffed yourself with food amidst all the festivities?
If you are bogged down with the miserable thought of how much you ate over the holidays, try changing the topic of conversation with your friends to something else worthwhile. Because that kind of self-deprecation isn't good for anyone. Here are five suggestions for making your holiday conversation a little more merry and bright.
01. A New Recipe
If food is all you've got on your mind and the thought won't relent, why not spice up the conversation by talking about a new recipe you tried? Steer clear of talking about how you ate too much of said dish or drank one too many holiday cocktails, and instead just share how fun it was making something new. You can also swap recipes with your friends. They probably have a new salad or side dish you'd love. You just might stumble upon a new holiday tradition in the making.
02. The Ghost of a Christmas Past
Nothing gets the conversation rolling like a simple query of, "What's your favorite . . . ?" Start the conversation by asking your girlfriends about their favorite holiday memories. Surely everybody has beloved family traditions to dish about. Maybe you and a pal have some of the same traditions that you never realized before. This is a great little exercise to get to know each other even better than you already do. And before you know it, all will be laughing over the holiday memories they wish they could forget, their favorite Christmas movies and songs, or the traditions they intend to carry on into Christmas future.
03. Book Club
Yes, you ate a lot during your down time, but you also probably read more. Maybe it was a low-brow romantic sizzler or the latest cultural phenomenon—either way, that book is more interesting than your digested cookies. When you meet back up with your friends in January, discuss your book instead of your gluttony. If you liked it, pass it along to one of the girls who you think might enjoy it, too. If you didn't read a new book, share a movie you saw, an article you read, a Christmas concert, or whatever you did over break that was fun and different.
04. New Year's Resolutions
Maybe you ate so much over Christmas that you vowed then and there to start eating healthier. Share all those resolutions you've made for a fresh start in 2017. Maybe you've decided that you're going to budget more consciously or spend less on unnecessary purchases. Confiding in your closest friends will help you soak up more ideas for your New Year's resolutions, and they can also serve as built-in accountability partners. When it's mid-January and you're already slacking on those goals, your friends will be there to guide you back toward keeping your resolutions. Take this conversation as an opportunity to talk about everybody's highlights from 2016, too.
05. New Beauty Tips
Hopefully you took advantage of all those holiday parties and get-togethers to try out a new holiday hairstyle or makeup look. Because it's the holiday season, treat yourself to a gift you wouldn't ordinarily buy, such as a new necklace or that expensive foundation you've been eyeing forever. Now that the season is winding down, dish with your pals on what new looks you tried, the lovely compliments you received, and what gave your girlfriends a confidence boost, too.
There are so many fruitful and fun topics to discuss with your gals during and after the holidays. Don't get stuck talking about the default what-you-ate-over-Christmastime conversation. Go beyond that boring, self-shaming talk, and give these five topics a try instead.
Photo Credit: Shannon Lee Miller