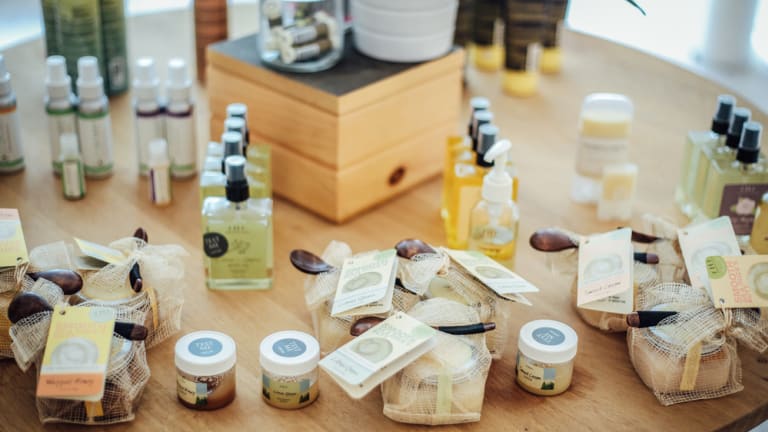 Dermatologists Tell Us What Our New Year's Skin Resolutions Should Be
From drinking more water to a bargain-priced serum, these are the expert tricks for a fresh face in 2017.
Healthy skin is the most sought-after beauty look, so let's begin the New Year with a new commitment to caring for ourselves. To put our best faces forward (literally), we asked dermatologists and skin experts to share their top skin care resolution tips. Here's what we learned.
#1: Cleanse Your Skin Twice at the End of the Day
Ever feel like one wash isn't really enough to get rid of your day's worth of makeup? Well, turns out you're right! Lindsey Blondin, lead lead esthetician of George The Salon recommends that women who wear makeup always cleanse their face twice at the end of the day. "First cleanse is to break up make up, dirt, and oil on your face. The second wash is to actually cleanse the skin itself," but she warns against over cleansing which dries out skin and produces excess oil. 
We suggest using micellar wash for your first cleanse, as it only removes dirt and debris while leaving your natural oils alone. For your second cleanse, find a wash that suits your skin type. Now, that's a fresh face!
#2: Use Sunscreen Daily, Rain or Shine
This tip comes as no surprise since skin experts have been trying to convince us to wear SPF for years. Dr. Sonam Yadav, Cosmetic Dermatologist and Medical Director of Juverne, states, "My number one tip for any woman at any age is to wear sunscreen every single day. It's incredible just how badly and quickly the sun's rays age us." Dr. Jill Waibel, owner of the Miami Dermatology and Laser Institute paints a clear picture for us, explaining that sun damage caused by not wearing sunscreen leads to brown spots, red lesions, pre-mature aging, and skin cancer. No thanks.
Dr. Tsippora Shainhouse, MD & FAAD in Beverly Hills similarly advices, "Wear sunscreen every day! A thin layer on your face, ears, chest and hands will help prevent both collagen breakdown that leads to premature skin aging, as well as DNA damage that can lead to skin cancers." She suggests trying EltaMD broad-spectrum SPF 46, Coppertone Sheerly Faces, Neutrogena Healthy Defense Moisturizer SPF 50 with pure screen. Check out our selects here.
#3: Stick to Your Beauty Routine
Ever notice how your skin freaks out the most when you go on a trip and fall out of your skin care routine? That's because skin craves routine and needs to get used to certain products so they may be fully effective. Dermatologist, Dr. Neal Schultz, says the most important resolution we can make is to establish a regular daily routine and to stick to it! "Studies have shown that just establishing a regular routine of cleanser, toner, and moisturizer twice a day can reduce acne breakouts more than 25 percent." He explains that our routines should consist of a cleanser and toner, SPF moisturizer every morning, and an exfoliant at night. For those who want to go the extra mile for glowing skin, Dr. Schultz also encourages using an antioxidant serum, eye cream, and night cream.
Furthermore, he warns against working out with or sleeping with makeup on your face, "Make sure you wash and/or tone your face before any exercise so you don't grind dirt, oil, debris, air pollution and dead cells into your pores when you wipe your sweat."
#4: Use Serums Containing Antioxidants
This might be one you haven't heard yet. Serums are a relatively new addition to standard beauty regimes but shouldn't be disregarded. Dr. Tsippora Shainhouse, MD, FAAD, explains that antioxidants help diminish free radical damage in the skin from daily UV exposure. She recommends using an antioxidant serum twice a day: in the morning to prevent DNA damage by preventing oxidation during exposure and at night to help repair potential damage from the day. She told us to look for serums with ingredients like vitamin C, vitamin E, coffee berry, resveratrol, acai, green tea extract. Her favorites are SkinCeuticals CE Ferrulic and Trader Joe's antioxidant serum. 
#5: Use a Nighttime Retinol
Another way to go the extra mile for beautiful skin is to include a retinol into your regime. Dr. Shainhouse explains that retinols are vitamin A derived, topical agents that accelerate cell turnover and help the skin make new collagen, a process that naturally slows down once we reach our twenties. Retinols help shed older skin cells at the surface, to reveal shiny, healthy, stronger skin. Retinols also prevent breakouts since the skin cell turnover time is increased, giving your pimples no time to settle into your skin.
Dr. Shainhouse also cautions first time users, "Retinols can be irritating and drying, so start using them only twice a week, until your skin toughens up in a good way. They are best used at bedtime." She recommends over the counter Neutrogena Rapid Wrinkle Repair and Dr. Jill Waibel suggests ROC. 
#6: Have a Holistic Approach
Healthy skin starts from within, and Dr. Fayne L. Frey, MD, FAAD, can't stress enough the importance of maintaining a healthy lifestyle for beautiful skin that is long term. Dr. Frey explains, "There are no shortcuts to healthy skin. A healthy body yields healthy skin." This means regularly getting seven to eight hours of sleep at night, eating healthily, and exercising. Dr. Sonam Yadav, Cosmetic Dermatologist and Medical Director of Juverne echoes, "Eat less sugar, work out every day, and drink water."
Sometimes the no-brainer tips are the hardest to commit to! But when you see your skin healthy and glowing from taking care of your whole body, it'll all be worth it.
Photo Credit: Alexa Fernando