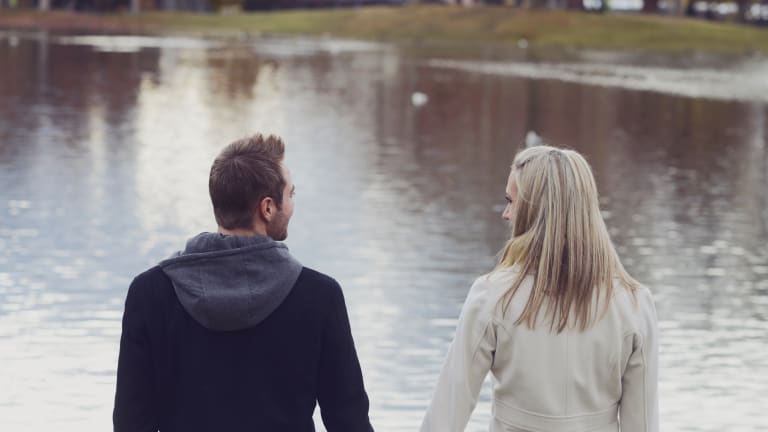 5 Lessons You Can Learn from My Very Worst First-Date Stories
Half the fun of dating is having some good stories to swap later, right?
My best friend recently reminded me how I once told her, "I will never use a dating app!" I don't remember using those exact words, but the idea of creating a profile and chatting with strangers seemed overwhelming, exhausting, and more than a little frightening at one time in my life.
Fast-forward a few years later, and I'm kind of a dating app pro. Today, my friends share their online dating profiles with me. We giggle at some of the messages they receive, and I help them choose which pictures are the most flattering. I'm somewhat of an online dating connoisseur now—and a hopeful success story, too. That's right, I really did meet a great guy on a dating app, and I never hesitate to encourage my friends to give dating apps a chance.
That being said, let's be real—not all your dating app dates will be charmers. Half the fun of dating is having some good stories to swap later and learning some lessons so that you don't make the same mistake twice.
Upon my first "swipe right," I had some colorful experiences and some lessons learned. Here are my favorites.
01. Ditch the stage five clinger.
Upon entering the grungy dive bar in SoHo, I scanned the crowd and there he was, my dating app date, sitting in the back reading a book. He was really cute, and despite my initial hesitancy, I was glad that I hadn't cancelled. He got me a drink, and we settled in for the games to begin.
He was extremely smart and funny. We talked about our families, where we were from, why we had both moved to New York. He seemed like a confident guy—but then he threw in a comment making fun of his small stature. I politely ignored it, until he threw in another comment about how I was "much better than him, and way too good to be true." Again, I laughed it off and said something witty to change the subject. Finally, at the end of the date, he asked if he could see me the next day, as I was going home for Thanksgiving and he wanted to see me again before I left. I told him I was pretty busy and didn't think I had the time. He then pleaded with me, expressing concern that if he didn't see me before my trip, he was worried he would never see me again.
Honestly, I was a little freaked out by his intensity. My instincts proved correct when I received texts from him over Thanksgiving telling me that he had purchased tickets to a concert a few days after I got back to the city. He hadn't asked me if I was even available to go, just bought the tickets. That's when I realized I had a stage five clinger, and I couldn't see him again.
Lesson learned? An overeager guy can be flattering, but it can also a major red flag. Be on your guard!
02. There's nothing wrong with asking for the check early.
This was my second online date, and it didn't take long for me to figure out he wasn't the guy for me. He was a lawyer, and went on for at least twenty minutes about the type of law that he practiced while I zoned out nodding my head at the appropriate moments.
As he was showing me a picture of his family on Facebook, he found another picture of himself and said, "Here's a picture from when I dressed up as a Jew for Halloween," and then proceeded to show me his screen. That's right, this date kept getting better and better.
I am Jewish, and I mentioned that on my profile, so I'm sure he saw that before swiping right. We were also in New York City, with one of the highest Jewish populations in the country. So even if he hadn't remembered that I was Jewish, you would think that on a first date, he would have kept his anti-Semitism to himself.
I was stunned, yet all I said was, "Oh! I have to go to the bathroom." Sneaking my phone with me, I texted my friends telling them what happened, sending out an SOS! They all told me to fake illness and ditch. My Midwestern politeness kept me from ending the date, so I went back to the bar in despair. He was on his fifth drink in the past two hours, so I politely waited for him to finish and walk me home.
Lesson learned? If a guy offends you, say something, and end the date early. Better still, carry cash on drink dates. In case things go south fast, you can slap a twenty on the bar and leave that much faster.
03. Height isn't a make-it or break-it, but emojis are.
Anyone knows how torturous messaging back and forth with a cute guy can be, so I was relieved when this guy finally asked me on a date.
He was already seated when I walked over, and he looked just like his pictures. I sat next to him and we really hit it off. He had a dry sense of humor, which I love. At the end of the evening, he paid the bill and we both stood up to say our goodbyes. At 5'1" and in heels, it came as a surprise to me to realize that he stood eye to eye with me. I would be lying if I said this didn't bother me at all. I mean, it's not every day I come across a guy who is shorter than me. But we had a great time so I was up for date number two.
That is, until all the emojis began.
That's right, communicating primarily through emoji's was his M.O. and that was just the good stuff. In person, his dry sense of humor turned out to be extremely critical, even toward me, my appearance, and little quirks about me. By date #3 I realized all of these things and ended things with him. I did hear from him again randomly a month later, or rather, I received the hand waving emoji (his way of saying "hi"). Wherever he is, I hope he's found his Emoji Queen. 
Lesson learned? Men who only feel comfortable expressing their feelings via emoji are not for me.
04. It's better to have zero tolerance for the pushy guy.
I met him at a bar walking distance from my apartment, and he was really cute. His first comment was, "Wow, you're much prettier than your pictures!" I ignored the backhanded compliment, and we sat down. He was very tall, had nice eyes and a great smile, and the conversation really flowed.
Midway through the night, he pulled my bar stool closer to him. It made me feel a little uncomfortable, but I thought he was cute so I ignored it. Then, out of the corner of my eye I saw a friend from college and he came up to say hi. After my friend left, he asked me if I'd had "a thing" with him in college. I said that I hadn't, and he asked if my friend had a crush on me. Confused, I told him again, no, nothing had gone on between us romantically. This was my first tip-off that no didn't mean no for this guy.
At the end of the night, he asked if I wanted to go for a walk, but after a few drinks I decided it was better that I just go home; I was walking distance from my apartment. He called a cab, but instead of wishing me a good night, he begged me to get in with him. I told him no three times, and the fourth time, I said OK just to get him to stop asking.
Now, I am a strong and confident woman. I know I should've said no that fourth time, and walked home. I am still mad at myself for caving, but honestly, the alcohol didn't help. When we got in the cab, he told the driver his address, and I told the driver to take me to my address first. He then told the driver, "Ignore what she said. Take us to the first place." The driver did what he asked.
Thankfully, nothing bad happened that night, and I eventually made it home safe. But it makes me sick to my stomach to think that I was put in this situation and even sicker to know that so many women have been in this exact place and haven't been so lucky.
After that evening, he wrote me asking if we could see each other over the weekend. I let him know that I found it hard to want to see him after he had ignored my wishes multiple times. I have never felt more disrespected in all my life. I made sure that he knew what he did to me was never ok, and I hope he took what I said to heart.
Lesson learned? This experience has inspired me to share my story, to empower other women by letting them know that no means no. If you feel uncomfortable, you stand your ground, keep saying no, and get yourself out of that situation.
05. Sometimes you won't have a good reason for not being interested, and that's OK.
I knew that I wasn't too attracted to a guy who eagerly wrote me on Hinge, but he seemed really sweet and I thought that maybe I would feel something when we met. So I met him for coffee one Sunday morning. He was really well dressed, and interesting. There was never an awkward pause in our conversation, and he asked me lots of questions about myself.
At the end of the date, I went in for the hug, told him I was pretty busy and wasn't sure exactly when I was free, then ran into the subway. I kicked myself for being so awkward at the end, but the truth is, despite the great conversation and the mutual interest, I just wasn't into it.
Lesson learned? Sometimes, you can't put your finger on it, but you just don't feel it. And that's OK.
After reading this list, you may think it's a wonder I ever met a nice guy to date. But dating is never easy. Sometimes you have to slog through the terrible dates to get to that one person that finally feels right. Open your mind, because you will get the energy that you put out. And hey, if you don't find someone special, you will have some great lessons learned and some storied to tell your friends later!
Photo Credit: Rachel Haslam