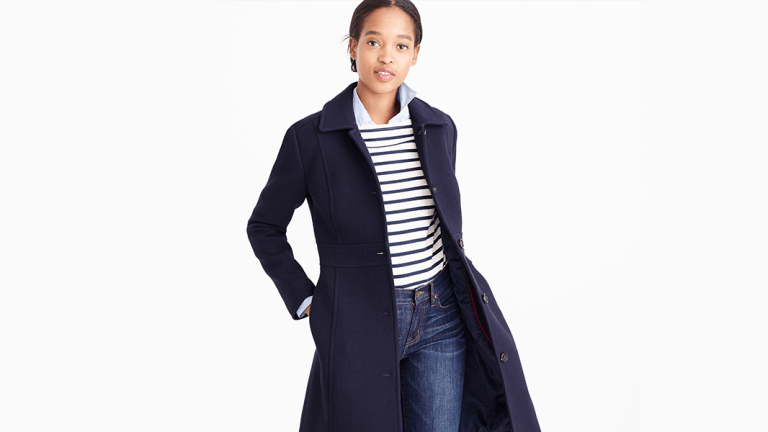 The Best Coats for Your Body Type
A flattering coat is a must for the cold months.
Winter weather might be playing hard to get, but don't get too comfortable in this unseasonal mild weather. When the frozen tundra temps come back with a vengeance, make sure you're prepared with flattering coats to guard against falling snow and howling winds. If you've been searching for a coat to flatter your unique shape, look no further than our guide to finding the ideal coat for your body type.
Pear // Fit-and-Flare
Pear shapes are wider in the hip area, making fit and flare coats especially comfortable and flattering, as opposed to the straight up-and-down fits of pea coats or puffer jackets which can restrict the hip area, making it difficult to move freely. Styles that button or tie at the waist and flare out like a skirt are especially flattering. A voluminous neckline with fur or lapels also create a flattering hourglass illusion, balancing out the volume of the flared skirt.
Heart // Non-Bulky
Heart shapes have wider shoulders, arms, and busts, making non-bulky coats ideal. The key is to select silhouettes with sleek lines and minimal detailing on top. A great option is the cocoon coat that offers ample room on top while maintaining a streamlined fit. A classic button down or zip up coat without bulky pockets or a huge collar is also flattering because it doesn't add unnecessary volume on top.
Petite // Shorter Lengths & Longer Lines
Petites are easily overwhelmed by excess fabric, so choosing simple and sleek coats is the way to go. When wearing longer coat styles, make sure you don't lose your shape by choosing more form fitting coats. If you like looser-fitting coats, try shorter styles that will elongate your legs.
Rectangle // Patterns, Volume, & Texture
Rectangles are often described as "straight up and down," so when selecting a coat, experiment with patterns, volume, and textures that create the illusion of more curves. Pretty much every style will look good on you, but a coat with volume in the collar or a pattern that draws attention to your waist will look extra-flattering.
Hourglass // Cinched Waist
Hourglass shapes are usually equally curvy on the bottom and top, making flexible and comfortable coats a must. A wrap coat is perfect for the hourglass because the tightness is adjustable and tie highlights the waist. A fit and flare style also looks great on the hourglass since it accentuates this already proportionate figure.
Photo Credit: J.Crew