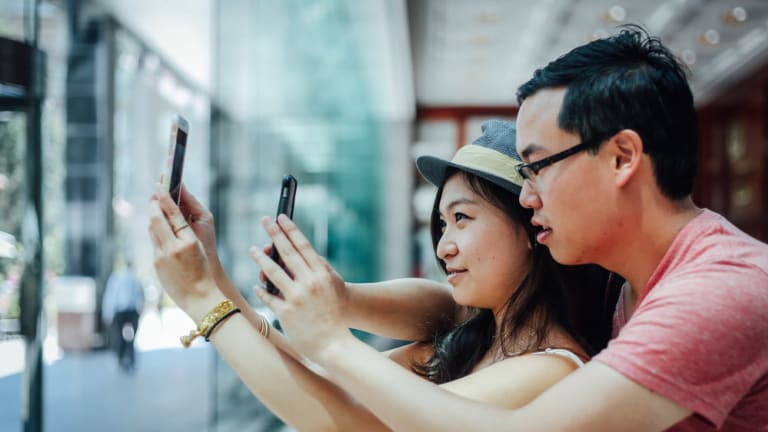 4 Rules to Keep You Sane When Your Guy Doesn't Text Over the Holidays
Don't turn into a Scrooge this Christmas just because he didn't call.
There is nothing that spoils being home for the holidays like being separated from your brand-new flame. When you are together, all the newness and uncertainty of your budding relationship is manageable, but when you are making merry with your family and he with his, it's a bit more stressful. Like, a lot more stressful.
I know that I, for one, have spent many a Christmas pining after a new crush, which has sometimes led me to turn into a total Scrooge. But it doesn't have to be that way. When I find that I'm hung up on a guy and staring at my phone (that's not ringing . . . Why is it not ringing??), it can be helpful to remember these four rules.
01. Ditch your phone.
If you find yourself angst-ing about when he is going to call and if he is going to call (because it's too early in the relationship to really know what to expect), do yourself a favor and ditch the phone. Focus on spending that quality time with your family and friends. The Christmas season is a rare opportunity to catch up with your siblings or meet up with old friends from your hometown. But you don't have to be totally MIA (because what if he does call and he's freaking out about whether he'll hear from you as much as you are?)—just keep your phone tucked away and out of sight most of the time.
02. Remember, he's busy, too.
The holidays are a really busy time of the year for everyone. You and your guy are likely going to be like two ships passing in the night for most of the holidays apart, and if you aren't officially a thing, there is the whole who texts or calls first dilemma. Remind yourself that if you guys aren't dating officially (and sometimes even if you are), no one wants to date someone who doesn't have their own life. He has things to do, too, and that's a good thing.
03. Don't get ahead of yourself.
Whether you are newly legit or you still aren't sure what you are, it's important not to let yourself get too carried away with emotional fantasy. Letting yourself daydream about your future wedding when you guys just started dating isn't helpful. Thinking up 101 reasons he hasn't texted yet isn't helpful either—refer back to rule number two and close the door to that rabbit hole fast.
Enjoy yourself. Go out and make some new memories. Don't spend your Christmas season pining over a guy you just started getting to know.
04. Just text him first, and put yourself out of your misery.
Let's face it, most of the misery of sustaining a budding romance while apart over the holidays is due to not feeling totally secure about how he feels about you. When he texts or calls, you know he is thinking about you, and keeping in contact helps you feel secure. Do yourself a favor and give yourself permission to say, "Hey! Hope you are having a fun time at home!" or something along those lines. If he doesn't respond for two days, then yeah, he is distracted; refer back to rules number two and three.
Don't let a cute guy in another city consume your holiday season. If you keep these four rules in mind, you'll come back from your time apart feeling refreshed and a little bit more grounded in the New Year.
Photo Credit: Alexa Fernando