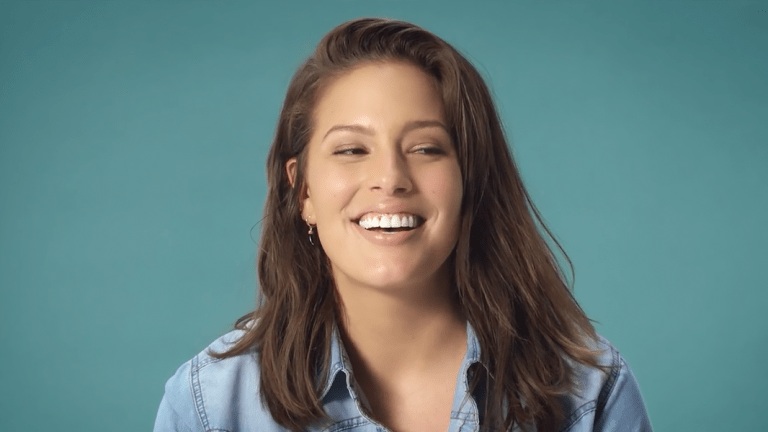 Will 'Vogue' Finally Inspire Lasting Change in the Media's Representation of Women?
'British Vogue' has a controversial January cover, and it's kind of inspiring.
The January issue of British Vogue features a cover model who is very well-known yet a bit unexpected for the tried-and-true fashion book: Ashley Graham. The cover has been stirring up controversy in the fashion world—but not for the reasons you might think.
Graham looks stunning, donning a tomboyish leather jacket and windblown hair. But as Alexandra Shulman, British Vogue's editor-in-chief, revealed in her editor's letter, not all brands jumped at the chance to work with the famed plus-size model. She explains that several were reluctant—or even refused—to provide clothing samples for the photo shoot. "[Coach was] enthusiastic about dressing a woman who is not a standard model, but sadly there were other houses that flatly refused to lend us their clothes," she wrote.
To see a major magazine editor put designers, who no doubt rely on Vogue to promote them, on blast was shocking. She went on to plainly state the thought on everyone's mind: "It seems strange to me that while the rest of the world is desperate for fashion to embrace broader definitions of physical beauty, some of our most famous fashion brands appear to be traveling in the opposite – and, in my opinion, unwise – direction."
Shulman is hardly the first to note the issue. Project Runway's beloved mentor Tim Gunn got the world buzzing when he called out designers for not catering to the plus-size market because of ridiculous ideas about who their clothes "are for." Also in September—the month that belongs to fashion—fashion-focused lifestyle site Refinery29 underwent an unusual branding shift. As part of a campaign it dubbed The 67 Percent Project, Refinery29 pledged to radically change the imagery across all their platforms in order to address "the reality that plus size women in America are consistently underrepresented in media and retail." The 67 percent equates to the percentage of American women who are considered to be "plus sized," or wearing a size 14 or higher yet who account for only 2 percent of the imagery we see widely used in the media. In the first week, 67 percent of the images Refinery29 published featured plus-size women, and since the campaign's launch, the brand has continued to use more diverse models on a regular basis, without the need to draw special attention for it or brand it.
It's interesting that these leading voices in the fashion world seem light years apart in their response to a collective public outcry for more realistic imagery. An outcry we've been witnessing in no small measure for years. Verily's own pledge to not retouch models and to use realistic women in our imagery was seen as quite revolutionary four years ago when we launched. Still today, our practices are far from industry standard.
While Shulman's words confront longstanding allies of the fashion magazine for not serving women of all sizes, it's hard to say what the result of this Graham cover will actually be. Maybe Vogue will distance itself from these unnamed entities. We've seen other media brands respond to the public's demand, and yet the tried-and-true standards still dominate.
Piera Gelardi, co-founder and executive creative director of Refinery29, said, "We know one of the biggest practical roadblocks to representation for media and advertising is a lack of infrastructure within the modeling, photography, and sample-lending industries to support including plus size women." The British Vogue editor's letter proves that. One thing is for sure, Shulman may not be Anna Wintour, but if anything has the power to orchestrate a coup within the whole fashion ecosystem it's Vogue.
Shulman's letter is a bird's eye view into how the most well-known ateliers feel about dressing women who aren't a size 2, and it's not pretty. Still, her words could be the precursor to some real changes. I hope her opinion and professional power translate into more actions that are forward-moving. In the meantime, it's hard to know what to make of the discrepancies swirling around the fashion world. That confusion is something Shulman got exactly right when she wrote, "the question of size in the fashion industry is one that boils up continuously and furiously without ever reaching any kind of satisfactory conclusion." Perhaps Vogue could be just that—the proverbial last straw that shakes fashion and size standards to the core once and for all.
Photo Credit: British Vogue