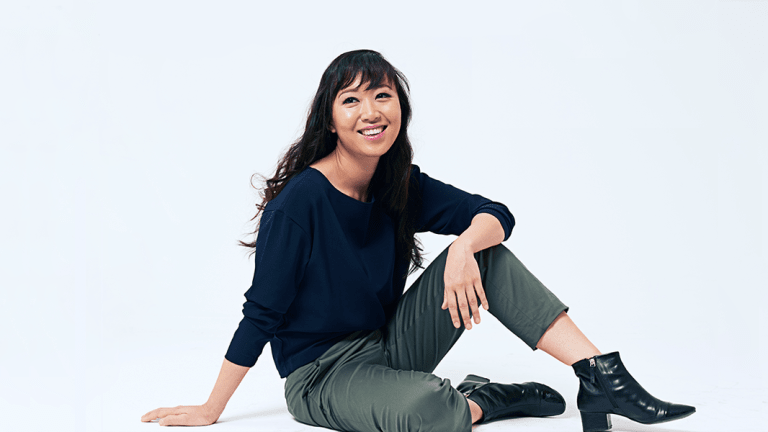 In New York, a Musician's Style Strikes Many Chords
Concert pianist Vivian Choi's personal style is like night and day.

Why do we wear what we wear? Have you ever wondered about that? How we dress has the proven ability to change our mood, impact our confidence, and, of course, help us face whatever any given day brings. For women in New York City especially, style has to achieve utility and aesthetics; our clothes are the LifeWear that make it all possible. We partnered with Uniqlo to ask four New York women: "Why do you get dressed?" Their answers might surprise you.
Most of us have a pretty constant go-to look. It might change some between work and weekend, but it's the same wardrobe give or take a few pieces. At first, a look inside Vivian Choi's Upper East Side apartment closet fits this bill. It's a perfectly organized world of feminine blouses and smartly tailored slacks—not all that uncommon. When it comes to getting down to business though, Choi isn't throwing a blazer over her blouse or swapping the pixie pant for a pencil skirt. Choi's work attire is not like most of ours. Then again, most of us aren't world-renowned concert pianists.
In her most important "work" moments, Choi wears beautiful gowns, the likes of which many of us only see when watching red carpet TV specials. "My style really is very similar in real life as far as the colors and styles I choose," she says. "But there is one big difference." That difference, of course, is that Choi isn't walking around the bustling streets of New York City in a floor-length dress every day. But aside from being mostly free of sequins and lace, Choi's wardrobe offstage, as much as on, has to meet the demands of a very unique lifestyle.
Choi is a Korean-born musician who grew up in Sydney, Australia. She moved to the states a little more than a decade ago and has been in New York the past six years. Her career is so important to her that she said "finding an apartment in the city was more about accommodating my grand piano than me." Whereas most New Yorkers are concerned about cost and location, she had to think about weight limits, sound proofing, and elevator size.
So, what does getting dressed mean for an urban musician who has won international awards and played at many of the most respected venues in America, Europe, Asia, and Australia? It means mastering two sometimes incompatible wardrobe demands at once: movability and sophistication. Especially up top, Choi says, "I have to be able to move." But she also has a deep appreciation for her life's work and therefore likes to look polished whenever she's going to a music event, whether it's a friend's concert or teaching young talent.
As any woman knows, finding an outfit that looks great but also feels great is easier said than done. For Choi, it usually means boatneck blouses or tops with a lot of give made from luxurious materials. To show she respects her field and fellow musicians, she usually opts for a flowing skirt or sleek pants to add an air of formality to her outfit. With Uniqlo's structured silhouettes and soft fabrics, Choi gets the best of both worlds for both of her worlds. A royal navy blouse and olive slacks are the ideal dressy-meets-casual pair for this musician on the go.
Choi also has to think about far less obvious things when it comes to her look. Notably, you'll never see her with a manicure. "I can feel the weight of the polish when I'm playing," she says. Yes, you read that right; she's so attuned to her craft that the added weight from a thin film of nail polish is noticeable. "Finger contact with the instrument is of utmost importance to a pianist, and that cannot be compromised in any way," she says.
Choi has studied music at St. Petersburg State Conservatory in Russia, The New England Conservatory in Boston, and Carnegie Mellon School of Music in Pittsburgh. She is relentlessly dedicated to her art—as any professional musician must be. But while some in her field could be accused of taking themselves too seriously, Choi has a contagious positivity that's equally as important to the impression she gives off as her sartorial choices. In character and dress, she's a feminine mastermind with smart sensibilities and soft edge—a combination we could all be inspired by.