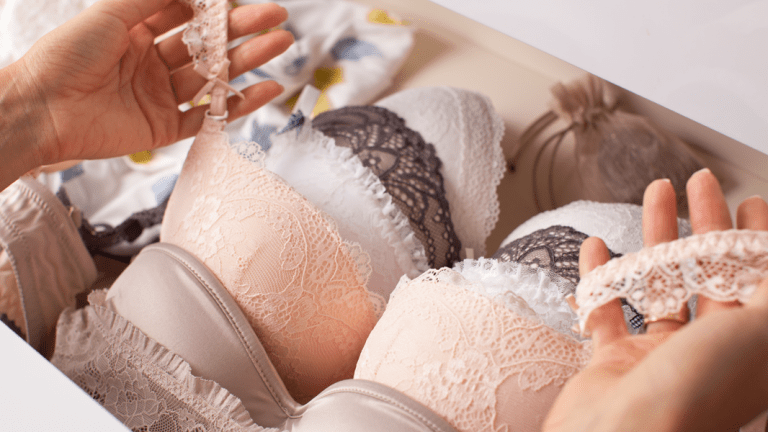 5 Empowering Lingerie Brands to Shop at Instead of Victoria's Secret
If the fashion show heard 'round the world isn't your cup of tea, check this out.
The annual Victoria's Secret fashion show airs on TV screens nationwide tonight. And while floods of sexualized imagery and unattainable body ideals might appeal to some, to us, this much-hyped event is decidedly missable.
We believe that beautiful underwear doesn't have to be for anyone but ourselves. Unfortunately, when it actually comes to lingerie shopping, many of us feel like we don't have many options and resort to the brand that has dominated the lingerie market since the nineties. Thankfully for womankind, there are incredible ethical lingerie brands that are breaking the Victoria's Secret mold by offering lingerie that respects the women who wear it—and those who create it.
Daisy & Elizabeth
Founded by a dynamic duo of friends, Daisy & Elizabeth is a Brooklyn-based brand whose makers design, cut, fit, and manufacture all of the products in the U.S. The beautiful intimates are perfect for the woman who loves to incorporate playful femininity and unconventional colors into her lingerie wardrobe.
Anekdot
Handcrafted in Berlin, Anekdot uses upcycled materials to create its stunning undies. Made with leftover fabrics, off-cuts, deadstock, and vintage trimmings, each creation is limited edition and can hardly be reproduced. With a mission to transform ordinary materials into beautiful and meaningful pieces, this lingerie is truly unique.
Luva Huva
Made in the United Kingdom, Luva Huva is perfect for the hopeless romantic who loves pastels, lace, and beautiful details. With materials that are locally sourced, the Luva Huva team creates its pieces from scratch with fabrics that are made from bamboo, hemp, organic cotton, soy, and more. Luva Huva respects the uniqueness of every woman by offering custom made-to-measure garments, without a surcharge.
StyleSaint
For the woman with more mature and sophisticated taste, there's StyleSaint. Believing in the "creator-to-closet" method of fashion, StyleSaint prioritizes quality, sustainability, and the humanity behind clothing. Its model is about eliminating excess retail costs for customers by shipping straight from its headquarters in Los Angeles, a method the company believes can revolutionize the fashion industry and benefit each individual customer.
Azura Bay
Azura Bay founder Ashley McIntosh was having a hard time finding lingerie and loungewear that supported her values. (Sound familiar?) To solve the issue, she decided to launch an easy-to-shop collection that brings all ethical lingerie brands together in one place so that women don't have to spend hours searching online. The products she features are all ethically produced, handmade, fair trade certified, and made from eco-friendly fabrics. To top it off, most of the featured brands are woman-owned. With every purchase, Azura Bay also donates a portion of the proceeds to one of three organizations of your choice.
Photo Credit: Adobe Stock