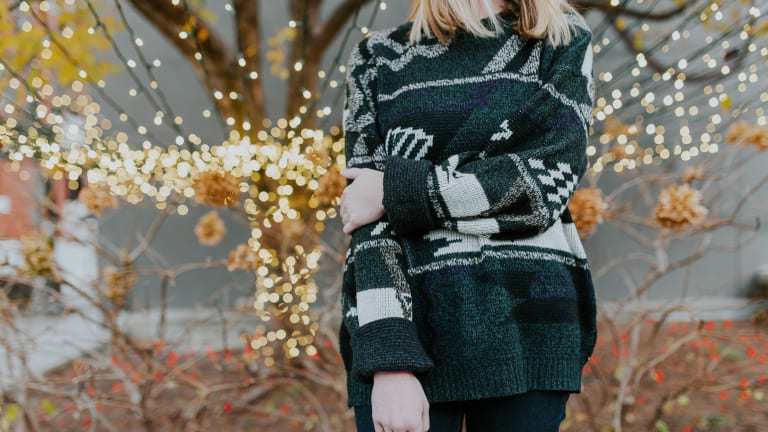 4 Steps to Get Over the New Year's Resolutions You Didn't Accomplish This Year
Do this before January 1 comes around.
The New Year brings a fresh start, a chance to make changes, and . . . an uncomfortable reminder about the resolutions you just didn't get to check off this year.
How do you move forward and not let your track record set the tone for resolutions in the New Year? All it takes is some honest reflection, a mindset shift, and a concrete action plan.
01. Accept it.
It's uncomfortable to acknowledge that you didn't achieve your New Year's resolutions. It's hard to admit that the motivation and the excitement to change your life could fade so quickly. But accepting that your resolution didn't stick is an important part of identifying how you need to approach this year's resolutions differently.
Albert Einstein said the definition of insanity is doing something over and over again and expecting the same result. While we're not talking about insanity here, taking the same approach to the same resolution year after year—and losing steam every time—means you need a new recipe for success. Acknowledging that your plan wasn't successful in the past is a sign that you're ready for a different approach.
02. Ask yourself why.
For your New Year's to-do list, ask yourself, "Why?" Why did your New Year's resolutions fail? Did you set too lofty a goal? Did it make sense? If your goal is getting to the gym four times a week, but you're just too tired to go after work and find yourself easily making up excuses, you might want to try going in the morning, signing up for a class, or enlisting the help of a workout buddy for accountability. Or maybe you want to start eating more healthfully, but the thought of quitting your favorite junk food cold turkey has you balking at your resolution as soon as the clock strikes midnight. You might set more attainable resolutions that employ gradual changes instead—resolving to exercise three times a week, for instance, or reading a book on healthy eating. By identifying your personal roadblocks, you'll have a better idea of how to increase the likelihood of success this time around.
03. Be honest about whether you really want to change.
It might be the case that you really didn't want to make the change enough. In other words, was the amount of work required to make the change truly worth it to you? This can be an uncomfortable truth and requires brutal honesty.
In the world of psychology, there's a theory called the Stages of Change. A central part of this theory is that individuals move along a continuum of various states of readiness to change. Someone might be in the pre-contemplation stage, which means they aren't even thinking of making changes in their life. Someone else might be in the contemplation stage where they have expressed wanting to change and have begun to think about how they want to make that change happen.
Where are you on the spectrum? If you are in the pre-contemplation or contemplation stages, you might not have the plan and motivation you need to successfully accomplish your resolutions and make lasting changes. If you aren't ready to make a big change, taking the small step to investigate things you might want to change when you are ready is the way to go. If you aren't truly ready to make a change, that change won't stick around.
04. Set a date.
Embrace the New Year as an opportunity to leave your past resolutions to change behind. A study cited by the Association for Psychological Science found that making changes on specific dates known as "temporal landmarks" (e.g., the New Year, Mondays, a birthday, a new financial quarter, or holidays) helps signify a new start and an opportunity to leave behind past shortcomings. Starting a new habit or goal on a temporal landmark day increases motivation and might give you the jump start you need to be successful in your resolutions this year. Keep in mind that you don't have to start your resolution in January. Some experts recommend waiting until February 1 to start your New Year's resolutions so that you've had time to recover from the stress and excitement of the holidays.
Don't let your less-than-successful attempt at change last year hold you back from making amazing changes this year. Pause to reflect before you create a no-fail New Year's resolutions plan, pick a realistic start date, and then take the leap!
Photo Credit: Brooke Cagle