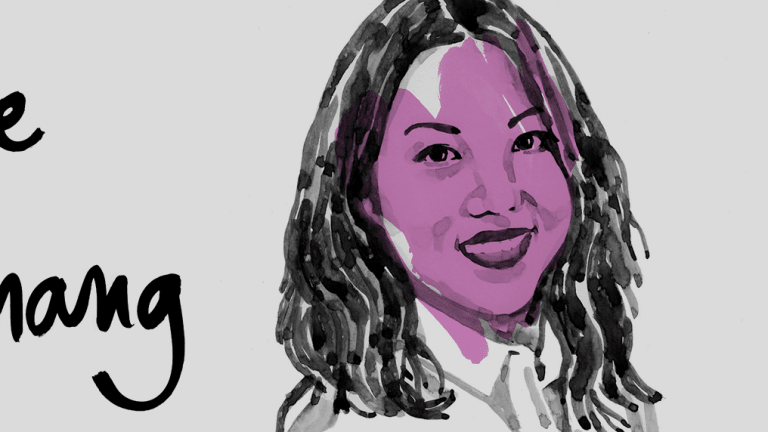 The Founder of SnobSwap Has Some Important Advice for Aspiring Entrepreneurs
What it's really like to leave a 'safe' career and start your own business
Welcome to our interview series in partnership with Empowered Women, a nonprofit advocating for women to live a fulfilled life as they define it. We've teamed up to interview inspiring women who are forging their own paths and living what it means to be an empowered woman. Join us as we meet a new woman each month.
Once upon a time, a young attorney named Elise Whang was on the hunt for the perfect pre-owned Chanel bag—functional, timeless, and reasonably priced. After searching through every consignment boutique in town, she declared the search a failure.
That's not the end of the story, of course. Convinced that the bag she was looking for was out there and that other savvy shoppers were in the same predicament all over the country, Whang and her sister dreamed up SnobSwap to connect brick-and-mortar consignment shops with online shoppers, creating an unlimited customer base for the sixty-plus partnering boutiques and making that perfect Chanel bag a little easier to find. Today, SnobSwap is the leading online platform to shop authentic, pre-owned luxury goods curated from the best consignment boutiques in the nation.
For someone who started a business between having two kids a year apart, it's not surprising that Whang finds the concept of work–life balance elusive. But her determination to live her home and work lives to the fullest is something you don't see every day. We caught up with Whang to learn more about her story, her business, and what keeps her going.
Anna Quinlan: How was the idea for SnobSwap born?
Elise Whang: My sister and I have always had an addiction to designer thrifting. When life got busy for me as a lawyer and for my sister as a jet-setter consultant, we no longer had time to drive around town and shop at our favorite designer secondhand stores to treasure hunt. Online shopping became a necessary part of life and we couldn't find these stores in one place. So at nights after work, we came up with a business plan and started working on the site on the side.
AQ: How did you go from there to launching the site to the masses?
EW: We saw that people were using the site beside our inner circle so we thought, why not apply to an accelerator program—an incubator for startups—and see what happens. We got accepted into the Fortify incubator in 2013, which gave us customer traction and validation from experts in the startup world, so we decided to take the leap and build our dream, making these designer resale stores accessible to all. We quit our jobs and started working on SnobSwap full time!
AQ: What was the process like as you left a "safe" career as an attorney and ventured out as an entrepreneur? Were friends and family supportive?
EW: At first I was afraid of leaving my career in law because I had invested so much into law school and establishing myself in that field. I liked practicing law, actually, but SnobSwap was one of those ideas that you are so passionate about you stay up until 2 a.m. working on it. The fear of living with regret and that "what if" feeling was scarier to me than anything.
I was lucky my family and friends were supportive. Anyone who loves you wants to see you happy. My biggest supporter was my husband, who said to me one morning as he dropped me off of work, "I think you should give SnobSwap a try, especially if it'll make you happy!" My parents were shocked when I told them and they still scratch their heads as to why their daughters are selling "used shoes," but… #YOLO! You can't fail or win if you don't try, right?
AQ: How does being a double minority in the tech industry, which is dominated by white men, impact your work and/or your business, if at all?
EW: It's hard to be accepted into the all boys club in many sectors, including my previous gig as an attorney and in the tech space, but it's exciting to see that changing. There are a lot of first-time female minority entrepreneurs out there, but if you don't have a track record of building companies successfully it's an uphill battle to get funding from the male-dominated VC industry. They sometimes don't "get it" because they may not use your product. The tide is changing though, and to all female founders out there—keep marching onward and upward and we can improve it!
AQ: How do you cultivate that ethos at SnobSwap?
EW: I will never forget the biggest feeling of validation, which was when my sister and co-founder decided to leave her very coveted job in retail strategy to join me in building SnobSwap full-time, and when our VP of Business Development, who ran the first designer consignment store I pitched, also loved what we were doing so much that she joined us. It's the most exhilarating feeling to know that I have partners with me to go on this unknown journey into start-up-land.
AQ: What are the most valuable lessons you learned in your new role as a founder and CEO?
EW: One of the biggest lessons I learned about being a founder and CEO was that it's not always as fun as it sounds. From 10,000 feet, yes, it's awesome; we are working and building the first online marketplace to shop the best designer consignment boutiques in the nation. But no one told me that starting a business is one of the hardest things you will ever do. It's like another child, it needs so much attention and constant nurturing. It's a 24/7 job.
AQ: How do you balance work and your personal life?
EW: Truthfully, I haven't really been able to achieve work–life balance. I have two kids, ages 5 and 4. I launched SnobSwap in between my first and second child. I was torn because starting a new business wasn't the most "stable" thing to do, but I also was lucky to have a very supportive network—my "tribe." I wanted to tell my kids one day that I had a dream and I gave it my best shot. I love my family and I love building SnobSwap—challenges and all. I think having passion in your work is healthy. I'll find balance when I retire!
AQ: What has been your most memorable "failure," and what did you learn from it?
EW: Our most memorable failure was probably not taking the leap sooner. We researched the market thoroughly and soon realized that there was a huge need and desire to shop authentic designer goods. We learned that if you see there is a market need, test it immediately with a minimal viable product (MVP). We built a wonderful full platform that took off, thankfully, but in hindsight, an MVP would have been an earlier launch to capture that market need.
AQ: What's the best advice you've ever received?
EW: Fail fast. Fix fast. Learn fast.
AQ: What advice would you give to female college students today?
EW: Grit and drive are some of the most valuable qualities in successful entrepreneurs. A passion and drive to succeed will help you shoot for your goals. Grit will get you through the highs and lows to achieve them.
AQ: What's your no-fail fashion advice?
EW: When in doubt, wear black. Black is universally chic, even on your worst days.
AQ: Whom do you admire in the business world, and whom do you admire in the designer world?
EW: This is a tough question, there are so many admirable business leaders! I tend to be drawn to non-Silicon Valley business leaders who follow their own path to execute their vision and focus on building a good business that is truly disrupting an industry to improve consumer experiences. Today, I am torn between Arianna Huffington, who said, "Fearlessness is like a muscle. I know from my own life that the more I exercise it the more natural it becomes to not let my fears run me," and Natalie Massenet, who is a mother of two and a pioneer in changing how people shopped for fashion with Net-a-Porter.com.
In the designer world, I admire Hermes for keeping focused on making timeless handbags with the most beautiful materials on earth. They do not waver and succumb to trends. Their bags will last for generations, which is an important element of our mission—to not be wasteful but to pass on the joy of luxury items to others who will enjoy them just as much after you.
Illustration: Sam Kerr