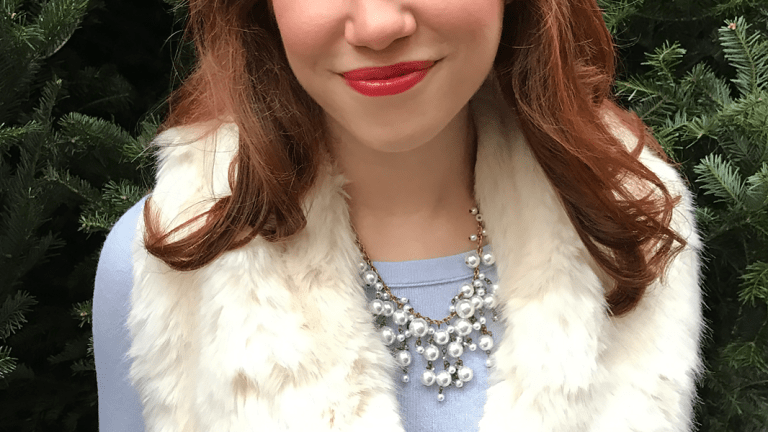 This Brand Will Change the Way You Think About Christmas Gifts This Year
We're going behind the scenes with Purpose Jewelry, a company that's about way more than products.

What if the perfect gift weren't only about the person you were buying it for but also the company you were buying it from?
Every holiday season, eager shoppers flock to local malls—and, let's be real, Amazon—in search of the perfect gift for every loved one. But all too often we forget who's behind the creation of that one-of-a-kind present. This year, what if our purchases could not only put a smile on the faces of our mothers, sisters, aunts, or best friends but also make a difference in the lives of women across the globe?
This is exactly what Michelle Johnson hopes to inspire in her customers at Purpose Jewelry. Now the ethical jewelry brand's head of distribution, Johnson didn't always see herself working for a small nonprofit company. Just five years ago, she was working for a large for-profit company. But then Johnson's world was turned upside down on a trip to Southeast Asia when she walked the red light district and saw for herself the devastating reality of sex trafficking.
Forever changed, Johnson went back home to the states, seeking out opportunities to help women who have been victims of trafficking. Her search for purpose—if you will—ended quite fittingly when she began volunteering her time and expertise for Purpose Jewelry. Now, her mission and passion to help others is a full-time job. As a woman who gave up working in for-profit ventures, giving is within the very nature of Johnson's career at Purpose Jewelry. But the difference begins with us, the consumers, who have the power to give, especially during this holiday season.
Johnson sat down with Verily to tell us about how Purpose Jewelry is making a difference so that we, too, may regain the true meaning behind giving.
Verily: What exactly happens when a purchase is made for a Purpose product?
Michelle Johnson: Purpose Jewelry is the social enterprise of International Sanctuary, our organization which provides medical care, education and counseling to trafficking survivors. The jewelry sales help fund our nonprofit. The proceeds go directly to their wages, but there are also other programs we've incorporated. As a whole, we're 72 percent funded by the jewelry sales, so we're very dependent on the social enterprise. The other almost 30 percent comes from donations, grants and charitable giving. Each purchase contributes to the goal of providing freedom and hope to a young woman rescued from slavery.
V: How are these women trained in the art of jewelry making?
MJ: It's a lengthy process. It starts with our artisans working with really basic designs, but it evolves as they increase their skill level. As years have gone by, our founder Stephanie had still been doing a lot of the designing, but we then started to incorporate design interns who would go over to India and spend a year over there. And we just recently hired a full time designer. We also now have a core group of young women who have been with us for so long with such high skill level that they have started training a lot of the newer girls that are coming into our program.
V: What is included in the holistic care provided to the women?
MJ: Most of the young women we employ have, at best, a third grade level education—so schooling is a huge need. If you don't have education, you're really limited in what you can do. So we started by providing tutors for the girls and providing funds for them to go take their exams. But actually, this past summer, we launched our academy program, which includes a full education. Now the young women we serve are able to attend school while working part time producing Purpose Jewelry. We also include a component of counseling—so they do individual counseling and group counseling with our social workers that are on staff. We really treat each girl individually. Even with medical care, if a girl needs to go the doctor, we make sure that she's actually going to her appointments and getting her eyes checked and going to the dentist. In all of those things, we walk alongside them. Every aspect of the holistic care we provide is aimed toward arming these survivors with the opportunities and skills to succeed. It all ties into giving them the freedom, dignity and hope they deserve.
V: In your opinion, what's the biggest misconception about ethical ventures?
MJ: I think a big one is that ethically-conscious goods are going to be a very specific style, a style that isn't something that would be easily worn every day within our western market. But a lot of times, people say the exact opposite about our jewelry. Not all ethical goods have a certain ethnic look. Many companies today, including ours, make pieces similar to what you might be drawn to in a normal store and then you realize the cause behind it. It's so much more valuable because there's meaning behind it. Our price point is really affordable as well. I think a lot of times people think that these socially-conscious goods are going to be something that you have to save up for. That's not always the case.
V: When you give gifts, what's your thought process like? How do you decide what to give someone?
MJ: Now, even more so than ever, there are a lot of really good options out there. I've given my family and friends Purpose Jewelry for several years, but my thought process has now changed into: What can I look out for that is even something for my dad or boyfriend, and not just jewelry? I think everyone knows me as the one who buys them something that is ethically and socially conscious!
V: Why should someone buy an ethically made necklace as opposed to one that's mass-produced?
MJ: Our new slogan that we put out in November is "Wear freedom. Wear Purpose." It very much is empowering the customer in saying that, literally, you purchasing this necklace is you putting on freedom—and that freedom is for women that I can show you, I can tell you stories about, I know personally. Their lives are being transformed through jewelry purchases. Your purchases actually do matter, and when you act like they don't, then your money is going into something that you can't even stand behind. How much more empowering is it to be able to confidently speak about the piece you're wearing and explain that your purchase is changing lives and providing freedom for girls who have just come out of horrific abuse and injustice. This is truly empowering.
Purpose Jewelry is offering Verily readers the chance to buy its items with free shipping! Use code VERILY1 at checkout. The offer expires Dec. 21.