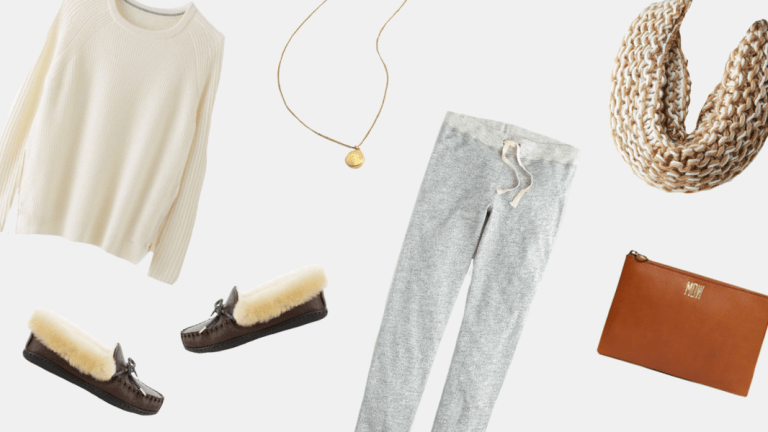 No-Fail Stylish Christmas Gifts for the Difficult Person on Your List
These are surefire winners.
We all have that one person on our Christmas list who is impossible to shop for. Whether they're extra-picky or seemingly already have everything, perusing the stores for their gift is full of self-doubt and frustration. If you have a couple question marks on your family and friends Christmas list, follow this guide to no-fail stylish Christmas gifts!
Practical Infinity Scarf
Who can say no to a cozy infinity scarf that perfectly insulates during the bitter winter months? If you're not sure what the giftee's favorite colors are, stick to neutral tones and make sure you try it on to test out softness—nobody likes a scratchy scarf! 
Undeniably Comfy Joggers
The key to buying clothes for the difficult person on your gift list is to not buy any items you'd expect them to wear outside. Style is so personal and even when you think you understand someone's look, you can never be too sure. To save yourself from the awkward "How come you never wear that pink polka dot dress I got you?" moments, stick to lounge wear. Uber soft joggers are always well received, because really, who doesn't want to lounge around their house in cloud-like pants? Bonus, stretchy pants are less restricting in sizing. Your best guess as to their size will likely work just fine.
Understated Neutral Jewelry
Jewelry is a toughie, but also very meaningful. To get this one right, avoid statement pieces. Even if you're pretty certain they like statement jewelry, the subtle details of a particular statement necklace can be a deal breaker for your giftee. Low-key metallic jewelry is the safe zone—and is always chic—so stick to simple gold or silver necklaces with a delicate nondescript charm on it. Layering and stacking necklaces are very popular right now, so think of your gift as an addition to her collection rather than a bold standout piece.
Cabin-Ready Slippers
When all else fails, a pair of fuzzy slippers are always warmly welcomed. Avoid all overtly patterned or fluffy slippers that look childish; stick to the ever-classic shearling or sheepskin-lined moccasins that will last her for years. Moccasins are always Christmas-appropriate, so this is a gift she can slip on right away.
Tea & Chill Sweater
If you want to give something that is a little more substantial, a cozy sweater is another no-fail gift. Neutrals are classy and go with everything, so grab a cream colored sweater that is soft and comfortable enough to wear outside, inside and with any outfit. Again, if you aren't sure they're size, opt for a larger size and include a card that says something like, "thought you'd like a cozy sweater to curl up in by the fire." Then they'll think you intended it to be on the larger side.
Ego Boost Monogrammed Bag
Make your gift extra-personal with a subtly monogrammed clutch or makeup bag! This gift will make her feel special without the commitment of wearing a super preppy monogram necklace or scarf. Besides, who doesn't love having their name stamped on something?