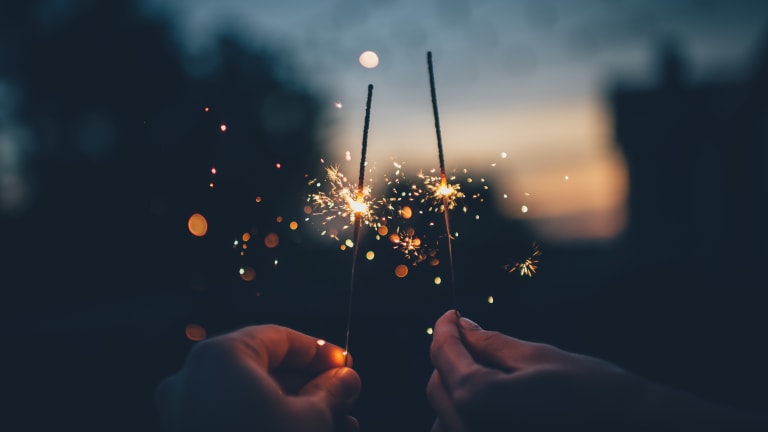 6 Tips for Avoiding Disappointment at Midnight This New Year's Eve
Take these steps to feel full of hope and happiness when it's time to ring in the New Year.
A friend recently told me that she is forever the New Year's Eve optimist. Every year she likes to go somewhere new to ring in the New Year and live it up to the fullest. 
Honestly, she is the only twenty-something woman I know who has maintained that kind of enthusiasm for December 31st celebrations, and it was downright inspiring. The truth is, many of us have allowed one too many New Year's Eve letdowns teach us that the stroke of midnight is some kind of superstitious harbinger of doom, rather than the start of a new year full of hope and potential. No kiss, check. Bad hangover, check. Bring it on, New Year. 
But this attitude toward the eve of a new year is all wrong—and can absolutely be fixed. With just a little bit of preparation, you can ring in 2017 with all of the hope and expectation it deserves. 
01. Stop thinking New Year's Eve is all about the kiss at midnight. 
Somewhere between high school and college, New Year's Eve got hijacked by romance. But in the same way Christmas is not all about the mistletoe, New Year's Eve is not all about the kiss at midnight. So put that stressful little piece of the evening aside, and focus on what ringing in the New Year is really about: twelve more months to live your life even better than you did last year. Now that's something to get dressed up for! 
02. Be choosy about who you spend New Year's Eve with. 
Nothing is a bigger let down than counting down to midnight and realizing that you are in a room full of people who you really have not had much history with this past year and who might even be too drunk to remember your name in the morning. Instead of trying to get into the hottest parties with your girlfriends (whom you will probably get separated from anyway), be choosy about who you want to ring in the New Year with. When you are surrounded by people you love, people you have laughed and cried with in 2016, you won't feel like you are headed into 2017 alone. 
03. Make it special. 
I don't know about you, but I have definitely rung in one (or two) New Years asleep in bed—telling myself that my next-year self will thank me in the morning. I will say, though, that no matter how well rested I am in the morning, I always look back on those years with some regret that I didn't treat the lapsing year with the ceremony it deserved. Each year of our lives deserves to be celebrated with a little fanfare. Maybe that means throwing on some sparkles and popping open a bottle of champaign, and maybe that means something more tame, like an intimate dinner with just one person who has been there for you this year. Whatever you do this year, make a point to add ceremony and ambiance to your celebration so that the year doesn't slip by without a proper nod. 
04. Try not getting drunk.
I know, I know, you might not have tried to get drunk last year, but you certainly didn't do much to keep it from happening. Am I right? But what if this year you gave yourself a limit and paced yourself throughout the night, alternating between Champaign and Perrier? If spending New Year's Eve in unreasonably sad tears, in a non-sensical fight with your bestie, or kissing a guy you definitely wouldn't have sober contributes to New Year's Eve blues. Limiting the booze will work wonders! There is no better way to ring in the New Year than knowing your limits and celebrating this little victory. 
05. Set your goals before the ball drops. 
There is no better way to get enthused about 2017 than making plans and setting goals before the stroke of midnight. You can refine your plans and workout strategy during the first weeks of January, but dig deep and name your dreams and aspirations for the New Year so you can see it your mind's eye at the stroke of midnight. Maybe this is the year you are finally going to travel somewhere exotic? Maybe you are going to reach your saving goals? Or maybe you are finally going to see a therapist about that baggage you have been carrying around? Whatever it is, set out goals as a catalyst for hope and anticipation for a new year of trying your darnedest to be the very best version of yourself. 
06. Be kind to yourself. 
I don't know about you, but this year was action packed and really challenging. I was given so many gifts, and I was also dealt a few blows, and if I'm being honest with myself, I didn't always handle the gifts or the blows with the grace that I wish I had. That being said, I know I wouldn't be doing myself or those I love an favors by wallowing in all the ways I failed to shine. New Years is about forward motion, which requires introspective reflection and also forgiving yourself for the mistakes of the past. Nobody is perfect, and everybody deserves a fresh start. Treat yourself with the same spirit of goodwill and charity as you do your friends and those last few minutes before midnight will be filled with hope! 
Photo Credit: Ian Schneider