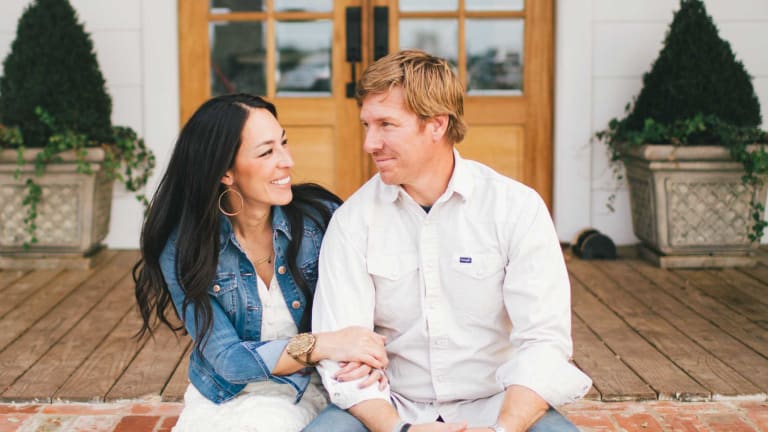 6 Ways Chip and Joanna Gaines' Marriage Is Just as Messy-Beautiful as Yours
The hosts of 'Fixer Upper' and authors of 'The Magnolia Story' have a more relatable marriage than you might think.
When my husband Joe and I were engaged, we liked to watch Fixer Upper and dream about how crafty we would be together. Chip and Joanna Gaines, stars of the HGTV home renovation show who magically turn neighborhood eyesores into the envy of the block, encourage one another to pursue their dreams, have fun together, and (as they frequently claim) "work better when they are together." Chip and Joanna were the couple we wanted to be.
But then we got married and realized that fun-loving teamwork isn't as easy as it looks on TV.
We haven't demolished a wall, and we haven't tried our hand with shiplap, but we have refinished a table and done some DIY open shelving. It was upon the completion of those first endeavors that the Chip and Joanna fantasy came crashing down. It's not that we had a bad dynamic, it just that I wasn't as trusting, shall we say, as Joanna is when confronted with Chip's demolition misadventures. And Joe had far more opinions about interior design than Chip has ever had.
We aren't the only ones who have been disillusioned by the dreamlike dynamic duo. People (like me and Buzzfeed) who can't get enough of Fixer Upper poke fun at how unrelatable Chip and Joanna's knack for flipping houses and playful banter can be. Nobody's marriage is actually that perfect, right?
It may be that Fixer Upper only shows the carefully curated drama of Chip and Joanna's ever so crafty and stylish marriage, but since reading their memoir, The Magnolia Story, I have come to see that the Gaineses really are as relatable as they seem—and it's not because they don't argue over their home renovation projects.
They had humble beginnings.
When we see Chip and Joanna's big beautiful farm house in Fixer Upper, it can be easy to fool ourselves into thinking that their marriage has always been sheltered under that picturesque roof. But the truth is, Chip and Joanna started out like Joe and me, and many newlywed couples I know: near-broke after blowing it all on an amazing honeymoon.
At least Joe and I had a clean apartment and well-stocked refrigerator to come home to after our honeymoon. Chip and Joanna? They spent the night on the floor of their first home (which still needed renovation), recently vacated by students who kindly left rotting meat in the fridge and dried animal urine on the carpet. A far cry from cozy.
But the most comforting part of this story is that Joanna and Chip behaved just as you or I might behave in this situation. After a few hours of trying to sleep in the raunchy-smelling house, Johanna burst into tears and told Chip there was no way they were going to spend the rest of the night there. So they jumped into the camper they used on their honeymoon and spent the night, in the rain, stuck in a ditch.
You will have to read the book to get all the details. But the point is, despite this rocky start to marriage, Chip and Joanna headed back to their home in the morning and got to work making it as beautiful as they could, and that can-do attitude is something any couple can cultivate.
Someone totally forgot about the baby.
I would bet that there are a lot of new parents out there who have forgotten to pick the kid up at daycare or backed out of the driveway only to realize someone was missing—or at least have almost been there, whether they like to admit it or not. The difference between you and your husband and Chip and Joanna is that they did admit it, in a published book no less.
The way they tell the story is that Chip encouraged Joanna to take some time for herself one morning and go for a run—her first run since giving birth. When she returned home, she was greeted by her biggest supporter and a breakfast for champions (including orange juice, which was a splurge for them at the time). Chip explained that he went to the store while she was gone to get the ingredients for this loving surprise. Joanna looked down at their son sleeping peacefully in his diaper in the baby swing. "Chip," Joanna complains, "tell me you didn't take the baby into the grocery store in his diaper?"
Chip didn't have to say anything. The horrified look on his face said it all, and Joanna totally lost it. After profuse groveling Joanna forgave Chip for forgetting their baby at the house, and he promised never to do it again...until he did do it again a couple days later.
That's right, Chip risked the judgment of responsible parents everywhere (and Child Protective Services) to reassure any among us who have totally biffed in the parent department themselves that we all make mistakes—and it's going to be OK.
They have had trouble with the neighbors.
It's hard to imagine friendly Chip and Joanna having any squabbles with their neighbors. But it turns out that even the real estate dynamic duo have a less than perfect past in dealing with neighborhood drama.
While Chip and Joanna were living in one of their early renovated homes, long before they landed their hit HGTV show, one neighbor in particular didn't appreciate the free reign they gave their dog and called animal control on multiple occasions. In their minds the neighbor was being totally unreasonable, so out of principle and budget restraints Chip and Joanna let the fines rack up...until Chip found himself in jail. That's right, just weeks after the birth of their first child Chip got put in the slammer thanks to bad relations with the neighbors. How's that for down to earth?
They put dreams on hold for family.
How do Joanna and Chip do it all? Probably the same way most couples balance work, kids and romance: lots of fine tuning and constant gut checking. In fact, just two years after Joanna and Chip opened Magnolia, Joanna's dream store full of her own interior design wares, Joanna came to the decision that she couldn't be the mother she wanted to be and put in all of the work required to operate her business. So, even after breaking even and making strides toward her dream, Joanna (with Chip's support) decided to put that dream on hold for another one—raising her kids at home. If that doesn't sound like real life, I don't know what does.
Even Chip and Joanna, who thrive off of entrepreneurship, had to prioritize their family over career and extra income. Joanna still worked on the side and helped Chip with his business, but it was a tough choice and required them to make sacrifices for their future, their marriage, and their kids.
Their typical day is actually really boring.
I think most of us would agree it's a good sign that a day in the life of our marriage would make for boring reality TV. Well, Chip and Joanna feel the same way.
When the pair were getting auditioned for a spot on HGTV they were wondering why anyone would ever want to watch them on TV—and the camera crew was wondering the same thing. In fact, at one point the producer told Chip and Joanna that if things didn't get a bit more spicy, their show would be a hard sell.
So don't poo-poo your marriage dynamic because nobody would want to watch you interact for an hour on TV. It's normal to want to protect yourself, your partner, and your marriage by being on your best behavior in front of others. Most of us keep our drama to ourselves and nobody can blame Chip and Joanna for doing that too.
They totally lost their cool in front of houseguests.
So if Chip and Joanna were so boring, how did they wind up one of the most viewed shows on HGTV? They got caught off guard and had it out with each other while the camera was still rolling. The way they explain it, months before they had known that one day they might have an HGTV camera crew filming at their house, Chip had made a surprise purchase online—a house boat in need of some major fixing up. This would be their family's next home and project, and he of course thought Joanna would be super-pleased.
The timing, looking back, was perfect. Just as the producer was writing this boring couple off, the house boat showed up. This wasn't the "Oh, Chip" frustration and an eye roll we are familiar with on a typical episode of Fixer Upper. This was full-blown freak-out mode—all while the camera was rolling.
But the thing is, even when some of those tension spots in their marriage got uncovered, what really made good TV was the way they worked through it—cried and then laughed at themselves later. Aside from the cameras and the use of shiplap to solve most of their biggest problems, many of us "real-world" couples aren't so different from Chip and Joanna after all.
Photo Credit: HGTV