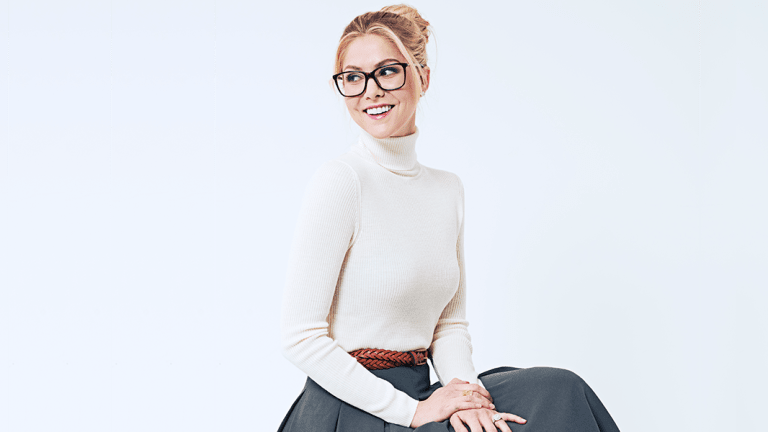 For a Woman in the Spotlight, Style Has a Very Personal Meaning
Former Miss America Kirsten Haglund's wardrobe essential may surprise you.

Why do we wear what we wear? Have you ever wondered about that? How we dress has the proven ability to change our mood, impact our confidence, and, of course, help us face whatever any given day brings. For women in New York City especially, style has to achieve utility and aesthetics; our clothes are the LifeWear that make it all possible. We partnered with Uniqlo to ask four New York women: "Why do you get dressed?" Their answers might surprise you.
When you hear that someone was crowned Miss America, you probably start assuming certain things about them. After all, pageantry carries a pretty big stigma, especially these days. New York City–based philanthropist, political commentator, public speaker, and body positivity activist Kirsten Haglund was crowned in 2008. Yes, she's stunningly beautiful, but any other preconceptions vanish immediately upon meeting her.
Haglund has a style about her that instantly makes you sit up a little straighter and drop whatever you're doing to pay attention to what she's saying. I guess you could say she knows how to command a room. But the side of herself that's less obvious is also the most interesting.
When asked what about her look makes her feel most herself, she told us quite simply, "My glasses." She went on to say: "Most people assume I'm a dumb blonde. I like that my glasses make people take me more seriously." And rightly so. At one of our meetings with Haglund, we were interrupted by a passerby in a coffee shop. He was a classic New York character—a well-meaning older man just looking for something interesting to shake up his day. He took interest in Haglund, mostly ignoring the obvious fact that she was being interviewed. He peppered her with unusual questions: "Who's your favorite philosopher?"; "Who's your favorite composer?"; and so on. She was quick to respond with thoughtful answers (no Aristotle here!) that showed, as this man pointed out, that "she's well educated." It's just that—her intelligence—that she leads with more than any crown-worthy beauty she may possess.
Her style is ethereal and feminine, owing largely to her ballet days when she was younger. It's also modern and professional. Leading a busy life in New York City requires anyone, but especially someone who spends a lot of time on camera, to be ready for whatever may come her way. So, why does she get dressed? For Haglund, it's all about looking polished but approachable. On camera, she says, her wardrobe consists of mostly jewel tones and silhouettes that are more structured. On her own time, however, she opts for a neutral palette highlighted by softer pieces. Haglund's preference for versatile tones and feminine silhouettes makes Uniqlo a perfect fit for her tastes and lifestyle. A delicate and professional midi skirt paired with a smart ribbed merino turtleneck and a belted two-way stole creates a look that's every bit as stylish as it is comfortable for commuting around the busy city.
"I have to have a style that works for wherever I'm going," she says. That may vary, whether she's lobbying in support of eating disorder awareness with the Kirsten Haglund Foundation or heading to a studio for a news segment. Either way, she's a New Yorker who values comfort but most importantly elegance.
Her looks may have landed her a few accolades, but there's no question—it's Haglund's indelible acumen that brings her truest success. She's a modern-day Grace Kelly with that same spark in her eye and refined style that makes her impression last far longer than her actual presence. She's ready for whatever Manhattan throws her way, and she'll make it look easy . . . just like any woman used to being underestimated does so well.